Archived News
Haywood cop cam use low, may grow
Wednesday, March 29, 2017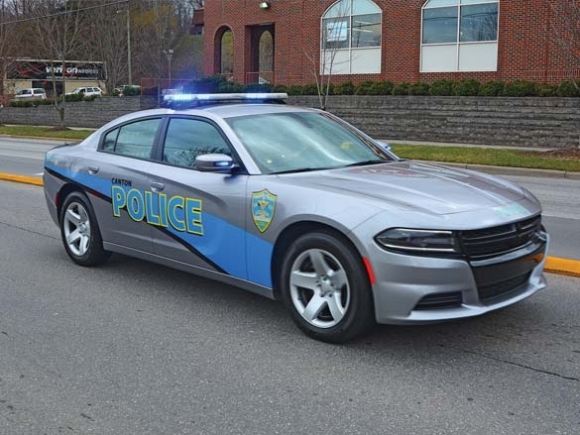 A variety of law enforcement agencies serve the 60,000 residents speckled about the 555 square miles of Haywood County, and although they all practice varying degrees of camera system usage, they all seem to share similar concerns about costs and benefits.
Perhaps atypical of most Haywood agencies is the healthily stocked Canton Police Department.
Sgt. Scott Sluder is a 21-year veteran of the force, but has been tinkering with technology since he was in high school; he's taken up the task of maintaining Canton's 17 body cameras and 11 dash cams used by 15 full-time and 4 reserve officers.
The grant-funded dash cams cost about $3,000 each, Sluder said, adding that they "weren't the cheapest" available, but a previous cam system employed by the department over the past four years — and also grant-funded — was deemed not dependable enough or secure enough.
Like other officers, Sluder cites the prosecutorial benefits as well as officer safety benefits as reasons he's glad the department has the cameras.
"It protects both parties," he said.
Haywood County Sheriff Greg Christopher agrees.
"They are a good investment, as we are able to capture evidence that could be used in a court proceeding," Christopher said. "As technology advances, we want to pursue every opportunity that is financially feasible to reach the goals of the office."
Christopher's department currently has 10 dashboard cameras that cost around $4,500 each when purchased about eight years ago, but he's made a budget request this year for 30 body cameras and 30 dashboard cameras, to the tune of $125,000.
Waynesville Police Chief Bill Hollingsed has also made a budget request this year — $38,000 — for body-worn cameras after an evaluation period last year left officers clamoring for them.
The town currently does not employ any body camera systems.
"A police department that deploys body-worn cameras is making a statement that it believes the actions of its officers are a matter of public record," Holingsed said in his written request.
"If these are approved, it will be probably just a matter of a couple months before we have the program completely implemented," he said. "We think we know what camera we want. We already know the operation, because we've evaluated them and tested them and the officers have told us what they liked and didn't like. It's just a matter of getting the service hooked up and getting it ready to go."
Maggie Valley's dash cams — actually, ceiling mounted — cost $25,960 and were funded by the town; six patrol officers each have one, and the department shares seven body-worn cams.
Although Maggie Valley's small department doesn't currently incur any cost for data storage, that will almost certainly change in the future. As Canton's Sgt. Sluder put it, "cloud-based storage is pretty expensive for a department our size," which is why most local departments rely on local storage solutions.
But for departments of a larger size — the size of North Carolina, for example — financial resources are more abundant.
Patty McQuillan, a communications officer with the N.C. Department of Public Safety, said that all State Police Officers at the rank of trooper and sergeant who are assigned to the field have dash cameras.
The State Police consists of more than 1,600 troopers who cover 78,000 miles of highway across the state, including all over sprawling Haywood County. Currently, they have 1,097 cameras in the field statewide, with an expected 368 more coming once the 2017-18 fiscal year begins July 1.
Meanwhile, the tiny Haywood County town of Clyde doesn't have any cameras at all.