Archived News
Empowering women to run for office
Wednesday, March 29, 2017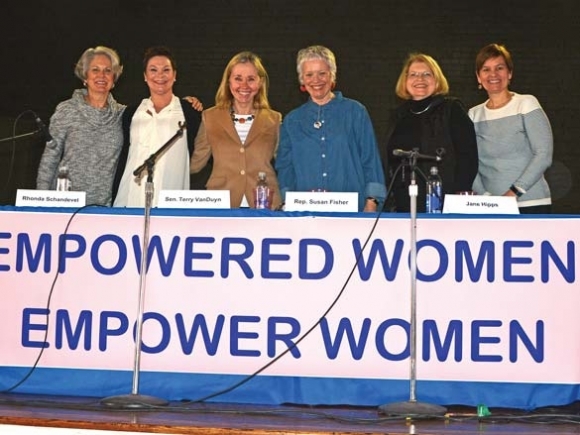 Women have a lot of internal dialogue when considering a run for public office — I don't have time. I have a full-time job and a family to take care of at home. I don't know enough about the issues. I don't have the name recognition. I don't have a college degree. Who would vote for me? I'm a woman.
It's that kind of self-doubt and hesitation that can discourage women from seeking political office, which is why women continue to be underrepresented on every level of government — from local town councils to Congress.
According to the National Conference of State Legislatures, women only make up 24.4 percent of all state legislators nationwide. In the North Carolina General Assembly, women represent 23 percent of the seats — compare that to women representing 42 percent of the General Assembly in Colorado. While women are well represented on many of the town boards west of Asheville, there is only one woman serving as a county commissioner west of Asheville — Graham County Commissioner Connie Orr.
Last Saturday, a panel of female politicians spoke at the Folkmoot Friendship Center in Waynesville about their experiences running for office and encouraged women to do the same. Whether they had won their respective races or not, the women spoke openly and candidly about their challenges, shortcomings and personal victories.
N.C. Sen. Terry Van Duyn, representing Buncombe County's District 49, said women should embrace that instinct that makes them closely examine all possibilities because that's what makes them good councilwomen, commissioners and legislators.
"One of the reasons women are reluctant to run is because they have more humility — they ask 'am I really qualified to do this?' Men tend not to ask that question and it's important because when we get to the legislature, it's that humility which makes us better legislators because we don't come thinking we know all the answers," she said. "So we're willing to ask questions, we're willing to learn and we're willing to change our mind about things and that's just not as true from the men I work with."
Holly Jones, who served as a Buncombe County commissioner for eight years and an Asheville City Councilwoman for seven years, also said women need much more encouragement from others before deciding to run — pointing out that five out of six of the panelists were asked to run several times by friends and colleagues before pulling the trigger.
"It's a very important dynamic for women candidates to understand and it's nothing to be ashamed about — having friends and family to support you is also very important during a campaign," she said.
The push they needed
Rhonda Cole Schandevel said she had to be convinced to run for office several times. The first time she ran for office was in 2010 at the encouragement of her father who was dying of cancer. Even though she told him she didn't have the experience, he convinced her she could do it.
"We had the best time and it helped my dad get through the experience he was going through. He was so proud even though I lost, but we ran a fairly good race and I learned a lot," she said.
Her father passed away later that same year, but she didn't let that personal loss stop her. The next year she attended a "Women in Office" Institute in Raleigh to learn more about the campaigning process. In 2012, she ran for a seat on the Haywood County Board of Education and won.
Patsy Keever, who served as a Buncombe County commissioner for 12 years and served one term as a state representative, said it was her eighth-grade students that made her want to run for office the first time. Each year she would do special lessons for her students about the importance of elections and voting. Then one year she decided to put her money where her mouth was.
"It got to the point that I wanted to prove to my students that politicians are not awful people who just want to put their hands in your pockets to take your money — they're normal people, and I figured what's more normal than your own teacher and I ran for county commissioner," Keever said.
With 15 people running for five open seats on the board, she said she was lucky to get one of them and served three terms.
Rep. Susan Fisher, D-Buncombe, said she has been interested in politics since she worked for the late Jamie Clarke — who represented N.C.'s District 11 Congressional District for three terms — as a legislative correspondent in Washington, D.C., while she was in college.
"I learned so much observing him in action — you couldn't have asked for a better boss. He was just a salt-of-the-earth public servant," Fisher said. "And I told myself if I could do even a fraction of the good I got to observe him do, I would have done something."
But it wasn't until years later when she was in the car line at school waiting to pick up her kids in Asheville that she was approached about running for office. It was the school principal that kept asking her day after day when she planned to put her name in the hat for school board.
"I said I was thinking about it but I was also in the throes of parenting and that to me is the most important job you'll ever do," she said.
But she did sign up to for a seat on the Asheville City School Board on the last day and went through a tedious application and interview process before being chosen to serve on the board. She served for eight years — four of which she served as chairwoman.
While she had always had an interest in politics, Jane Hipps of Waynesville said it was her husband Charles Hipps that encouraged her to run for office before he died. He was active in local politics in Haywood County and told her it was her turn to get involved.
"Charlie asked me to run for political office a few months before he died — he told me it was my time and I told him one person in politics in the family was insanity enough," she recalled.
She was asked to run a couple of times after his death but it just wasn't the right time. Finally, she said yes when she was asked four years ago to run against Sen. Jim Davis, R-Franklin, to represent District 50.
Jones was also asked by another candidate to run for Asheville City Council, though she developed an appreciation for good public policy at a young age since her father served as a state senator.
"I was lucky enough to see what good can happen in legislation and good policy — it's how we got public Kindergarten — we didn't have that when I was in Kindergarten — someone In Raleigh made that happen," she said.
Still a man's world?
When asked if they had experienced discrimination or other challenges in what is still considered a male-dominated profession, the panelists had a few telling anecdotes to describe what it's like being a woman in government.
Sen. Van Duyn said outright discrimination has decreased in recent years though misogyny still happens in more subtle ways nowadays.
"Let's just say I've gotten a few too many neck rubs if you know what I mean," she laughed.
But overall her experience has been a positive one — as a freshman senator she was elected minority whip.
"My caucus wanted a woman in leadership and that presented an opportunity for me, but I hope that wasn't the only reason I was chosen," she said.
Keever, who started as a commissioner 25 years ago, said it was once common for her to receive letters addressed to "Dear Sirs" and she remembers attending events in certain parts of Buncombe County where the men wouldn't even acknowledge her existence.
"I was never addressed, I was never acknowledged and I made a point of bringing it up whenever it happened and I think I was known for being just so outright and making known we do have women here," Keever said.
Growing up in Haywood County, Schandevel said she was often identified as Dee Cole's daughter, Rob Cole's little sister, someone's wife, mother, etc.
"And all those things I'm very proud of but it was always 'little Rhonda Cole' and I really have to be honest with each of you that I never felt like I was worthy to do these things that I always ended up doing," she said. "I have realized that because of the relationships in my life, I am who I am — we're all a product of our past — and I now know that I'm not the sharpest knife in the drawer but I'm not the dullest either and that I have every right to be here, but more importantly I have the responsibility to my community to stand up and do these things."
Fisher said there are a lot of male chairmen of committees in the House of Representatives, especially in the last few years since Republicans have been in power and fewer women are serving in the General Assembly. She recalls several instances during committee meetings when a male chair has refused to call on a female legislator with her hand up for a question.
"It's like almost a reflex they'll go to the man raising his hand," Fisher said.
One particular instance Fisher had her hand raised for well over 10 minutes waiting for her turn to speak in a committee meeting and kept getting passed over by men in the room. At a certain point it became obvious to everyone else around her that she was being ignored and finally another male representative said something.
"Not that you need anyone to come to your rescue but one of the things I'm noticing at least nowadays — and this is a positive — is that men and women will come to the rescue for each other when they see a wrong thing happening," she said. "We need to nurture that in each other — especially women sticking up for other women."
Hipps admitted we still live in a male-dominated culture though things are changing and women have more opportunities to take on leadership roles — they just have to work harder than men to prove their worth.
"I think as women we have to stick with our message — we have to work harder and we have to prove ourselves, we have to listen to people and have the answers," she said.
The first time Jones ran for commissioner there was already one woman sitting on the board and there seemed to be an assumption that only one woman could serve on the board at a time.
"When I decided to run there were a lot of people that were like 'there's already someone in the woman's seat,'" Jones said. "I am going to be so excited when either the city council has a majority women or the county commission has majority women because that's going to be a milestone in my community."
The most poignant incident Jones had was when she was first elected to the county commission and spoke out on a hot-button transportation issue during a public board meeting. Even though she was well versed on the issue at hand, she got some blow back from one of her male colleagues on the board.
"One of my colleagues from a different generation said something to the effect of 'little lady, I don't know who you think you are coming over here from the city trying to tell us … you need to know where you are now' and I really was taken aback," she said. "And it happened at a public meeting."
Jones stood up for herself after the meeting when she said the same commissioner came up to her and poked her in the shoulder with his finger and warned her that she better never pull something like that again.
"I said you get your finger off my body and don't you ever touch me again," she recalled. "And that was that. But it's not OK."
Keever encouraged women in the audience to read a book that was recommended to her by U.S. Sen. Kay Hagan called Broad Influence. She said the book was all about communication and the way organizations change when they get a tipping point of women.
"And that tipping point is 20 to 30 percent, so when the (Buncombe County) commission went from one woman commissioner to two women commissioners it made a huge difference," Keever said.
Other challenges to overcome
Questions from the audience also included "Am I too old to run?" "How much money do you need to raise for a campaign?" "I have too many skeletons in my closet to run, but how can I help other women get elected?" "Do you still have to be born in North Carolina to be able to win?" "Can I get elected if I'm not a Christian?"
Keever said age should not keep women from seeking office. While you don't have to be asked to run by someone, she said support from friends and family are extremely important — just as important as raising money.
Schandevel agreed that raising money was the hardest part but the more you get used to asking for money the easier it gets to make it happen.
"I knew it would take money but I had no idea how much money it would take," she said. "From October 2015 and Election Day 2016 I personally raised over a quarter of million dollars by getting on the phone and literally begging people for money."
Besides raising money, Fisher said a candidate also needs people who are willing to roll up their sleeves and knock on doors and make phone calls to garner support in the community.
"Sometimes you don't even realize the people out there who are ready, willing and able to do something for you," she said. "That's what makes a great campaign is putting everybody to work and making sure everybody knows that they're needed."
As for being born in North Carolina, Van Duyn said she has been successful in office without being a native. She added that educational credentials are always a plus but it's not a deal breaker either.
"What people are looking for is authenticity — not credentials," she said. "They want to know that they can trust you and that what you say is what you'll do."
When it comes to the question of religion, everyone acknowledged it's a touchy subject. While each panelist varied in their religious beliefs, they all said that their faith is a personal aspect of their life that they don't need to push on others.
Van Duyn said actions always speak louder than words.
"I am not a person who likes to wear my faith on my sleeve," she said. "I won't say I never pay a price for not wearing my religion on my sleeve, but I think if I do that it closes me off from other people and I don't ever want to do that."
Hipps also pointed out that the women on the panel who had been successful in their campaigns were running in Buncombe County while she and Schandevel were running in more rural districts to the west of Asheville.
"There's a divide in the success of women in urban and rural areas — we have to work harder in rural areas because people are not as open to women in government," Hipps said. "A commission chairman was talking to my campaign manager after the election and he said, 'Jane was the perfect candidate except that she was a woman,' so we have to keep chipping away at that."
Keever said she won every local race she had in Buncombe but lost when she tried to run for Congress in the 10th and 11th districts. She attributes a lot of that loss to her religion. As a Unitarian Universalist, she said she believes in everybody's right to believe what they want to believe.
"I respect everyone's religion, but I don't think religion should be a part of what we're talking about because your actions speak louder than words," she said. "And once you're elected you represent every person in your district — not all of them are going to be the same religion as you."
Keever added that the question of abortion never failed to come up when running for a legislative office.
"I could have someone eating out of the palm of my hand thinking I was the best thing in the world and then they would ask me that question and I had to answer it completely — that nobody is in favor of abortion but what we need is for women to be able to make their own choices about their own bodies," she said.
Hipps agreed that the "G" issues — guns, gays and God — are still a big distraction for voters over the real issues facing North Carolina and the nation.
Gerrymandering
Even if women get past the internal struggle and decide to run for the state legislature or U.S. Congress, Fisher said gerrymandering also prevents women and other minorities from being elected.
The N.C. House passed a bill to create a nonpartisan redistricting commission to redraw the district lines, but Fisher said it's extremely unlikely the Senate will even bring it up for a committee hearing. Right now, Fisher said she benefits from gerrymandering and her district is safe, but that didn't mean it's right. She said the last redistricting done by Republicans bumped seven female candidates out of their district, which meant they had to drop out or run in a primary.
Van Duyn said she often hears that it's fair play since Democrats did the same kind of gerrymandering when they controlled the General Assembly.
"This is not our grandfather's gerrymandering — Democrats used to draw districts on legislative computers using voter registration data and that doesn't tell you much. So we did some padding but it wasn't efficient," she said.
Now legislators are using better technology and have more information at their fingertips that allow them to make many assumptions about voters whether they are registered unaffiliated or not registered at all.
"The power of gerrymandering has increased dramatically to the point where 50 percent of our legislators run unopposed," Van Duyn said. "If we were in a Third World country we would say it's not democratic because it's not."
While she isn't hopeful the Senate will consider the bipartisan supported bill from the House, she is hopeful the Supreme Court will say enough is enough.
Despite the setbacks, Keever encouraged women to run for local office first. She said 2018 is going to be a good year to run because they won't have to compete with a presidential election on the ballot.
Fisher said filling those local offices will be even more important in the coming years as Republican legislators also push to make more school board and municipal elections a partisan affair.
"They are putting the squeeze on the local level — we need good, thinking, caring individuals at every level of government," she said. "We've got to be able to thwart that goal from the other side that says 'we're going to win every seat from the courthouse to the White House.'"
Women in Government
In honor of Women's History Month, Progressive Nation WNC, a political action group formed after President Donald Trump was elected last November, sponsored its first event last Saturday. "The Future is Female: Empowering WNC Women to Run for Office" symposium featured a panel of females who have run for or held a local or state office. The panel shared their personal insights and advice about running a campaign from their perspective as women in public positions.
Meet the panel
Patsy Keever
Former chairwoman of the North Carolina Democratic Party; served one term in the N.C. House of Representatives from 2010-12; served as a Buncombe County commissioner for 12 years.
Rhonda Cole Schandevel
Schandevel was born and raised in Haywood County. She was elected to the Haywood County Board of Education in 2012 and had an unsuccessful run for N.C. House of Representatives to represent District 118 last year.
Sen. Terry Van Duyn
Represents District 49 in Asheville in the N.C. Senate and also serves as Democratic whip.
Rep. Susan Fisher
Rep. Fisher, D-Buncombe, represents District 114. She was tapped by the Democratic Party in 2004 to fill the vacancy left by Rep. Martin Nesbitt. In 2014, she was elected to her sixth full term as a state representative.
Jane Hipps
Hipps ran on the Democratic ticket against Sen. Jim Davis, R-Franklin, in 2014 and again in 2016 but was unsuccessful in unseating the three-term senator.
Holly Jones
Jones was a Buncombe County commissioner for eight years and served on the Asheville City Council for seven years. The Democrat had an unsuccessful run for lieutenant governor in 2016.