Archived Outdoors
Making it awesome: Cherokee prepares to unveil 10-mile mountain biking system
Wednesday, March 22, 2017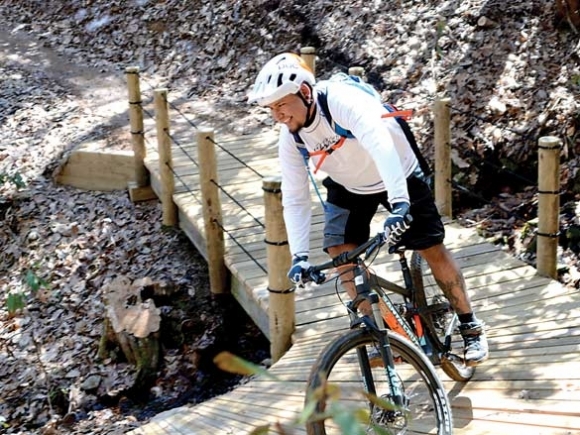 When Ed Sutton first came to Cherokee in November to break ground on a new trail system, his directive was clear.
"We told him his marching orders were just make it great. Make it awesome," said Jeremy Hyatt, Secretary of Administration for the Eastern Band of Cherokee Indians.
"You couldn't give me a better mission statement than that," said Sutton, a trail builder for Brevard-based Trail Dynamics.
Five months after construction began, the trail system is 90 percent complete. By the time it opens — likely in early May — the 154-acre property will boast 10 to 12 miles of trail with various segments catering to ability levels from beginner to advanced, all available via a trailhead at the Oconaluftee Indian Village, less than a mile from downtown Cherokee.
With more than 1,000 feet of elevation gain from the top of Mount Noble to the parking lot, the maze of trails weaving up and down the mountainside will offer plenty of challenge for more advanced riders, Sutton said, while tamer loops will let beginners give mountain biking a try without venturing far from home. Runners and hikers will also be welcome to explore the trails.
"I think we have a good entry-level beginner trail," Sutton said. "I think we have what I would call a very rhythmic intermediate trail, and then we have a slope-style one-directional trail which will be mostly downhill and it will have jumps, big berms, lots of rollers.
Coming together
On a chilly afternoon in March, Tinker Jenks was all smiles as she walked the dirt-packed switchbacks of one of the trail system's completed sections. Currently a program associate with the Cherokee Preservation Foundation, Jenks has been shepherding the trails project along for years — first as part of the Cherokee Choices diabetes prevention program and then as a planner for the tribe's Economic and Community Development Office. To see it becoming reality is thrilling.
"They (tribal members) wanted to be active, but there weren't enough places to be active," Jenks said. "They wanted more trails within the (Qualla) Boundary. That's where the idea got started."
So, during her time with Cherokee Choices Jenks started working with Economic Development to flesh out the idea, and determine how it might get funded. She applied for a grant from the Cherokee Preservation Foundation to develop a plan for the trail system, which was awarded in April 2014.
Then, just days before the Preservation Foundation announced the funding, youth in the Junaluska Leadership Council proposed to Tribal Council a resolution to start planning and development for a series of hiking and biking trails on the Qualla Boundary. The resolution passed, and then Principal Chief Michell Hicks signed it the same day Jenks learned she'd received the grant. The grant, together with a 50 percent match from Tribal Council, paid for the planning phase.
"It all came together at the same time," Jenks said.
Cherokee-based Aniwaya Design & Planning with trail specialist Valerie Naylor was hired to design the trails, and Trail Dynamics was engaged to build them after the tribe's Capital Committee — a function of the Executive Office — voted to fund construction in June 2016.
Expanding opportunities for exercise and physical fitness has been a focus area for the tribe in recent years, with tribally funded community centers and gyms popping up throughout the area. If opportunities are more accessible, the thought process is, they'll be used more and the overall health of tribal members will increase.
Zach Goings, 31, hasn't let the previous lack of mountain biking facilities deter him from pursuing the sport of his choice, but in the past he'd pack up and drive two hours to DuPont State Forest if he wanted to spend a whole day on the trails. However, he's ridden around the mountain where the new trail system is going in for the past 12 years, and the road up to the fire tower was one of the first trails he ever rode.
"It's a little bittersweet because the first time I came up here and saw it, the first bottom section was totally different, but I am really excited that this is available locally," Goings said.
"I think it's going to be good for Cherokee," he added, "and hopefully we'll be able to add onto it in the future."
Hyatt has already discussed one possible expansion with the Cherokee Indian Hospital. The trail system ends not far from where the hospital's campus begins, and there's potential for a spur trail that would let people access the trail system from the hospital — giving folks a chance to practice the message the hospital preaches about the importance of physical fitness. Such an extension, if built, would likely come at some future point after the main trail system opens.
Diversifying adventure
When completed, Cherokee's trail system will certainly not be the only mountain biking system in Western North Carolina. The nationally celebrated Tsali Recreation Area lies 23 miles to the west, and Western Carolina University's trail system is 21 miles to the southeast. Drive a little further, and there's the Bent Creek Recreation Area in Asheville, trails in the Pisgah National Forest near Mills River, and DuPont State Forest. Sylva has been discussing someday installing mountain bike trails on its Pinnacle Park property.
Cherokee will be in good company.
The diversity of existing mountain bike offerings in Western North Carolina wasn't a deterrent in planning Cherokee's system, however. It was actually an encouragement. Sutton referred to the Tsali and WCU systems as "complimentary" systems — with the three mountain biking areas existing in such close proximity, they'll essentially combine forces to create a more powerful draw for out-of-town bikers than any one of them could do alone. Each trail system has its own strengths and weaknesses, its own target demographic.
"Tsali is what I would call the ultimate beginner experience, but for more advanced riders this trail system is going to have a lot more excitement and the kinds of features that advanced riders are looking for," Sutton said.
Of course, it will also include easier sections too, and that's by design. The goal is appeal to as broad a base of riders as possible.
"We want to encourage families to come in and do stuff together, and visitors to have another option when they come to visit Cherokee," Jenks said.
With the Great Smoky Mountains National Park right next door, outdoor adventures are already a big motivator for people to visit Cherokee. But the park doesn't offer any mountain biking trails, so developing a system in town seemed a golden opportunity.
Sutton, who lives in the mountain biking-crazed town of Brevard, agrees.
"We've become a biking town, and a lot of it is because of the local trails that have been developed over the last 15 years," Sutton said. "A community like Cherokee could eventually have something on a smaller scale, but become a destination."
That's what the Junaluska Leadership Council had in mind when its leaders first presented the idea to Council. The JLC's resolution spoke of "a need to diversity the local economy" and the potential of eco-tourism activities like a trail system to "stimulate economic growth and provide healthy recreational activities for enrolled members."
From what Hyatt's been seeing, those hopes aren't far-fetched. Local runners and riders are nothing but excited about the trail system that's soon to arrive in their backyard. All indications are that the trails will see a quick rise to popularity.
"They can't wait to get up here to do it," Hyatt said. "They can't wait to ride it, can't wait to run it."