Archived News
Tapping Western North Carolina: Local craft breweries spill onto economy, culture
Wednesday, March 22, 2017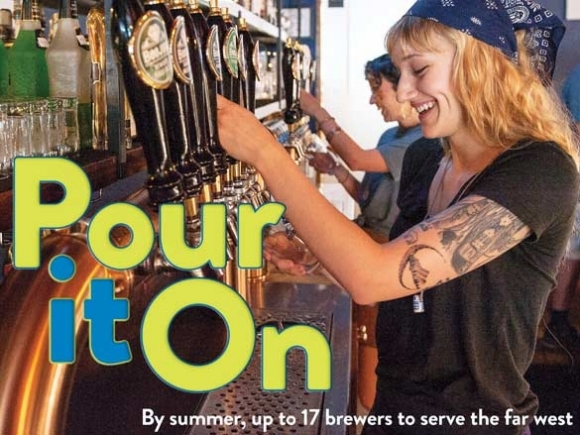 By all accounts, the craft beer business continues to boom in Western North Carolina.
And that's not just in Asheville with its dozens of breweries and brewpubs. Head west on Interstate 40 and merge onto the Great Smoky Mountains Expressway. You'll soon come across numerous breweries from Canton to Bryson City, Highlands to Murphy, and seemingly everywhere in between.
"We're evolving beyond just 'being local.' That hyper-local brewing movement is there, and will stay there. It's very similar to the farm-to-table slow food movement [in Western North Carolina]," said Joe Rowland, former president of the Asheville Brewers Alliance and owner of Nantahala Brewing in Bryson City. "I definitely think there's more room for local breweries, especially in our market, because our market is driven by tourism."
These locations have either become a beacon of life and an economic heartbeat for long-dormant mountain towns, or simply have evolved into another robust branch on a growing community tree. They provide jobs to hundreds of local folks and also a place to sit and soak in Southern Appalachia, converse with neighbors and visitors alike, and sip the fruits of their labors from these artisan beverage makers.
There are currently 14 breweries in eight towns in the region west of Buncombe County. Three more locations are also expected to open this year (in Bryson City, Hayesville and Sylva). Below is a quick snapshot of where we're at, where we're going, and what folks can expect as each brewery hones in on the unique magic we've come to enjoy from their products.
Andrews Brewing (Andrews)
Andrew Brewing recently opened its new production facility, which was the old A&P grocery store in downtown. Barrel numbers for 2016 were around 80 (a barrel is 31 gallons), with that number expected to top 100 in 2017.
"For now, we're only brewing beer there [in downtown]. However, one day, we hope to open it up to the public," said owner/brewer Eric Carlson. "And we're grateful for the customer loyalty we already have that is slowly getting us to that point."
Currently, customers can enjoy The Calaboose, their nearby taproom and live music property. In celebration of Earth Day on April 22, Andrews Brewing will be teaming up with Hoppy Trout Brewing for a day of live music and craft beer at Hall Park in Andrews.
Balsam Falls Brewing (Sylva)
Though exact details are unknown, BCNC Investments has announced the purchase of the building that formerly held the Evolution Wine Kitchen on Main Street. With the sale, Balsam Falls Brewing Company plans to remodel and open the brewery and tasting room in summer 2017. Further information and an opening date will be announced soon.
www.facebook.com/balsamfallsbrewing.com.
BearWaters Brewing (Canton)
After several years of residing in Waynesville, BearWaters relocated to Canton in late 2016, overtaking an 11,000-square-foot, two-level building in downtown right on the Pigeon River. With an expected opening date aimed for Memorial Day Weekend, the brewery will kick things up a notch on its new 20-barrel system, which includes five 20-barrel fermenters and three brite tanks.
"We'll be firing up the equipment next week," said owner/brewer Kevin Sandefur. "I think this new location is going to work well. We have a great partnership with the Town of Canton. And, with the recreational side of things, we'll be building a dock on the river for tubing and kayaking."
Sandefur also noted that there will be a food component with the new brewery. Haywood County businessman Richard Miller (of The Classic Wineseller and Church Street Depot in Waynesville) will open a gastro-pub within the facility.
"And with our cellar below, we'll start a barrel-aging program, with our saisons being available soon," Sandefur said.
Boojum Brewing (Waynesville)
Now looked at as the "social hub" of Main Street in Waynesville, Boojum has grown exponentially in its two years in Haywood County. Not only did it triple the size of the restaurant in the downtown taproom, Boojum also tripled the size of its off-site brewery (3,000 square feet to 9,000 square feet). The updated brewing system can go from a capacity of 3,000 barrels to now around 10,000.
In terms of current distribution, Boojum is in the 13 westernmost counties in Western North Carolina, with plans in the works to expand even further. The products are also finding their way to Charlotte and points eastward.
"It's just been a wild ride," said co-owner Kelsie Baker. "At the brewery, we've been canning our beers for a while now onsite, and it's really taken off. We've become maxed out in what we're producing in our Western North Carolina distribution territory. The demand is there on the store shelves and in the taproom, and we've trying as hard as we can to meet that demand. People are spending their hard-earned money in our breweries. Quality is our top priority — you can never compromise that."
Currahee Brewing (Franklin)
Bursting onto the craft beer scene last year with a brand new 10,000-square-foot facility in downtown, Currahee recently purchased a 60-barrel fermentor to nicely complement its already robust 15-barrel system. Barrel numbers were 700 for 2016, with the goal for 2017 at 2,000.
"And we've expanded into the northern Georgia market, including Athens and Atlanta. Our cans are now available full-time in many grocery stores and convenience stores in Western North Carolina," said Head Brewer Taylor Yates. "Our upcoming seasonals include 'Burningtown,' a hoppy dark Belgian-style ale for spring, and 'Three Mile,' a kettle sour with tropical and citrus notes. Our foeder and barrel program is maturing nicely, and wild and sour beers are coming soon."
Frog Level Brewing (Waynesville)
As the first brewery to open in Haywood County, Frog Level is expected to once again expand its brewhouse in the coming months. For 2016, Frog Level brewed upwards of 15,800 gallons (roughly 509 barrels), with that number expected to double in 2017.
"We've worked on taste consistency, growing our own yeast, and of course cutting costs without hampering quality in 2016," said owner/brewer Clark Williams. "[Our new brewer] has done an outstanding job with that. We're also getting a larger diverse food truck scene from Asheville, since Waynesville doesn't have many — yet."
Key styles for Frog Level in recent months have been the "Frog-Nog," a vanilla bean port and the "Dragon Fly IPA." There will also be new selections to be released this summer, with the "Croak-A-Nut Porter" to be canned shortly.
Heinzelmännchen Brewery (Sylva)
As the oldest brewery west of Asheville, Heinzelmännchen celebrates 13 years in 2017. Although its offered live entertainment and games throughout the years, the brewery recently provided a semi-weekly potluck on Thursdays, where beer lovers bring a dish, all while enjoying a pint and live music.
With brewmaster Dieter Kuhn and his wife Sheryl Rudd at the helm, the German-style brewery remains a source of knowledge and friendship within the industry at large.
"[Dieter's] most recent addition is 'Alpenglühen,' a pilsner recipe fermented with an ale yeast and brewed with hibiscus and honey," Rudd said. "This glowing reddish ale has a refreshing crispness with an earthy note from the hibiscus and a sweet finish."
The couple continues to sponsor and raise funds for several nonprofits around Jackson County, with a special emphasis on The Community Table.
"We are proud to have been the first [brewery] in Western North Carolina and are so grateful for our customers," Kuhn said.
Hoppy Trout Brewing (Andrews)
With a one-year anniversary this past Jan. 1, Hoppy Trout spent the winter doing test batches in an effort to expand its already impressive variety. For 2016, the brewery produced 130 barrels, and is hoping to double that in 2017.
"Expect some exciting new beer styles to be released again in the brewpub [and restaurant] this summer," said owner/brewer Thomas Rodeck. "We're also planning to attend some major North Carolina festivals this year as well as co-hosting several events in Andrews."
Innovation Brewing (Sylva)
Clocking in at right around 1,000 barrels for 2016, Innovation is expected to do slightly more than that for 2017. With an expanding sour program, and also a physical expansion within the downtown property, the basement brewing facility is filled to the brim with fermentation and conditioning tanks, and also barrels designated for "sour and funky beers."
"This spring, we're releasing what we think is our best sour beer yet. It has been aging in conditioning tanks for six months," said co-owner Nicole Dexter. "We took our sour blonde base and added 130 pounds of local Niagara grape pumice to one batch and 130 pounds of local Concord grape pumice to another batch. The grapes were added fresh the same day they were harvested from Calaboose Cellars' vineyard [in Andrews] and it has made for a spectacular beer. You can expect to see Caleidon Niagara and Caleidon Concord for sale in 750-milliliter bottles [by] April 1."
Lazy Hiker Brewing (Franklin)
As Franklin's first brewery, Lazy Hiker will celebrate two years in operation come June. Barrel numbers for 2016 were around 700, with 2017 expected to brew between 1,100-1,200. The brewery has also begun canning three of its signature pours: "Trail Mate Golden Ale, "Slack Pack IPA" and "Wesser Evil Porter."
"So, our fans should be able to find those in stores throughout the 38 westernmost counties in North Carolina," said Head Brewer Graham Norris. "We also just introduced our spring seasonal, 'Springer Fever Pilsner,' that kicks off our new seasonal line of beers. You should be able to find these beers in cans as well, beginning with our upcoming summer seasonal."
Norris noted that St. Patrick's Day brought about the release of the "Night Hike Imperial Stout," with a release of a "Double IPA" expected for the Appalachian Trail Celebration on April 22 at the brewery.
"We are also looking at expanding our distribution area down into Georgia some time this summer, which would increase those production numbers," Norris added.
Mountain Layers Brewing (Bryson City)
Although it has yet to officially pour any of its products, Mountain Layers is expected to have a soft opening at some point in April or late spring. Located just over the bridge from the Swain County Heritage Museum on Everett Street in downtown, Mountain Layers has a seven-barrel brewhouse with four fermenters.
"The styles range from classic American to Belgian-inspired. Once we're in our groove, we plan to have 10 of our own beers coming through the 12-tap system along with a cider or two rounding things out," said Head Brewer Noah McIntee. "The space is physically complete except for a few odds and ends. The main-level bar facing Everett Street is being filled out now with bar equipment, as is the upper-level bar and outdoor patio overlooking downtown and the Tuckasegee River."
www.mountainlayersbrewingcompany.com.
Nantahala Brewing (Bryson City)
A pillar of the Western North Carolina brewing industry, Nantahala recently opened a restaurant just down the road from its downtown brewery. Dubbed "The Warehouse," the eatery combines southern comfort foods and cosmopolitan styles with a keen eye on locally sourced ingredients.
For 2016, Nantahala brewed 5,000 barrels, with around 10,000 expected for 2017. When taking a gander at its gigantic 20-barrel brewing system, Nantahala also has 10 30-barrel fermenters, three 60-barrel fermenters and three 15-barrel fermenters amid its numerous brite tanks (one 60-barrel, one 100-barrel and six 10-barrel).
In terms of distribution, Nantahala is being sold in upwards of 65 counties in North Carolina, all through Eastern Tennessee and Nashville, and last week started selling in Georgia.
"We're definitely a lifestyle brand. People have emotional connections to the Nantahala brand way beyond just us making beer," said owner Joe Rowland. "And we've always known that, but to really understand the extent of it, that's something that has come with time — in the taproom, in the restaurant. To see that kind of support is huge for us."
Satulah Mountain Brewing (Highlands)
Coming in at around 150 barrels for 2016, Satulah also recently bottled several cases of its trademark "Sunset Saison" in 750-milliliter containers to celebrate the New Year.
"I'm in the process of a small expansion and hope to get my beer out in the marketplace a lot more in 2017. So, I hope that a lot more folks will get to try my beer and experience my brand," said owner/brewer Dale Heinlein. "I also hope to pour at more festivals this year as well. Lots of saisons and hop-forward beers are in the works. I hope the expansion will allow me to experiment a little with wild and sour cultures, as well as expand my kombucha projects."
www.satulahmountainbrewing.com.
Sneak E Squirrel Brewing (Sylva)
Located just outside of downtown Sylva, Sneak E Squirrel has found an ideal crossroads of pub fare and craft beer selections, with its "Build-Your-Own" burger concoction, and also "IPA" infusion, where customers can select how they want their pint to taste with select hops.
"We are continuing to provide weekly experimental beers, and now offer a dozen flavor infusion options to allow you to create your own beers," said owner/brewer John Duncan. "We continue to provide fresh hop infusions to allow you to customize your IPA."
Tipping Point Brewing (Waynesville)
With owner/brewer Jon Bowman continuing to experiment with several varieties of styles and flavors, Tipping Point is aiming to hit 300 barrels brewed for 2017. It also hired Brent Frank as part of the brewery team, a graduate of the Appalachian State University "Fermentation Sciences Program."
"We will be doing some self distribution around Western North Carolina," Bowman said. "We're going to start a barrel-aging program. Look for the first of those to be out in 2018. We're also going to be producing a few sours this year, too."
Valley River Brewery (Murphy)
Celebrating its first anniversary in January, Valley River brewed 200 barrels in 2016, with 240 expected for 2017. On a 2.5-barrel system, the brewery offers Belgian and American-style ales. Plans are currently in the works to open a second location in Hayesville in May.
www.facebook.com/valleyriverbrewery.
Editor's Note: Each of the breweries mentioned hosts an array of live music, activities, tastings, games, ping-pong tournaments, trivia nights, community/nonprofit fundraisers, holiday celebrations, special releases and much more. For more information on these breweries and their events, make sure to visit their websites.
SMN toasts NC Beer Month
April is "N.C. Beer Month" in North Carolina. All throughout the state, there will be special events, tastings and activities celebrating one of the fastest-growing industries in our own backyard.
With "N.C. Beer Month" upon us, The Smoky Mountain News checked with all the breweries west of Asheville to get an update on their production, special events, and future plans in the growing Western North Carolina industry that is craft beer. Over the next few weeks, we will also look into the economic impact of the brewing scene on our region, as well as what other side businesses have popped up as a result of the needs and growth of the industry.
For a complete list of breweries and events, click on www.ncbeermonth.com.