Archived News
The tales the tombstones tell
Wednesday, March 22, 2017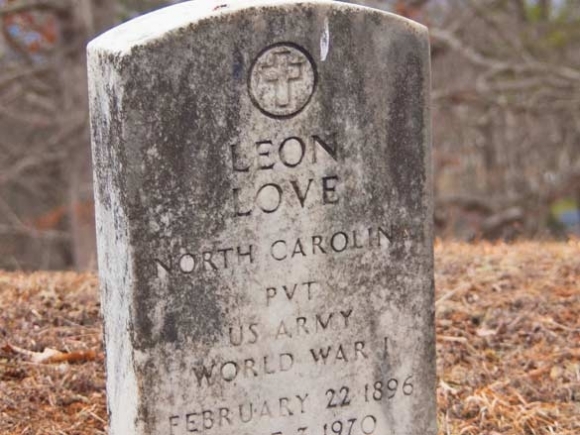 High atop a knobby bald in central Haywood County sits lonely Dix Hill Cemetery, just yards from Jones Temple AME Zion Church in the heart of Waynesville's historically African-American Pigeon Street community.
For more than a century, that church and that community sent its members to the segregated burying ground across the street, where today in obscurity languish their forgotten final resting places.
Cemeteries, however, are really full of life, if you know where to look; weathered gravestones offer tantalizing hints about those who've come and gone.
A recent effort by the town of Waynesville to fund a survey is currently underway and could lead to recognition of the community surrounding Dix Hill, be its inclusion on the National Register of Historic Places or the creation of a historic district, but even if the grant meant to sop up the bulk of the cost doesn't materialize, a quick look at some of the denizens of the cemetery — coupled with internet research from freely-available public records — shows Dix Hill to be a place where tombstones tell tales worth investigating further.
Digging deeper
A 1979 book by George Augustus Miller Sr. called Cemeteries and Family Graveyards in Haywood County N.C. says that Dix Hill is believed to be the first black cemetery in Haywood County and that it has been in use since the early 1800s.
Other than that, not much is known about the town-maintained 3.41-acre parcel located just south of Pigeon Street on McCracken Road.
"We don't have any deed," said Amie Owens, Waynesville's assistant town manager. "We don't know who's buried there or who owns plots."
Waynesville Mayor Gavin Brown is something of an expert on Haywood County history, and not even he could come up with anything solid.
"I believe there's old minutes, back in the 60s, authorizing the purchase of the cemetery, but it just never got done," he said.
There are fewer than 250 visible grave markers, but Miller's book estimates that more than a thousand burials have taken place over the years. The earliest documented is of Mary Langley, an 8-year-old girl who died in 1888.
Human nature is to wonder and to empathize with a life lost so prematurely, but Langley's 129-year-old grave offers little more in the way of the detail.
The 1880 U.S. Census, however, shows a 35-year-old African-American farmer named Tolbert Langley living with his 21-year-old wife Anne, who kept house for him and their daughter Florrence, 9, and little Mary — who was only a few months old when the Census Bureau came knocking at their Upper Hominy Township homestead in Buncombe County.
SEE ALSO: Digitizing the deceased
Mary's story — as sparse as it may now be — is just one of many hundreds buried at the site, but a Smoky Mountain News statistical study of all 231 documented Dix Hill burials listed on the internet memorial site findagrave.com tells far more tales than any tombstone ever could.
Data compiled in a sortable spreadsheet is how Langley was identified as the earliest documented burial, and also revealed the identity of the cemetery's oldest documented person, Richard Welch.
The starkly elegiac inscription on Welch's broken tombstone reads "Died Dec. 24, 1900 aged 70 years" but the 1900 census says the illiterate farmer who owned his own land free and clear and married his wife Susan — who was a decade his junior — in 1862 was born on March 6, 1828.
The 1870 census paints a slightly different picture of Welch; it contains a column titled "Deaf and dumb, blind, insane or idiotic" in which a checkmark was placed next to Welch's name.
Was he illiterate because he was blind? Was he really a blind farmer? Did he become a landowner despite some other disability? Or was it just a grumpy census-taker?
Such are the deficiencies and discrepancies reflected in recordkeeping of the era. Gravestone inscriptions, however, when available and in conjunction with now widely available U.S. Census documents, are considered solid source material for genealogists and history buffs alike.
The study shows that the majority of documented burials beginning with Langley in the 1880s and ending in 2011 occurred before 1950, peaking in the 1920s while coinciding with segregation.
The average age of decedents is 50 years of age. The oldest was 100. The youngest — in a grim reminder of higher infant mortality rates not long ago — didn't live a day, and almost 10 percent of documented burials are of children less than 10 years old.
Six people have graves with names but no birth or death dates, and hundreds more may lie beneath them, but their journeys make them more than just numbers on a spreadsheet.
From the South to Spokane
Dix Hill is full of well-known names from Waynesville's African-American community — Loves and Lenoirs, Forneys and Smiths — but just one Robinson.
Likely born a slave in Buncombe County in 1853, M.R. "Miles" Robinson's last name is spelled "Roberson" in some records, making his story difficult — but not impossible — to trace.
According to more than one source, he married Hattie Jane Robins in 1876, when he was 23 and she was 18; their union was certainly fruitful and produced 11 children, all born in North Carolina: Kansas (1877), Alonzo (1879), Jackson (1880), Daisy (1882), Willie (1884), Sterlin (1886), Minnie (1887), Joseph (1889), Flossie Mae (1891), Grover (1894) and Fannie (1896).
The 1900 census lists the Robinson family as living in South Beaverdam Township and lists Miles' occupation as "farmer." His two oldest children, Kansas and Alonzo, were listed as "farm laborers."
Although Miles could neither read nor write, by July 2, 1900, his wife and six oldest children could.
In the 1910 U.S. Census conducted on April 28 of that year, only the Robinson's four youngest children still lived at the family's Beaverdam home, which Miles owned.
Joseph, Flossie Mae, Grover and Fannie could all read and write, and were all employed as domestic laborers.
Miles himself would pass away on September 24 of that year, and was carried up to Dix Hill and buried under the handsome obelisk that still bears his name.
Census records show continuation of his family's journey over the course of nearly a century.
In 1940, Miles' widow Hattie lived at 1920 East First Avenue in Spokane, Washington, with her son Grover Cleveland Washington, who worked for the Great Northern Railway at the time; Grover's WWII draft registration card lists his older sister Minnie Thompson, also of Spokane, as his emergency contact.
Buffalo Soldier
A standard issue U.S. government upright headstone is 42 inches long, 13 inches wide, 4 inches thick and weighs approximately 230 pounds.
White with slight variations in color and veining, the headstones are immediately identifiable because of their ubiquitousness in cemeteries across the country and the world, including Dix Hill.
Such is the marker of Leon Love, who died in 1970.
Love was born into segregation Feb. 22, 1896 in Waynesville and was a tall, slender, unmarried plasterer employed by his father Henry Love, according to his WWI draft card dated June 5, 1917.
His service card says he was inducted into the segregated United States Army in Waynesville on April 29, 1918, at the age of 22 and was immediately assigned to the 156th Depot Brigade – a common landing spot for African-American soldiers of the time indicative of their social standing.
Depot Brigades generally served as the housekeeping of the Army; they received and organized new recruits, managed and distributed their uniforms, and tended to laundry and equipment before sending those recruits off to fight.
That July, Love — who had a tenth-grade education — was transferred from Ft. Jackson, South Carolina, to Ft. Meade, Maryland, and the 167th Field Artillery Brigade, which was the very first unit of African-American artillery ever organized.
The 167th was part of the 92nd Infantry Division, which was composed solely of African-Americans, but for officers.
Nicknamed the "Buffalo Soldiers" — itself a nickname given to African-American soldiers by Native Americans in the 1800s — the 92nd was one of just two "colored" divisions during WWI and was the only one to see combat in Europe. It was also the subject of a 2008 Spike Lee movie called "Miracle at St. Anna."
Although it's not known why, Love lasted just nine days with the 167th before it shipped out for Europe — a move that may have saved his life.
The 92nd suffered a substantial 25 percent casualty rate during heavy fighting in the Italian theater.
Love spent the rest of the war at Camp Upton in Yaphank, Long Island, New York, with the 152nd Depot Company and may have run across storied American composer Irving Berlin while he was there; Berlin was also stationed at Upton, and wrote the musical review "Yip Yip Yaphank" during his stint.
Discharged honorably on Jan. 17, 1919 — just two months after the November 11, 1918, Armistice — Love suffered no service-related disabilities and never left American soil during the war.
It is assumed that Love then returned to Waynesville; the 1940 U.S. Census lists him at age 44 as widowed, living with his 80-year-old father on East Street and still working as a plasterer; he earned $624 in 1939, or about $10,000 in 2017 dollars.
Life and Liberty
Dix Hill looms 125 feet above Jones Temple, but also casts a prominent shadow on another historic African-American church 15 miles away.
Organized in 1871, the Liberty Baptist Church in Sylva has long been one of the most active and prominent African-American cultural assets in the region and boasts detailed records dating back just as far.
When Rev. J.S. Ritchie was called to serve at a different church in 1906, Rev. Amos Copney took over until 1911.
Little more is known of Copney's life, but he must've had roots in the Waynesville area; he rests in Dix Hill next to his wife, Ella Mae, who is listed in the 1962 city directory as living at 521 Pigeon Street.
Liberty's long list of pastors and Copney's Dix Hill burial suggest that many more early leaders of that church may also occupy some of the estimated 800-plus undocumented gravesites at Dix Hill, but without further research, no one really knows.
The Town of Waynesville expects to hear back about its $6,000 grant application to the State Historic Preservation office sometime in May; in February, town aldermen committed $4,000 in matching funds toward the $10,000 study.
Even if Waynesville doesn't get the grant, it's possible the study of the greater Pigeon Street community — including Dix Hill — might still be undertaken.
"We'd probably look into doing it," Mayor Brown said. "We'd probably look at doing it a little cheaper, but it's within the scope of what we'd consider."
A similar grant request for Waynesville's Greenhill Cemetery was rejected in 2015, but the town took on the entire $5,700 cost.
Given the rate at which tales of the faces and places of Pigeon Street — like Mary Langford, Miles Robinson and Pvt. Love — are fading into the mists of time, it can't come soon enough.