Archived News
Digitizing the deceased
Wednesday, March 22, 2017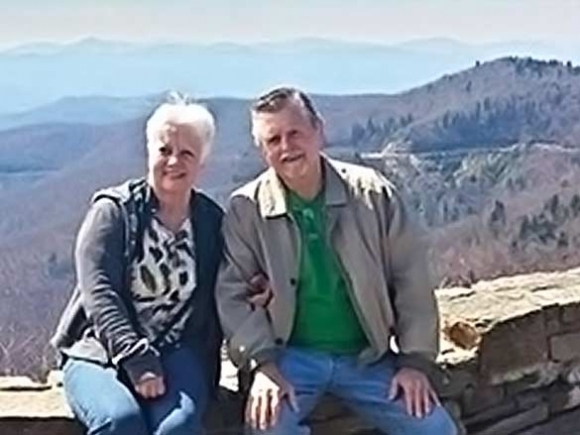 From frost-churned fields on steep hills above shadow-soaked coves spring mossy fieldstones, hopelessly eroded and only becoming more so, season by season.
Many such gravesites in the Smokies no longer tell their tales due to the confluence of acidic rain and, like human life, the utter impermanence of even rock.
But as these stones return to the ancient granular bits from whence they came, they're also being converted into more persistent electronic bits on the internet by volunteers across the country, and across the county.
Hailing from a suburb of South Bend, Indiana, Kate Kretchmer moved to Haywood County in 1996.
While antiquing in South Carolina with her husband Jack some years back, they came upon a 1979 book by George Augustus Miller Sr. called Cemeteries and Family Graveyards in Haywood County N.C.
Because of the book, Kretchmer became a sought-after source on Southern Appalachian genealogy message boards by descendants of some of Haywood's earliest settlers, whose families have spread across the country and the globe in the ensuing three centuries.
"I've been doing this for about 15-and-a-half years," said Kretchmer, 65.
It's actually 15 years, 8 months, and 5 days as of March 22, according to her profile on findagrave.com.
Established in 1995, findagrave.com is essentially a database site that started out as one man's macabre hobby of visiting and cataloguing the final resting places of celebrities.
Over the next decade, it swelled to include fully searchable submissions from and about everyday people, including cemetery and gravestone locations, biographical details and headstone photos, all submitted by users like Kretchmer.
In 2013, founder Glen Tipton sold findagrave.com to ancestry.com, which has been quick to augment its own robust primary source information with findagrave.com's 75 million photos and 159 million records.
Kretchmer found findagrave.com to be an easier way to field those message board requests and fulfill them in a more permanent manner.
"There were so many requests, requests like 10 years old," she said, recalling her first visits to Haywood cemeteries and her first posts on the website around July 18, 2001.
In the intervening 5,726 days, she's added 5,629 memorials and an amazing 12,402 photographs, aided by her book and her husband – almost one documented gravesite and just over two pictures a day, every day, for 15 years.
"If the cemetery is small, I just do the whole thing," she said. "He cleans everything and weeds the headstones and I take the pictures."
Some of those pictures can be rather unusual; Jack remembers that one family plot they visited was in a cow pasture and had concrete over the graves to prevent them from being trampled.
"The cows used the upright headstones to scratch their sides," he said.
Another high and lonesome spot visited by the Kretchmers features a gravesite where, apparently, the music never stopped.
"The gentleman buried there had been a banjo player because there was a banjo on his headstone," Jack said. "There were stumps set up around it and beer bottles everywhere" as though his companions might still let him call the tune.
Pleasant surprises like the posthumous hootenanny aren't as common as the bramble bushes, barbed wire, gun-brandishing locals and strenuous hikes encountered by the Kretchmers in their pursuit of the overgrown, overlooked cemeteries in the more rugged stretches of the region; Appalachian cemeteries are often situated on the absolute worst pieces of land available, to avoid utilizing precious and scarce agricultural acreage for perpetual sanctification.
Despite the risk, the rewards reaped far outweigh the occasional guard dog chained to a solitary greying hemlock and brooding over a fading family plot.
"It just happened last year," Kate said of a message she'd received from an out-of-town man on the website about a headstone she'd listed from the book. "It was his great-great-grandmother — a Moody."
After two or three visits to Dellwood Cemetery, Kate still couldn't find the gravesite the man was seeking, but after "one last try" they found a weathered, unreadable stone.
Splashing water on it didn't help reveal the name, Kate said, but rubbing mud on it did.
"He came into town last year and we went out to lunch," she said. "It was just so nice to meet somebody who came that far, from the state of Washington, for a loved one."
The people buried at Dix Hill Cemetery had loved ones, too — loved ones who carried them home, up that solemn hill in expensive caskets destined for paid-up plots at a time when unadorned field burials were still common.
And all the more so among African-Americans in a segregated society in a segregated cemetery; at the time recordkeeping was more of an art than a science but never a given, especially for those who'd been born into slavery.
"There are a lot of volunteers in Haywood County, but nobody would do this cemetery," Kate said. "Then I found out it was the black cemetery and I said I didn't care."
Many of the 231 entries on findagrave.com for Dix Hill were made by Kretchmer, but they reflect only a fraction of the supposed thousand graves there.
Some bear only fieldstones as embellishments, but some embrace the mortal remains of a person of which not a scrap of documentation or memory exists that they had ever even lived at all.
Thousands of posts by Kate Kretchmer — and thousands like her — might help retard the inevitable decay not of the tombstones themselves, but of the tales they still tell.
"I just enjoy it," she said. "I have loved ones that I can't find their cemetery or their death certificate. Just to know we've helped somebody find a loved one is very satisfying."