Archived News
Dillsboro river park proposal draws a crowd
Wednesday, March 22, 2017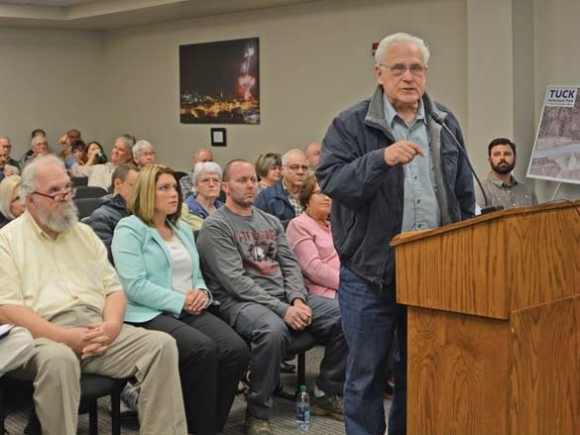 A proposed river park development in Dillsboro drew a crowd of roughly 75 people to a public hearing March 20, with 20 people delivering comment on the issue and prompting the Jackson County Commissioners to postpone a final decision until they could fully research all the questions that were asked.
"I wished we'd make a decision on this tonight, but I think to do our due diligence — you have people come and speak for over an hour and I think we need some time to digest for a little bit what they said," Commissioner Boyce Dietz said during the regular meeting that followed the public hearing.
The comments were overwhelmingly positive. Many speakers tempered their praise with concerns about details of the plan, but only three people were outright against the idea.
"We feel this project will enhance an existing asset we've always supported, which is water adventure on the Tuck," said Jackson County Chamber of Commerce Chairman Larry Minton.
"People who are against the project need to bite the bullet and say, 'We need to do this for the better good of the whole community,'" added Valerie Harrison, a member of the Dillsboro Planning Board. "Jackson County needs it, Dillsboro certainly needs it, and it's something we can all benefit from in the community."
Mike Potts, who owns the Dillsboro institution Nancy Tuts Christmas Shop with his wife, Lisa, said that the river park could prove the silver bullet the town needs to get people to stop and experience Dillsboro on their way to the Great Smoky Mountains National Park, Harrah's Cherokee Casino Resort, Pigeon Forge or any of a number of other regional destinations.
"What I see this as is 30, 40, 50,000 opportunities a year to have customers bring revenue into Jackson County," Potts told commissioners. "I believe in trickle-down economics, that not only will this bring money into the river club but it will bring money in our hotels, motels, restaurants, our retail stores."
Working out the details
Supporters of the proposal weren't without their concerns. Chief among them were worries that traffic would prove unmanageable and that plans to connect the riverside development to downtown Dillsboro weren't solid enough.
"I'm very concerned about our river valley and our community not being connected to this riverfront development," said T.J. Walker, who owns the Dillsboro Inn with his wife Terry. "I'm very concerned about the future guests coming to Jackson County and the town of Dillsboro and their accessibility to the town. Our business owners deserve better."
The written agreement doesn't stipulate that a pedestrian connector to be built, though a graphic plan for the site does show a pedestrian bridge and walkway leading to Dillsboro. At this point, said Economic Development Director Rich Price, those are just conceptual plans that have yet to be officially proposed.
Other folks wanted to ensure that language guaranteeing public access was strong enough to allow them to continue swimming, fishing and boating on the river as they've done for generations. And multiple people spoke about environmental concerns, leaning on commissioners to ensure that water quality and wildlife issues were duly considered when finalizing the agreement.
Roger Clapp, executive director of the Watershed Association of the Tuckasegee River, also pointed out that Kelly Custer — the Jackson County businessman who wants to develop the river park — would need to work with Duke Energy to ensure sufficient water flow for rafting. Duke's daily dam releases vary to benefit various groups of water users.
"How is that going to change?" Clapp asked.
Karen Davis, who owns Smoky Mountain Rafting Adventures with her husband, reminded commissioners that rafting is not a new industry in Jackson County and asked that they be respectful of existing businesses. Areas already in use for put-ins and take-outs are overcrowded, she said. Where would Custer's company be planning their take-outs for rafters?
"I would like the commissioners to consider expansion of the Dillsboro Park or removal of the dam so it is accessible to local rafters and rafting companies, and also consider what will happen at the end of the trip," she said.
Concerns about industry viability
Several speakers — all of them former rafting guides with careers in the industry — warned against doing the project at all.
"I'm not as bright-eyed and bushy-tailed about whitewater as a viable industry and a tourist draw," said Tom Hughes, a 20-year veteran of the industry who's lived in Jackson County for the past 15 years. "I have a number of concerns about the project."
River flows were quite low this year, due to the drought — what if that's a weather pattern that persists? How could the river park make its seasons long enough to be a viable business?
He also wondered how Custer could promise 10 jobs when he planned to contract services with other vendors. He questioned the strength of the agreement to protect the interests of existing river users as well as the property's meager $50,000 price tag compared to its much higher market value.
"Why should any private business receive a dime of taxpayer money, especially when budgets are strapped?" agreed Steven Edwards, a resident of Rabun County, Georgia, who works in Jackson County. He is also a 20-year veteran of the whitewater industry. "Is it fair to any other rafting company owner?"
Julie Thorner, a Swain County resident who owns a marketing company specializing in outdoor adventure businesses, also had some serious concerns about the proposal. She called the agreement a "sweetheart deal" that would bring some "key problems with traffic." She's also concerned that a pedestrian connection to Dillsboro is not stipulated in the agreement and worried about the viability of the enterprise, calling rafting "a dying industry."
"Adventure parks are new and exciting, but they're not for everyone," she said. "You have to have a certain level of fitness in order to do an adventure park. Some of my clients who have put parks in have noticed they don't get all the customers they thought they would because they're not able to do the courses."
Vote postponed
Despite the questions raised, Custer said he felt the hearing was "very positive."
"I think that the concerns that we heard are concerns that we share, especially with respect to traffic, water quality and the eco issues surrounding the project, and things we're working really hard on," he said in a follow-up interview.
The actual impact of the project will be much larger than what's been discussed publicly, he added, because in addition to the 7 acres of public land he hopes to buy he's also purchased 13 additional private acres.
Price, who's been working on the project from the beginning, said the public hearing was "a very productive conversation" but that he's "still convinced this is a very worthwhile endeavor" that will "impact Jackson County positively for a very long time."
Commissioners, meanwhile, said they'd been taking notes throughout the hearing and had several questions they wanted answered before voting on the proposal. A vote is planned for 3 p.m. Monday, April 3.
Though it's possible that public comment could result in some changes to the agreement, overall the board still seems to feel favorably toward the project.
"I didn't see anything that would really cause us to not go through with it," said Commissioner Charles Elders, "but I think we do need to evaluate each one of these."
The river park plan
The proposal involves a plan to turn 20 acres along the Tuckasegee River near Dillsboro into an outdoor adventure park, with 7 of those acres to be purchased from Jackson County.
The concept of a river park has been kicking around since Jackson County bought the land from Dillsboro in 2014, with multiple studies suggesting that such a development would draw tens of thousands of yearly visitors and bring tens of millions in multiplied spending to the county.
The proposal currently under consideration comes from Jackson County businessman Kelly Custer, who formed the LLC Western North Carolina Outdoor Development in order to bid on the Dillsboro property. Under the proposed 10-year agreement, Jackson County would sell the property for $50,000 — the appraised value of the 7-acre property is $791,000 — and also provide water and sewer extension, site preparation and a hydrologic study. Together with the purchase cost of the property, that would amount to a $926,000 investment.
Custer's end of the deal involves a pledge to construct an adventure park including a rafting and retail center, campsites, concessions, cabins and some combination of zip lines, ropes challenges and climbing apparatuses. He'd be required to create at least ten fulltime jobs as well as more than 50 part-time or seasonal positions, and he'd have to allow continued public access to the river and update the county on salary and wage data.
Commissioners plan to vote on the proposal during their next meeting, 3 p.m. Monday, April 3. Details are available through links on the right-hand side of www.jacksonnc.org.