Archived News
Monteith remembered as man of the people
Wednesday, March 22, 2017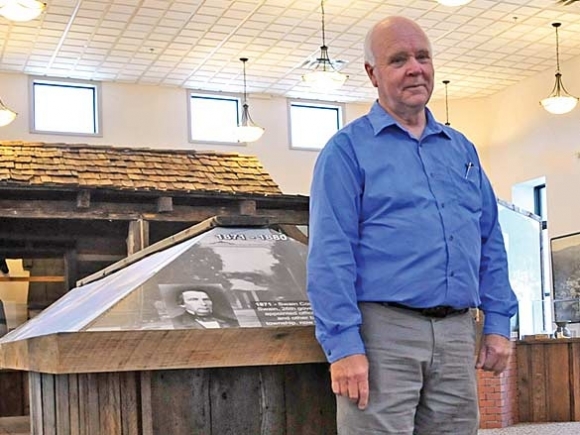 When speaking to the many people in Swain County and beyond who knew David Monteith either personally or professionally, they all used the same word to describe him — integrity.
"The one word that comes to mind when talking about David is integrity," said Charlene Hogue, who has known Monteith since she was 16 years old. "And when you have that kind of integrity, you do what's right for your county and that's what he always did. His death is not just a personal loss for me, but it's a huge loss for Swain County."
Monteith, 70, passed away March 10 after suffering from a heart attack. He leaves behind his wife and sidekick of 45 years — Ellen — and a long legacy of giving the people of Swain County a voice at the county, state and federal level.
He served as a county commissioner for 19 years and was just re-elected for another four-year term last November. He had a hand in many of the county's most successful programs and tourism-related projects through the years and was the go-to person for information about the county's history and heritage. He had a pulse on the community and the needs of his constituents.
Monteith was instrumental in getting the Swain County Heritage Wall, the Swain County Heritage Museum, and the granite tablets outside the doors of the Swain County Administration Building. He helped secure funding to repave Old 288 and create a boat ramp and park area there along the Tuckasegee River.
Swain County Manager Kevin King worked alongside Monteith for the last 19 years. He saw firsthand every day the passion Monteith had for Swain County and its residents. Whether he was fighting to get the federal government to rebuild the North Shore Road or fighting the Tennessee Valley Authority to keep houseboats on Fontana Lake, he said Monteith's legacy would be his ability to give the people a voice.
"Making the federal government accountable will be his legacy whether it was the national park or the TVA — seeing those issues with those biggest land owners and making them accountable and creating heritage attractions and keeping that going so the people's story will always be told — that's his legacy."
Deep roots
Monteith had deep roots in the area. Born in 1947, he was raised in rural Swain County in the aftermath of World War II.
Monteith's family came from the Forney Creek area, which was one of the communities flooded in the early 1940s to create Fontana Dam. The creation of the lake and dam also flooded the roads that once accessed old homesteads, cemeteries, mills, schools and other important landmarks.
"His family was one of the families that lost a lot when they didn't build the road back," said longtime friend Tony Sherrill.
"People don't really focus on it but this was Swain County's sacrifice to the WWII efforts — we left our homes and cemeteries because we were at war," said Hogue. "David appreciated that heritage and probably knew more than any other person about our history. He's an irreplaceable treasure."
But Monteith always tried to make the best of the assets Swain County had, no matter how many times he felt the county was slighted by the federal government. Sherrill said he never let grudges get in the way of what was best for Swain County as a whole. He was an avid fisherman on Fontana and even owned a houseboat on the lake until he sold it a few years ago.
Sherrill said Monteith knew how important outdoor recreation and tourism was to the county, especially since 87 percent of county land is occupied by national park and forest.
"When he became commissioner, he was looking at the tax base because most the county is government land so any little money he could find was helpful — he knew tourism was important," he said. "I don't know if I ever saw David benefit personally from anything he done. It was always for the people — it's what I really loved about him."
Monteith worked at Ingles in Bryson City for most of his adult life as the manager of the meat department. That's where Sherrill first met Monteith 40-plus years ago, though they would go on to be lifelong friends and work together on a number of projects related to Fontana Lake when he became a commissioner.
Once he retired in 2002, Monteith continued to work as a bus driver for Swain County Schools. He had one of the longest routes in the county — out to Tow String — and he started his weekdays at 5 a.m. to get those students to school. He truly enjoyed it though and often said it kept him in the know with the younger generation. When a school issue would come up before the commissioners, Monteith would poll his students on the bus to get their thoughts on the matter.
And when he was done with his morning route, his day was just beginning. Between his morning and afternoon route, he could be found having breakfast with his wife Ellen, and then at the county administrative building working, volunteering at the heritage museum or attending one of many community board meetings.
Road to Nowhere unfinished
Friends say that once Monteith set his mind to something, he wouldn't stop until it was done — no matter the obstacles.
"If there was something he believed in he went after it and he went after it hard — he just got things done," Sherrill said.
"He was tenacious in what he believed," said fellow Swain County Commissioner Ben Bushyhead, who served with Monteith for the last couple of years. "He would bring that point up many times — sometimes to one's chagrin — but you knew he was dedicated to that cause no matter what it was."
The North Shore Road issue has been one issue Monteith has dedicated his political career to resolving. It's the sole reason he ran for commissioner back in 1998. He wanted to see the federal government live up to its contract and rebuild the road from Bryson City to Tennessee. He wanted it for the people of Swain to be able to access their family history that was lost when the lake was created and he also wanted it for the sake of the county's tourism economy.
When Monteith was elected, he made it clear he didn't want to county to accept a cash settlement — he encouraged the other commissioners to hold out for the road to be built.
When Rep. Heath Shuler was elected and wanted Swain commissioners to sign a new contract with the federal government — one that would provide a $52 million cash settlement in place of building the road — Monteith was the lone holdout.
"He was a staunch advocate for the road — that was his No. 1 priority," Hogue said. "And he was the only commissioner that voted no on the new agreement."
Monteith, Hogue and other supporters of the road had little faith in the new contract and opposed the settlement.
"We might get the $6 million, the rest of it is a promise that we might do this in the 2009 budget. What good is a promise? We've been waiting 60 years. They are asking us to trust them again? I have no confidence," Monteith said back in 2007 when the settlement was still being debated.
Even with his warnings, commissioners approved the new contract for the settlement money 4-1 with Monteith opposing. Monteith's skepticism over the settlement might have made him seem overly negative and untrusting at the time, but his predictions were dead on.
The county did receive the first installment payment of $12.8 million in 2010 but hasn't received another dime since then.
"I think the other side is regretting doing away with the 1943 agreement — it was a firm contract," Hogue said. "This new contract wasn't negotiated well on our side and David pleaded with the other commissioners to include more in the settlement for Swain County, but I think they've seen the error of their ways now and realize they should have pushed for the road. Now we're stuck with a weak contract."
But once the decision was made, Monteith went along with the majority and started fighting to get the money. That fight has included numerous trips to Raleigh and Washington, D.C., to lobby legislators.
With the contract for the settlement money expiring in 2020, Swain commissioners filed a lawsuit against the U.S. Department of Interior last March in a last-ditch effort to collect the money. The county is continuing to push for its day in court though the Department of Interior filed for a motion to dismiss.
"I'm saddened by the fact that if we as a county can get the money from the federal government that we are owed, he will not be here to see that achievement," Bushyhead said. "I see that as the saddest part of his passing — the thing in which he believed most strongly he won't see come to pass."
Fight for Fontana
Even though he didn't live to end the fight over the settlement money, Monteith did win a big battle last year over the houseboats on Fontana Lake.
Last May, the Tennessee Valley Authority board of directors passed a new policy that stated all floating homes on TVA's lakes — about 1,900 structures — would have to be removed from the lakes within the next 30 years. The TVA staff argued that the houseboats were creating an environmental hazard by illegally dumping sewage in the lakes and created a navigational problem for other public uses on the lake.
With more than 350 houseboats being affected on Fontana, Monteith didn't waste any time speaking up in their defense. Besides the issue of private property rights, Monteith saw the economic benefits Swain received from those houseboat owners. They buy gas and groceries in Swain, eat at local restaurants, shop at local businesses and support local marinas that are responsible for mooring the houseboats.
Houseboat owners like Erik and Laura Sneed of Cherokee were instrumental in lobbying Congress to override TVA's ruling and allow existing structures in compliance to remain on the lakes, but it was the groundwork Monteith laid 15 years prior that saved the day.
At one time, the water quality of Fontana Lake was poor — fecal coliform levels were high and people were getting sick from swimming in the water. Recognizing the problem, Monteith became a founding member of the Fontana Lake Waste Recovery and helped write a county ordinance requiring houseboat owners to properly dispose of their waste.
"He himself was responsible for getting the fecal coliform in the lake reduced by passing a county ordinance requiring houseboats to have septic systems that could be pumped," Hogue said. "His efforts also were responsible for getting the ordinance passed as North Carolina law."
Being able to show immaculate water quality reports to the TVA really disproved the argument that Fontana was contributing to any environmental problems.
Laura Sneed said the houseboat owners wouldn't have prevailed in keeping their property if it weren't for Monteith's support and advocacy in Washington. She and Monteith traveled to D.C. last September to testify before a U.S. Congressional Committee about the issue and his testimony went a long way in convincing legislators that the TVA was overstepping its authority.
"Although he no longer owned one, he was a strong advocate for our cause and did everything he could to make sure the residents of Swain County didn't lose anything else to the TVA," Sneed said. "I honestly believe his passion and relentlessness played an intricate role in getting the attention of our North Carolina representatives and ultimately an act of Congress."
Bipartisanship
Another characteristic people admired about Monteith was his ability to work with people from different backgrounds and political affiliations. Even though he was a proud, lifelong Democrat, Monteith put aside political ideologies to get what was needed for Swain County.
"Whether you agreed or not, David would explain his position and why he felt as he did on an issue and then would listen to yours. When the conversation ended he would tell you how he would vote on any given issue and you could believe that was how he would vote," said Bunny Burnett. "His integrity was a breath of fresh air when talking with an elected official."
Hogue remembers in the early '80s when she and her mother Linda Hogue, both Republicans, were fighting with the Great Smoky Mountains National Park over getting the North Shore Road built. They formed the North Shore Road Association and started a petition, but she remembers Monteith being hesitant to join forces even though he agreed with the cause.
"David didn't join immediately because he thought we were a bunch of Republicans," Hogue laughed. "But he joined us and we worked together and formed an alliance to get the road built."
As a commissioner, he worked with every U.S. Congressmen elected to get the road and then later the settlement money.
"He worked good with everybody — party lines didn't matter to him," Sherrill said.
Rep. Mike Clampitt, R-Bryson City, said he had much respect for Monteith and his loyalty to Swain County through the years.
"His life really was about service to Swain County, and it will be very difficult to fill the void that is left," he said. "David was also the brother that I wish I had. He was devout in his love for God, and was a strong encourager to me in my personal endeavors."
Even though they didn't always agree on issues, Bushyhead — a fellow Democrat — said he will never forget Monteith's friendship. He and Monteith knew each other as young boys growing up, but Monteith would never let him forget that Bushyhead was a year older.
"He would always ask me, 'what would people have thought if they knew us as young boys and now see us governing a county' and I'd say 'they wouldn't have believed it," Bushyhead recalled. "But we did grow up together and I consider him a friend. He carried himself well and he did well for this county."