Archived Outdoors
'It was a very good ride': Blue Ridge Breakaway cancelled for 2017 due to declining ridership, funding challenges
Wednesday, March 15, 2017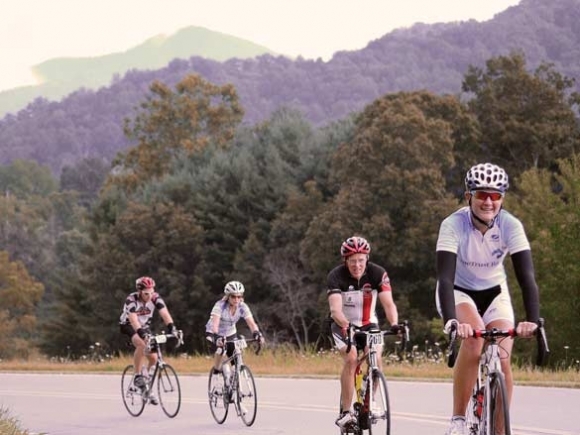 Every August since 2010, the Blue Ridge Breakaway has pulled in tens of thousands of dollars for Haywood County businesses, but for the Haywood County Chamber of Commerce — which organizes the event — the cost-benefit analysis isn't so glossy. Ridership has been declining, costs have been climbing, and event planning has consistently eaten up large swathes of staff time — leading the chamber's board to cancel the event for 2017 and consider axing it permanently pending further review.
"This was a very emotional decision to make, and proof of that was that it was vetted for such a long period of time before the decision was made, because it is a good event for the community," said Chamber President CeCe Hipps. "It brings a lot of cyclists into our area who have great jobs and disposable incomes to spend."
A 2015 report on bicycle tourism commissioned by a coalition of area organizations estimated that the ride generated $150,000 to $170,000 annually in visitor spending, benefiting everybody from the hotels where cyclists stayed overnight to downtown shops where spouses and children explored while riders pedaled, to the eateries where the athletes made up for recently burned calories. Held in mid-August, the Breakaway aimed to boost the local economy during a traditionally slow time of year — after summer break has ended but before fall colors brought in the leaf peepers.
"Starting that did a great job over the seven years of bringing people in at a historically slower time period," said Ken Howle, a Chamber board member who has been involved with the Breakaway since it was just a concept.
Declining ridership
But looking at the numbers, it became increasingly difficult for the Chamber to justify continuing the event. Ridership was going down — after a peak of 469 riders in 2013, participation diminished to 336 in 2014, then to 284 in 2015 and finally to 266 in 2016 — costs were increasing, and funding was becoming increasingly challenging.
"This decision was not made lightly and was considered for many years," said Bruce Johnson, chairman of the Chamber's finance committee, which is tasked with reviewing the numbers for all Chamber events each year. "It just came to a point with the ridership that we had to make a decision."
Declining ridership isn't an issue isolated to the Breakaway, Johnson said. Rides across the region are struggling with the same issue, which could be due to an increase in the number of available events. Hipps said that she, too, had noticed more similar rides popping up over the course of the Breakaway's lifetime. Originally, Johnson said, the timing had been chosen to avoid just such an issue.
"We especially picked August because it's hot — really hot — in those areas where our feeder markets come from, and we have a ride on the Blue Ridge Parkway," he said. "They're going to experience a ride that's in the 50s and 60s, which is perfect."
The funding puzzle
Perhaps the Breakaway could have survived a decrease in numbers, however, if the revenue had come in stronger. Event managers perennially struggled to cobble together funding from a variety of grants and smaller sponsorships, but they never landed the big fish sponsor that would have ensured that the budget would be met each year. In addition, about $8,000 of the Breakaway's $20,000 cost had come from the Haywood Tourism Development Authority, but the TDA recently passed new guidelines for event funding that would decrease funding for existing events by 25 percent over four years — so the Breakaway would soon find itself with yet another chunk of funding in need of filling.
"If all this publicity results in a sponsor stepping up and donating $20,000 a year to the event, that would go a long way in our evaluation of whether we want to start this up again or not," Johnson said.
Of course, entities capable of writing a check that big on a yearly basis are few and far between in Haywood County. Hipps postulated that some sort of brand sponsor, like a bottling or cycling company, might need to be that golden ticket.
In addition to event expenses like insurance, food, permits and overtime payment for park rangers, the Breakaway also required quite a bit of staff time. Event Coordinator Deb Isenberg logged 404 hours last year dedicated to the Breakaway — 25 percent of her time for the year — and other staff members contributed about 200 more hours on top of that. After all that, the event was only breaking even.
"Bottom line, it needs more funds," Hipps said of the Breakaway. "It needs more funds, it needs additional staff — at least a part-time position just to dedicate themselves to planning the Blue Ridge Breakaway."
This year's ride is off for sure, but the Chamber board will consider the question once more as the deadline to start planning for 2018 comes around. But it would likely take something significant, like the arrival of a major sponsor, to save the event. Hipps expects the decision to be made by January 2018.
Second Chamber race is still on
The Breakaway is one of four signature events the Chamber puts on each year, and one of two athletic events included under that banner. The Gateway to the Smokies Half Marathon, launched in 2015, is the second. And while every event is evaluated every year, Johnson said, the Gateway's in good shape.
"We hope to have that event for a long time," he said.
The half marathon is a much less intensive event to put on, Hipps said, largely by virtue of its shorter route. The longest ride in the Breakaway tops 100 miles — by contrast, a half marathon is 13.1 miles. The logistics are much simpler, and the insurance is much cheaper.
For the Chamber those are important considerations, because putting on events is not the Chamber's mission. The nonprofit's mission is to create a successful economic environment for its members. So if an event does not make money, it's not something the Chamber can justify investing its efforts in.
While acknowledging that the absence of the Breakaway will be a sad reality for many this year, Hipps emphasized the event's positive contributions over the past seven years. It's fostered a camaraderie among its dedicated corps of 200-plus volunteers, it's instilled pride in the community, and it's introduced more people to the wonders of Western North Carolina while benefiting local businesses during a typically slow time of year.
"We've had hardly any turnover with our volunteers," Hipps said. "They love this event, they take great pride in it, they want it to be the best cycling event anywhere — and that was our goal, to make it the best. I think we have something to be proud of. It was a very good ride."
Run the Gateway
The Gateway to the Smokies Half Marathon is on for 2017, with a 13.1-mile route and new 4-Miler contest slated for Saturday, May 6, in Waynesville.
The race starts in downtown Waynesville and travels through tree-lined streets in scenic neighborhoods ascending to spectacular views of the Blue Ridge Mountains. Runners can catch their breaths on a downhill cruise to the finish line in the Frog Level Historic District, where music, medals and mini-massages await.
Registration is $55 for the half marathon and $25 for the 4-miler through April 6, with prices increasing afterward. Proceeds benefit the Haywood County Chamber of Commerce.
Blue Ridge Breakaway 'broke'
Cyclists lamenting the loss of the Blue Ridge Breakaway aren't the only ones in need of consolation.
According to a 2015 report, riders left more than just blood, sweat and tears in Haywood County — they also left more than $150,000 greenbacks here, spending it on things like apparel, drinks, lodging, meals and souvenirs while attending the event, which cost only about $20,000 to produce.
Ridership decreased from 469 to 266 from 2013 to 2016, while registration fees for 2016 ranged from $46 to $71 based on ride length and registration dates; theoretically, even at $46 per rider, the resulting revenue decrease from 2013 to 2016 was at least 44 percent.
So, for want of a few thousand dollars, an economic driver that created tourist spending almost 10 times the size of its budget and has done so for seven years won't take place this year, and is quite possibly gone for good barring a concerted effort to find more sponsors for a 2018 ride, which is still not off the table.
Teresa Smith, executive director of the Maggie Valley Chamber of Commerce, said she felt the Breakaway had a positive impact on the valley's economy.
"I mean, they rode through here, and some of them I'm sure stayed here, since we have the most hotel rooms," she said, adding that she hadn't been approached by anyone asking for help.
"I haven't heard anything from the Haywood Chamber asking for support," she said. If she had, she'd present it to the board, which would make the final call.
Likewise, Lake Junaluska Assembly Executive Director Jack Ewing said that although Lake Junaluska has been listed as a sponsor in years past, its primary contribution has been an in-kind donation of security and space, including the welcome center, the staging areas, Jones Cafeteria and other areas.
"We have really appreciated the opportunity to be in partnership with the chamber on this," Ewing said, "but do not anticipate that we would be able to do more than continue to provide the use of the space and gift in-kind."
— Cory Vaillancourt, Staff Writer