Archived News
Finding your 'shero': Bryson City woman explores state of women
Wednesday, March 15, 2017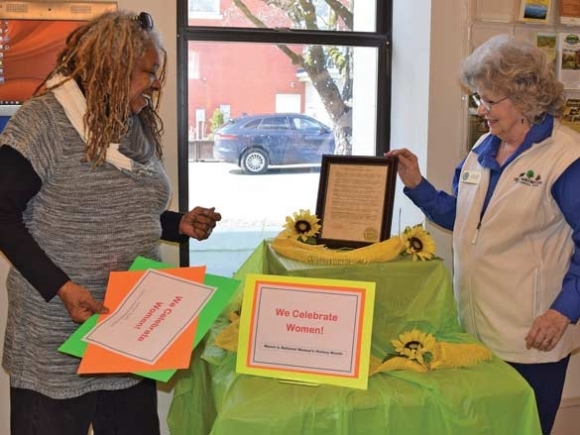 Which female pioneers have paved the way for you to be where you are today?
"Sojourner Truth," Janice Inabinett answered without hesitation. "She's my shero."
Truth was an African-American abolitionist and women's rights activist famous for her extemporaneous and powerful speech "Ain't I a Woman," delivered in 1851 at the Women's Convention in Ohio.
"She felt like she needed to shed light into a dark corner," Inabinett said.
Inabinett is also trying to shed a little more light in her corner of the world by asking women in Swain County to reflect on the female trailblazers they look up to in their respective fields.
It's a question Inabinett says every woman should take a moment to contemplate during March — National Women's History Month. She's made it her mission to spread the message by getting county commissioners to pass a resolution recognizing Women's History Month, asking businesses to hang up signs to support women's contributions in the workplace, and asking the library, history museum, hospital and other high-traffic areas around Bryson City to put up displays.
"The big thing is just awareness and a lot of the young women I'm talking to are just excited — they think it's so wonderful," she said. "I'm also interviewing women finding out what do we need to be doing differently for them."
Inabinett has heard varying answers — everything from wanting more indoor recreational opportunities, wanting more affordable access to preventative health screenings to wanting a one-stop shop resource center for women.
"One young woman — a 19-year-old just striking out on her own — said she wanted a resource center where we can go and feel safe. A place to help women make that transition from child to an adult," Inabinett said. "Somewhere that helps us know how to do our taxes, how to register to vote, how to balance a budget, how to get a house or apartment."
When asked what had motivated her to lead the effort to recognize Women's History Month, Inabinett said it started with the Women's March held across the world Jan. 21. At 75, she didn't think she could manage the trip to Washington, D.C., but decided to find her own way to support the movement.
"I couldn't go to Washington so I thought what can I do locally? Well, I can get the county to acknowledge women and make them aware we're here and we're contributing, but also I want eventually to have them discover how we're doing in the community. I want to know how many grandmothers are raising grandchildren and how many are dependent on free school meals," she said. "Women are working constantly — we have our work cut out for us. I think some of us are doing not so good and some are doing excellent."
'Herstory'
Inabinett was born in Bryson City in 1941. Her father was from Charleston, S.C., and moved to Bryson City in 1927 to work as a server at the Calhoun House.
"He married a part Indian girl in 1933 and they had me 1941," she said.
Her earliest remembrance of thinking about the state of women was when she was going to the drive-in movie theater as she often did and her mother asked her, "Any women in it with starring roles?"
"I had never thought about that kind of thing before," she said. "I always knew women worked — I didn't know that women weren't supposed to work because the women I was around were working women. They were the help but they were still working women."
The state of women and African Americans was changing quickly during that time, especially in the South.
"I had the good fortune to turn 13 in 1954 when there was something called Brown v. Board of Education and there was a discussion in the community of what do to with us," Inabinett recalled.
Worried about how integration would be handled in Swain County schools, Inabinett's parents decided to send her to Ohio to live with her aunt. After high school, Inabinett said her mother insisted she go to college instead of coming back to North Carolina, so that's what she did.
"She never pushed me one way or anotherm but she said 'There's world out there' and she wanted me to explore and discover it," Inabinett said. "She came from a place where you don't raise children just to keep them."
Inabinett would go on to become a social worker dealing with issues like state-provided daycare, welfare, foster care and adoption. The system was much different when she started out than it is today.
"I remember my first job as a social worker — we were forbidden to mention the word birth control unless the women asked us about it," she said. "My clients were low-income women working in New York City. There was compulsory child birthing going on but they didn't want that — they wanted sexual freedom and this new thing (birth control) was coming about and they were reading about it."
Inabinett was recruited back to North Carolina when the state was looking to expand its state-funded daycare system, but it would be another 50 years before she returned to Bryson City after she retired.
"But it's always been home — ain't no place like this," she said.
Feminine flavor
When Inabinett thinks about the state of women today, she finds reason for concern. She worries about women trying too hard to fit into the man's world in an effort to be equal and losing what she calls the "feminine flavor" — the qualities that make women different.
"We are taught maybe that the woman that deserves any attention is the one who comes into herself and does the same things men do," she said. "I'm worried that we might adopt the masculine take on what strength is and not include the feminine part, but we need to have that."
Inabinett said the "feminine flavor" includes the characteristics that society considers to be a weakness — sensitivity, empathy, creativity and compassion. Even in school, she says test scores are valued much more than a child's ability to show compassion and understanding for one another's differences.
"Men have those characteristics too, but many are taught to suppress it when they make decisions," she said. "They only want to talk about the science and the facts."
Even at 75, Inabinett said she still has more questions than answers when it comes to her own status as a woman because she said there's no metric established for measuring how individual women are doing.
"We haven't come up with a report card to give ourselves — a score in the areas we should be striving for," she said. "Do I pass? I'm probably a C, but if we seriously think about that and had a checklist, how would we do and what's on the checklist?"
She said women should figure out their own priorities and create their own checklist based on the characteristics they value instead of basing their value on what society tells them they should be. Her checklist would include tolerance, openness and unconditional love.
"Find a tool, self assess and grow," she said. "It's about loving ourselves and doing it without fear."