Archived News
Oswalt becomes Cherokee's third living Beloved Woman
Wednesday, March 15, 2017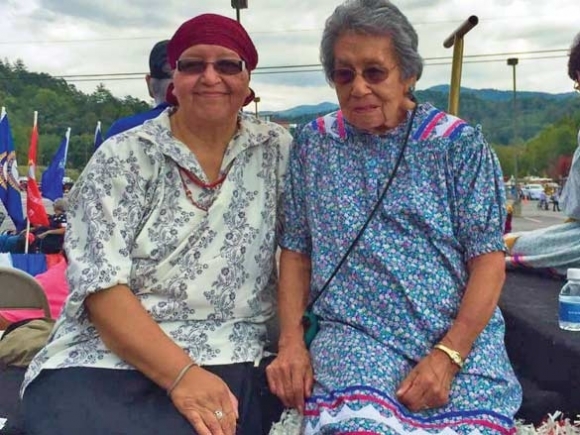 Shirley Oswalt (pictured above, left, with sister Geraldine Thompson) was named a Beloved Woman of the Eastern Band of Cherokee Indians on Tuesday, Feb. 2, the highest honor that can be given to a Cherokee woman and one that's held by only two other living people.
"Shirley was a dear friend to me who helped me along," said Vice Chief Richie Sneed, who submitted the resolution jointly with Museum of the Cherokee Indian Director Bo Taylor. "I've known her now for about 12 or 13 years and seen her strength and courage as a Cherokee woman."
"That's the most ultimate status I could think of, to be loved by our people, so I do love her, and I would hope this council would stand behind this and give this to her, because I think she deserves it," agreed Taylor, who's worked on language preservation efforts alongside Oswalt for the past couple decades.
Oswalt was floored when the resolution was read. She'd come to council that day only because her sister had asked her to, and she'd accepted only because she felt like she'd said no to too many proposed outings recently. Then she heard her name being read. Tribal Council voted unanimously in favor of the title.
"I don't know what to say," Oswalt told council. "I just don't have the words."
When she finally was able to wrap her tongue around some words, it was to tell council they might have made a mistake.
"I feel like the Beloved Woman is for the women who have been beloved all their lives, and I failed at so many things in my life, and I feel like I don't deserve it," Oswalt told council.
It didn't take long for a parade of elected officials and to contradict her. Vice Chairman Brandon Jones, who is also Oswalt's nephew, was the first to speak up.
"I have to disagree with you on this one. You are beloved," he said. "It takes more than just a parent to raise a child — it take a whole village, and you were part of my village. I wouldn't be the person I am today if I didn't have you looking after me when my momma wasn't there."
Beloved Woman Myrtle Driver Johnson, who serves as Cherokee interpreter for council, also spoke up in support, delivering a few comments in English after first speaking for minutes in Cherokee. Then Councilmember Marie Junaluska, also a Cherokee speaker, affirmed that Oswalt was more than deserving.
And Principal Chief Patrick Lambert embraced Oswalt, telling the audience that her accomplishments will outlive her by a long shot.
"What she's done in her life will carry on for a long, long time," Lambert said. "It's not something that's fleeting. I think that's what we all strive for in our lives."