Archived News
Cherokee laughter: Tribe's newest Beloved Woman reflects on life full of love for language and community
Wednesday, March 15, 2017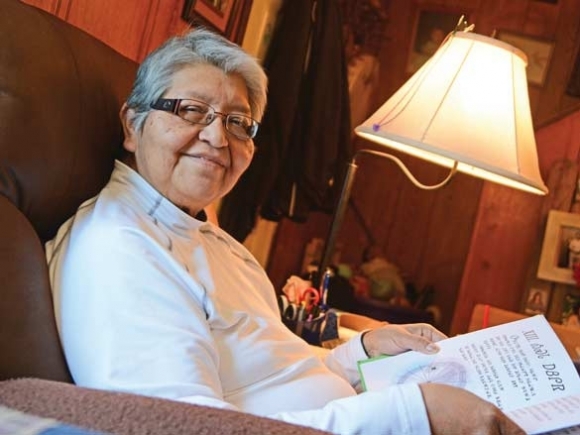 Shirley Jackson Oswalt can still remember the first words she said in English.
Her older siblings had prepped her before she headed off to her first day of first grade at the Bureau of Indian Affairs' Snowbird Day School in Robbinsville, and when the teacher came over to greet her, Oswalt knew her line.
"I said, 'Good morning, Mrs. Lee,'" Oswalt reminisced decades later from the armchair in her Robbinsville-area home. "And then she said something else and that's all I knew, so I said, 'Good morning, Mrs. Lee.' Then she said something else, and I said, 'Good morning, Mrs. Lee.' I just kept repeating myself, because that's all I knew."
Oswalt had grown up speaking only Cherokee, day in and day out. She lived in the community of Snowbird, which was only 7 miles from Robbinsville, but might as well have been 17 — the only time most Cherokee families ventured into town, Oswalt said, was for the Saturday grocery shopping trip. They stayed to themselves, worshipping at Cherokee-speaking churches, chatting the evenings away on the porches of their Cherokee neighbors, working hard to support their Cherokee families.
Life wasn't easy. There weren't too many jobs out in Robbinsville, and most people in Snowbird were poor. Oswalt herself grew up in a three-bedroom house that was home to a family of nine. Her father supported the family working as a logger, but the pay wasn't always steady — when the weather was bad or when winter hit, he'd be out of work.
"It was hard, but we had a good childhood experience, because when you have that many siblings you have to learn how to share, and you have to learn to pitch into work," she said. "It was a good experience compared to what children have today."
Oswalt believes that the hard times and the love surrounding her during her early years at home and the BIA school helped get her where she is today. Though, even as she spoke, she backtracked on her estimation of just how far she's come.
"I don't claim to be anywhere," she said.
Others in her tribe, however, would beg to differ. On Feb. 2, the Cherokee Tribal Council voted unanimously to give Oswalt — now 62 and battling stage-four lung cancer — the title of Beloved Woman. It's the highest honor that can be bestowed upon a member of the Eastern Band of Cherokee Indians and is held by only two other living people, Ella Bird and Myrtle Driver Johnson. The tribe also has one living Beloved Man, Jerry Wolfe. Even as Oswalt protested to Council that she didn't deserve such an honor, person after person spoke up to explain just how fitting the title was.
"Shirley saw a need. She saw that the language was dying, and she was going to do something about it," said Bo Taylor, director of the Museum of the Cherokee Indian, who submitted the Beloved Woman resolution with Vice Chief Richie Sneed. "She didn't just sit back and complain. She got off her butt and she started teaching, and that's the best thing you can do. You've got to give it back."
Finding her voice
As a young person, Oswalt never expected she'd end up teaching tribal members how to speak Cherokee. There was no need to teach Cherokee. Everybody spoke it.
It wasn't until sixth grade that Oswalt even got to know any non-Native people. That's when she started going to public school in Robbinsville, and for much of that time she was more focused on basketball than on questions involving the long-term future. Each seventh- and eighth-grade homeroom had its own basketball team, and at the end of the school year they'd all have a tournament. Oswalt quickly discovered she had a talent for the sport.
"When I got in high school, I actually made the first team as a freshman and then for me at that time it was just basketball. Just play basketball. It doesn't matter if you learn anything or not — just learn basketball," she said.
She was mostly earning Cs, but at the suggestion of the school counselor she applied for a scholarship and found herself being offered a full ride to University of California at Berkeley. But she didn't go.
"I had no idea what that meant," Oswalt said. "And so my brother says to me, 'Are you really going to Berkeley to college?' and I said, 'I guess.' And he goes, 'How are you going to get there?' and I'm like, 'I don't know.' And I didn't tell my parents. They weren't educated enough to know what that meant either. They knew what college was and they knew that we could probably go to college somewhere close, but they never thought about going to California."
Instead, she enrolled in an engineering program at Southwestern Community College that was free for tribal members. But it didn't last. As the only woman in the class, she said, she found herself the target of constant sexual harassment. After a year she quit, furthering her education with stints at Tri-County Community College and Western Carolina University.
Oswalt was a rather timid young woman at that time — "a quiet say yes person, just trying to get along with people" — and she didn't really know how to stand up for herself. Leaving seemed the easiest solution.
But Oswalt would eventually find her voice.
She was doing social services work for the Cherokee Boys Club when the organization Save the Children contacted her, wanting to know what they could do for the Snowbird community. Oswalt replied that they needed more childcare opportunities but had no building to house such a thing. The organization responded by setting up a home-based preschool program, part of an international effort called Home Instruction for Parents of Preschool Youngsters.
Oswalt was hired as the director and flown to New York City to meet the woman in charge of the worldwide HIPPY program, Dr. Miriam Westheimer.
Westheimer would prove to be an important figure in Oswalt's life. By this time Oswalt was in her 20s, married and the mother of three, but she still felt small a lot of times. Westheimer "made you feel like you could conquer the world," Oswalt said.
"She taught me how to be a little more assertive and she said, 'Shirley, you can do anything you want to do. You just have to decide that's what you want to do,'" Oswalt said.
Westheimer pushed her, too. One time, Westheimer was asked to speak at a literacy conference at the University of North Carolina Chapel Hill — but she suggested Oswalt go instead, as the conference was wanting to hear specifically about the program in Snowbird. There were a lot of famous people there, including Arkansas Gov. Bill Clinton and his wife Hillary.
"I got so nervous before I went that I wouldn't even go there and spend the night," Oswalt said. "I left here (Robbinsville) that morning to go to Chapel Hill because I was so nervous. I couldn't go up there and spend the night."
But, much to her surprise, things went just as smoothly as Westheimer had promised they would. She stood up, popped in the videotape, and navigated the questions that came afterward. Before she knew it, it was over.
"Some things like that have happened in my life that's really changed my life and how I see myself," Oswalt said. "Now you could put me in front of all those people and I would never quit talking. But then, I couldn't."
The wake-up call
Oswalt eventually left her job with HIPPY. Her mother got cancer, and she'd decided to quit her job to be the caretaker. But her mother passed away shortly before she'd planned to quit, so Oswalt went to work for a program called Healthy Cherokee. The program had a cultural learning component, and that's how she met Taylor, the museum director who helped nominate her for Beloved Woman.
"He was still in college, and he was trying to learn Cherokee language," she said. "He was always at me with his little notebook — how do you say this, how do you say that? … I thought man, this kid's never going to learn. But just kept struggling. He struggled and struggled."
About 10 years later, Oswalt ran into Taylor again. He was working at the museum, and he'd learned enough Cherokee to start teaching it to others. The meeting proved a wake-up call for Oswalt.
"He said, 'You know, we're losing speakers every day,' and he said, 'We're not replacing them. Everybody's speaking English. Everybody's having English as their first language,'" Oswalt recalled. "I had never thought about it."
So, she thought about it.
"Here he was — a non-speaker, a learner — and he was trying to teach and save the language, trying so hard, struggling. But he didn't care, he was teaching them what he knew," said Oswalt. "I thought, I ought to be ashamed of myself."
She turned that feeling into action, and started teaching nighttime Cherokee classes. It was a shoestring operation, with her husband Mac buying the supplies — just paper and pencil — with money from his job as a truck driver. The Cherokee Preservation Foundation eventually noticed and encouraged her to apply for a grant to expand the program. Oswalt buckled down to figure out exactly how to go about writing a grant, and in 2007, she opened the Cherokee Language Summer Camp in Robbinsville.
The camp runs all summer long, accepting Cherokee kids as young as 7. Most of them keep going until their sophomore year of high school, when they're old enough for a different summer program.
By the time the summer's over, Oswalt said, their progress is impressive. Each year concludes with a play that's performed exclusively in Cherokee.
The summer program is just the tip of the iceberg for Oswalt's efforts to save the language, which has fewer than 260 remaining native speakers. From 2006 to 2016, she taught adult language students at the Sequoyah Birthplace Museum in Vonore, Tennessee, and she taught the language at Robbinsville High School from 2007 to 2016. She was on the inaugural board of the Cherokee immersion school New Kituwah Academy from 2004 to 2006.
"That's kind of been my life, and if I was able to now, I'd be teaching Cherokee language still," she said.
She had to say goodbye to teaching in 2016, when she was diagnosed with lung cancer. Oswalt's now in stage four, fighting the disease with robust support from her sizable network of friends and family. As she told Tribal Council in February, "I don't know how much time I've got left. Only the good Lord knows, but if he chooses to heal me, I'll be back at it."
Language as a vector
Preserving the Cherokee language has obvious sentimental value to Oswalt, for whom every memory of childhood is nestled in the wrapping of her native tongue. But the urgency goes beyond mere sentimentality. The language is a vector for information about the tribe's culture, history and way of being.
"Because of the way the words are, once you learn Cherokee you start learning the meanings of those words," Oswalt said. "That's when you realize your community. You are close to each other, you've got each other's backs."
Cherokee words tend to be formed from multiple other words, combinations intended to convey some truth about whatever object or idea the word signifies. The end result describes not just what the object is, but what it means. For example, the word for horse means "he carries something on his back," and comes from the Cherokees' first encounter with horses — and Europeans. The word says something about the history of the Cherokees' historical experiences with horses.
"If you don't learn the language, you're losing all that," Oswalt said.
The language influences the way Oswalt interacts with people, the way she approaches conversation. Words mean something, and that's a reality that has both serious and light-hearted implications.
On the serious side, Oswalt's often taken aback when she sees younger people tossing around meaning-laden words with abandon — like "love," for instance.
"In Cherokee we don't say that," she said. "We don't go throwing that around. It means too much to just throw it around daily at everybody you talk to on a cell phone."
There's solemnity to the passing along of words drenched with ancient meanings.
On the flip side, words said in jest have layered meaning too, often making for some lively conversations. Oswalt often thinks about what former Tribal Council Chairman Dan McCoy once told her, that speaking Cherokee was good medicine. He'd based his comment on the way that the Cherokee speakers always seemed to be laughing when they got together.
"Cherokee is very visual," Oswalt said. "What you say, you visualize. So when you say, 'It's raining cats and dogs,' you visualize cats and dogs. So I said, 'That's why we're always laughing."
Since getting sick, Oswalt has drawn on the medicine of the language.
"When she really feels bad, some of the speakers come over," said her husband Mac. "They get to laughing. She gets to feeling a little better. A laugh or a smile is always helpful. It makes you feel better, even when you're feeling bad."
That's how Oswalt remembers it being, in earlier years — neighbors and friends dropping by for no reason other than a desire to sit on the porch and talk about nothing in particular. She and Mac love to have bonfires in the warmer weather, inviting friends and family to come enjoy a meal and sit around the fire late into the night. In recent years, people have gotten busier, been less inclined to spend an evening shooting the breeze. Though she'd definitely rather be healthy, Oswalt said, "ever since I got cancer we don't go as much, and it's nice now to just sit around and talk."
Just not around a campfire — with her cancer, she's not allowed to be near smoke, "and that just kills me," she said.
Stories and spirituality
Hand-in-hand with the Cherokee language walks Cherokee lore. Oswalt's a devout Christian, having grown up going to church on Sundays and listening to her parents sing her hymns in Cherokee. She believes in Jesus, and in the Bible. But she also doesn't discount the stories.
"I really don't know how to explain it," she said. "It's like if you were to see a UFO and you know you saw it, but getting other people to believe it is what you saw. You know what you saw."
Her most vivid experience took place one night when she was loading up the trailer for the craft shows she and Mac used to do. She heard what she knew to be an owl calling up the ridge, but the sound was unlike any owl she'd ever heard before — it almost sounded like a screaming woman. Kind of like a panther, but it wasn't that either.
"It was an owl. I just knew it," she said. "I could sense that bird sitting up there on that tree. Well, then I hear him start flying down here, and I could feel his feathers going oohm, oohm."
It landed on a tree nearby, and she was thinking about running when she remembered what her oldest brother used to tell her — to stand up to things rather than letting them scare you.
"I said it in my language: 'You're not going to scare me. You just need to go ahead and leave,'" Oswalt said. "And it was almost like he just disappeared ... How do you explain that? I know what I know. I know what I felt. I know he was on the ridge and he flew down and landed on that tree. I don't know. It's hard to explain those things."
That's not the only encounter Oswalt has had with Cherokee lore entering real life. Twice she's seen what are known in Cherokee stories as the little people, a group of spiritual beings that can be seen only when they allow themselves to be seen. They can be mischievous, they can be helpful and they should always be respected.
One of Oswalt's sightings occurred when she was an adult, after the death of one of her brothers, and another happened when she was a child, playing a game similar to Ring Around the Rosy. She looked across the circle and one had joined in the game.
"I never asked anybody, 'Did you see that little people join in with us?' I never talked about it. Back then, they used to say if you ever see a little people, don't talk about it," Oswalt said.
She doesn't observe that rule anymore, no longer fearing that some ambiguous bad thing will happen if she breaks it. She's OK with talking about it, and with pondering how Native and Christian spirituality fit together.
"I don't know where they fit in now. I just don't know," she said. "But I do think it's important to keep the stories, even for people that may or may not believe in them or show they believe in them. I think it's important to keep these stories even if they're just old legends. And some of them have a lot of lessons."
Past and present
Looking ahead to the tribe's future, Oswalt has her hopes, and her concerns. She can remember what it was like when nobody who was Cherokee had any money, whatsoever. Things are certainly different now.
People used to make fun of their cars, for example, call them "Indian cars." People even entered "Indian cars" in parades, and the car was always "just a run-down vehicle that was barely running and popping and smoking everywhere it went."
With the advent of the casino, she said, it's good to see people able to afford cars that run, quality furniture for their homes and other essentials for a comfortable life. At the same time, it concerns her to see people who are dependent on the tribe to pay their bills, and youngsters who aren't learning the same lessons about the value of hard work that she had growing up.
"It really discourages me that people get to the point where they're just wanting more and more and more," Oswalt said, "and I think, 'Don't be like that. Just appreciate what you've got and don't rely on the casino."
For her part, Oswalt does appreciate what she has — a home just miles from the place she was born, amply adorned with family photos; a porch and backyard for family and friends to gather; 42 years of marriage to her husband; and loved ones all around.
Sometimes she does think about that scholarship to Berkeley, and how things might have been different had she'd taken it. She doesn't regret her choices.
"I thought it must have been meant for me not to go," she said, "because I have enjoyed my life."
Status of Women in North Carolina
National Women's History Month has been celebrated since 1980 when a coalition of women — now the National Women's History Project — lobbied Congress for the March designation. The Smoky Mountain News will be publishing a series of articles to showcase a number of women in Western North Carolina who are currently making history and also examining the overall state of women in our area when it comes to industry, government and educating future generations of women.