Archived Arts & Entertainment
Dawg days of bluegrass: David Grisman picks on WNC
Wednesday, March 15, 2017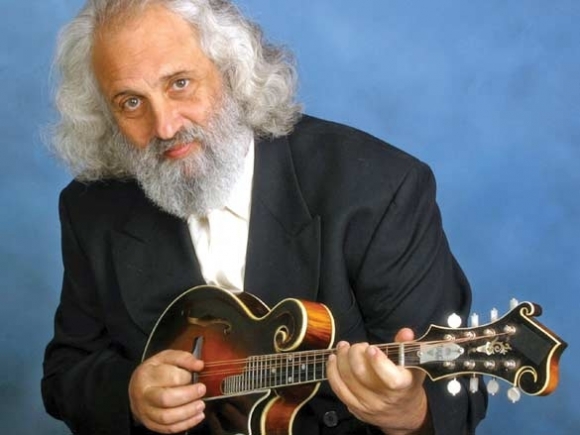 He's the common denominator.
When you look back at the career of iconic bluegrass mandolinist David Grisman, you're diving deep into the rich and vast history of that "high, lonesome sound." And yet, the more you wander into that melodic hub of David "Dawg" Grisman, you also find yourself zooming like a rhythmic train across the spectrum of sound, making additional stops at folk, jazz, world fusion, and acoustic music.
From humble beginnings running around Greenwich Village during the folk music revival of the 1960s, Grisman was (and still remains) a sponge. He would soak in whatever melodies or magic he either came across or indulged into within collaborations, interactions, storytelling or midnight jam shenanigans around candlelight in some long forgotten Manhattan apartment.
And it was his work with the "Cosmic Cowboy" himself — guitarist Peter Rowan — that ultimately set the trajectory for the duo, resulting with them regarded as two of the most important voices and pickers in all of string music. They first formed Earth Opera in 1967, a seemingly ahead of its time psychedelic folk/rock act, one that eventually found itself opening for the likes of The Doors before disbanding in 1969.
Originally one of Bill Monroe's "Blue Grass Boys," Rowan honed in on his bluegrass heart and soul when he and Grisman formed Old & In The Way in 1973, which included The Grateful Dead's Jerry Garcia (on banjo), fiddler Vassar Clements and bassist John Kahn (and also fiddlers Richard Greene and John Hartford). Just glancing through that lineup is a "who's who" of bluegrass, folk and string music, with Grisman and Rowan still torchbearers and voices of reason within the genres.
Old & The Way was known as one of the most commercially successful bluegrass act of the 1970s and beyond. Their landmark 1975 bluegrass self-titled album remains one of the most influential and important records in the bluegrass industry. It brought the genre into the mainstream, exposing countless folks to a sound they perhaps hadn't ever heard before, in a way unseen until maybe when the 2000 film "Oh Brother, Where Art Thou?" became a box office success with a soundtrack of pure bluegrass gold that sold millions.
But, it was the friendship between Grisman and Garcia that resulted in troves of songs and albums that solidified Grisman's role as a pillar of bluegrass music. The electric zest and sincere bond between the two is something not only heard, but also felt within, when you sit back and let the music swirl around you.
It's that ease of sound and wisdom only found on the fingertips of those who sought the long, yet bountiful road of performance and creativity — something Grisman continues to showcase and dig deeper for, onstage and off.
Garret K. Woodward: When you look at the landscape of bluegrass today, what do you see?
David Grisman: To be honest, I'm not all that familiar with that landscape. There are certainly some very talented younger musicians playing in contemporary acoustic styles that utilize "bluegrass" instruments, but not much of it would fall into the category of "bluegrass" as I might define it.
GKW: When you look back on your early work with Peter Rowan and later with Old & In The Way, and being the outsiders early on, is it weird to be considered one of the pillars of the genre nowadays or is it just the natural course of things?
DG: We were only outsiders in terms of hairstyle. As the late, great Vassar Clements said to me once, "I'm just like you, only been here longer."
GKW: What was it about bluegrass that stuck to you in the beginning? When you started out in the late 1960s and early 1970s, bluegrass might have seemed like outer space in an era when rock-n-roll dominated everything…
DG: It was the [Earl] Scruggs-style banjo that grabbed me initially. And then the whole nine yards caved in upon me.
GKW: What sets bluegrass apart from other genres?
DG: Instrumentation. Rhythmic feel. Repertoire. Vocal arrangements. Barbecue.
GKW: What does bluegrass mean to you these days, as someone who has dedicated his life to the music?
DG: Bluegrass music, as created and defined by it's originators — Bill Monroe, Lester Flatt, Earl Scruggs, the Stanley Brothers, Reno & Smiley, Jim & Jesse, Jimmy Martin and the Osborne Brothers — is still a great source of listening pleasure and inspiration. Unfortunately, the bluegrass that grabbed me back then has in many ways morphed into other — overly refined and commercially self-conscious — musical styles that really don't mean much to me.
GKW: Bluegrass has seemingly always had two camps of thought: neo-traditional and progressive. Is there a bridge between the two these days?
DG: I think that these terms are all too general, and besides, that's not really the point of music. Duke Ellington said it all — "There are only two kinds of music, good and bad." There are always bridges to build between great musical ideas.
Want to go?
The David Grisman Bluegrass Experience will perform at 8 p.m. Saturday, March 18, at The Grey Eagle in Asheville. Circus No. 9 will open the show. Tickets start at $45 with VIP tickets for $75. The event is all ages. For tickets, click on www.thegreyeagle.com.