Archived Arts & Entertainment
This must be the place: We won, but what's the real prize?
Wednesday, March 15, 2017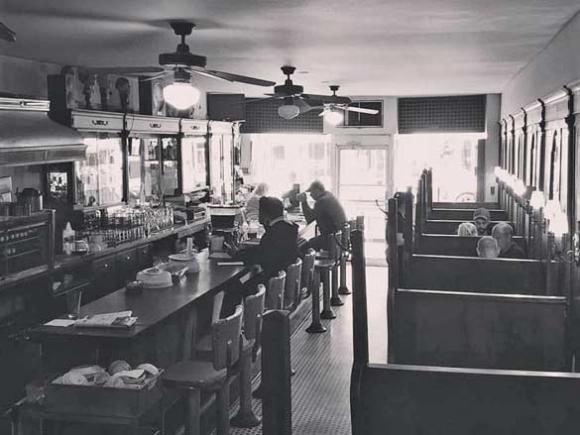 Once they announce your name, you stand up and move towards the bright lights.
Meandering around a sardine can ballroom of tables, chairs and random folks milling about, The Smoky Mountain News made it to the stage at the Sheraton in downtown Raleigh last Thursday evening.
We were handed 22 awards (10 first places). It was the most awards in a single year for us from the North Carolina Press Association, most of any publication in our community newspaper division. We were in the largest division (circulation over 10,000), with SMN clocking in at 17,000 papers amid some 40,000 readers on a given week.
And being — pound-for-pound — probably the smallest staff versus amount of awards won in the state, what struck me was how the room started to clap when the accolades were announced. They clapped thinking the announcements were over, but there still was another slide or two on the big screen still left to read off of before we could exit the front of the room. It was funny, I thought, seeing that, and to think of how heavy that package of paper awards was — one full year of hard work, long nights and even shorter deadlines.
This here column y'all are currently reading received first place for "Lighter Columns" from the NCPAs. Do awards mean anything to me? Nah, not really. But, I do view them as goals to shoot for, milestones to reach and glass ceilings to break through. And yes, it is nice to get recognized for all the day-in-day-out chaos we journalists go through to put together a paper every week like some giant puzzle with no rhyme or reason as to how it all fits.
Come early June, this column will celebrate its fourth anniversary. I started it as a way to provide a somewhat "catch all" for whatever we felt was significant enough within the arts scene to further promote, but wasn't large enough to warrant a full feature. And as those weeks turned to months, months turned to years, this column morphed into a back-and-forth dialogue between myself and the readers of Western North Carolina and beyond.
It's been quite the ride writing within this section each week. Easygoing topics like live music, love, friendship, frolicking and "going home," cosmic thoughts and playful musings. And the darker side of life, too — suicide, drug addiction, heartbreak, funerals, etc. There are times I know exactly what I'll write about, and there are times an idea won't strike me until mere hours before my Monday morning deadline.
What's surreal isn't what I have to say, but in how and why our readers feel the need to respond, to write back and drop a line. I've received physical letters in the mail from prisoners incarcerated way down in Fayetteville, emails from locals around Southern Appalachia, and Facebook messages from those simply passing through our region who just so happened to pick up our paper. All of those voices, known and unknown, saying hello and shaking their head in awe of that simple notion of human connection that gets lost so easily in our modern world. They share their own personal triumphs and tragedies, all while wishing you the best in your own endeavors. "Keep up the good work," the message will say, as a few more logs get thrown onto the fire of my intent.
When you're a journalist — let alone a writer — you put things out into the universe, unsure if anyone will connect with the story, or if the subject was perhaps worth the time invested, if your words and actions will spark curiosity and passion within the minds of locals and visitors alike. And you push on, week to week, trying to crank out a quality product that has become a source of pride for the communities of Western North Carolina.
Thus, standing up there in the bright lights of a ballroom at the Sheraton in downtown Raleigh, I smiled and headed for the nearby cash bar. We saluted our beer bottles high to the awards earned and later, in the lobby bar, hoisted our champagne glasses even higher to another year in the books, another year — onward and upward.
Friday morning came like a bolt of lightning. I awoke from a deep slumber in the hotel room, bleary-eyed and momentarily unsure of exactly what city I was in. Moseying into the Mecca Restaurant a few blocks down from the Sheraton, I found myself in front of a plate of bacon and eggs within a real deal American diner (circa 1930).
It was in diners like the Mecca that I first learned how to write. In college, right outside of New Haven, Connecticut, I was 21 years old, sitting in the corner of some Greek diner, scribbling away in my notebook on whatever was on mind, reading Kerouac and Thompson over endless cups of rocket fuel coffee, always plotting as to how I could someday make a living at being a writer.
That was 11 years ago. There have been endless miles and countless corners in diners around this country since those days. I finished my breakfast at the Mecca and hit the road, back to Haywood County and greater Western North Carolina, back to a clean slate. Another year of unknown shenanigans, ready to surprise you around every corner. Stay tuned.
Life is beautiful, grasp for it, y'all.
Hot picks
1 The "Appalachian Barbecue & Bluegrass" celebration will be held from 6 to 9 p.m. Saturday, March 18, in the Folkmoot Friendship Center at the Historic Hazelwood School in Waynesville.
2 A "BBQ & Brews Dinner Train" will be departing at 7 p.m. Friday, March 17, at the Great Smoky Mountain Railroad depot in Bryson City.
3 Bean Sidhe will perform its ninth annual Celtic concert at 7 p.m. Thursday, March 16, at the Smoky Mountain Community Theatre in Bryson City.
4 An open-mic poetry event for adults will be held at 6 p.m. Tuesday, March 21, at The Rathskeller CoffeeHaus & Pub in Franklin.
5 Voices in the Laurel will be hosting its second annual Bingo Night fundraiser at 7 p.m. Friday, March 17, at the Haywood County Fairgrounds in Waynesville.