Archived Outdoors
River park would boost visitation, tax revenues
Wednesday, March 08, 2017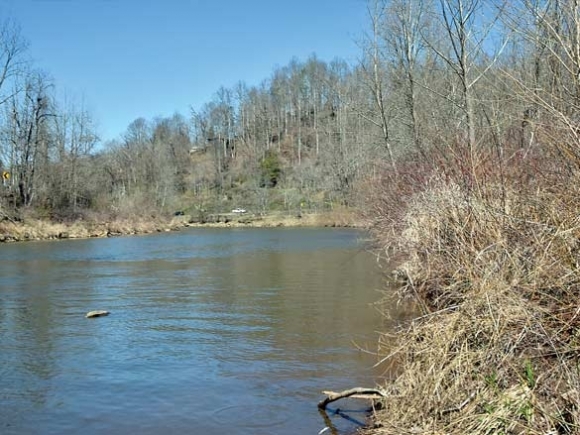 Kelly Custer has been a lifelong lover of the outdoors, from playing sports as a kid to mountaineering adventures in far-flung regions of Bolivia and Peru as an adult. Now, the Jackson County businessman is hoping to get others exploring Western North Carolina's outdoor opportunities — specifically, those afforded by the stretch of the Tuckasegee River flowing through Dillsboro.
Last year, Custer formed the company Western North Carolina Outdoor Development with an eye to bid on a piece of property that's been publicly owned since 2013, when Duke Energy turned it over to Dillsboro following removal of the Dillsboro Dam. Dillsboro sold it to Jackson County for $350,000 in 2014, and ever since the county's been looking for a way to turn the undeveloped tract into a win for economic development.
If county commissioners approve the deal following a public hearing at 5:30 p.m. Monday, March 20, then Custer's company will purchase 7 acres for development of an outdoor adventure park, billed as a family-oriented, multi-purpose adventure center offering rafting, retail and primitive cabins and campsites for paddling enthusiasts and fishermen. The finished park could also include such diverse activities as zip lines, ropes courses or climbing walls. The larger share of the property is located along Mockingbird Lane across the river from the C.J. Harris Access Area, with a smaller portion adjacent to the access area along North River Road.
This wouldn't be Custer's first foray into the world of outdoor-centric business. He founded Sheds Hunting Supply in 2014, and in 2015 he purchased Blackrock Outdoor Company, adding the Orvis Fly Shop to that endeavor. This year, Blackrock opened an outpost store on the Western Carolina University campus. Custer also owns Current Medical Services and Current Dermatology.
However, this type of service-oriented business would represent a branching out for Custer, and he said he's excited to take on the challenge.
"Our county is a gateway to some of the best and most visited tourist attractions in the whole country," he said. "Many folks pass right by Dillsboro and through Jackson County on their way to the (Great Smoky Mountains National) Park or Cherokee. We want to provide reasons for these tourists to stop and visit us and hope to convert them to returning customers as a result of their experience with us. "
A long time coming
The river park idea isn't merely an off-the-cuff concept that Custer's tossing to see if it will float. It's the result of years of discussion and study from leaders across the county.
Even back in 2013, before the 17.6-acre property was officially deeded to Dillsboro and a year before it came under Jackson County's possession, the concept of a riverfront park was discussed and deemed a frontrunner possibility for the property's future.
For the past two years, Jackson County Economic Development Director Rich Price has been working to make that idea a reality, talking with multiple companies in hopes of working out a deal. In February 2016, the Sylva Herald reported that outdoor retail giant Nantahala Outdoor Center was in negotiations for the property, discussing a 10-year lease in which it would pay $1 per year for the first three years and a percentage of the revenues thereafter. NOC was set to finalize the deal in a special-called meeting, but the meeting was cancelled after the negotiations were made public, and it was never rescheduled.
It was around that time that Custer formed WNC Outdoor Development and began his own negotiations with the county. The deal they worked out, released Feb. 21 when the public hearing date was set, would sell 7 usable acres of the 17.6-acre property — only about 10 of those acres are usable, due to the remainder sitting in the riverbed — for $50,000. That's far less than its $791,000 market value or the $350,000 purchase price, and the county would also provide a water and sewer extension, site preparation and a floodplain study for a total investment of $926,000.
However, Custer would have some responsibilities as well. The agreement requires him to create at least 10 full-time jobs at or above Jackson County's prevailing wage and a seasonal workforce of 50 to 80 workers. He'd have to provide the county with monthly and quarterly data on the salary and wages of all vendors and allow public access to any greenway constructed.
"At certain intervals there's a measurement taken to determine whether or not they have met the requirements they were required to meet, and if not they either have to pay a certain amount of money or the property reverts back to the county," said Commission Chairman Brian McMahan. "So there is very real pressure to make sure they do what they say they're going to do."
Beyond the basic act of building a river park, what Custer has truly been charged with is creating a family-friendly tourism destination that will be an economic boon to Dillsboro and to the county as a whole.
Last year, when the county was in talks with NOC, Western Carolina University economics professor Inhyuck Steve Ha, Ph.D., produced an analysis projecting how many visitors such a development might attract and what the resulting economic impact and tax revenue might be.
By the end of 10 years, the study said, the park would be attracting 33,000 people per year, 60 percent of whom would stay overnight. This would result in $5.8 million of direct spending, $8.6 million in multiplied spending and $372,000 in yearly sales and property tax revenue.
The county's projected numbers for Custer's proposed development appear to be of a similar magnitude. By the end of 10 years, the county expects to see $931,000 in total property, sales and occupancy tax revenue, as well as $60 million in multiplied spending and visitation increases of 25,000 to 40,000 per year.
If approved, construction could begin as early as April with the park operational in 2018 and complete by 2019.
Boosting a small-town economy
That would be a good thing for Dillsboro, which has been struggling ever since the Great Smoky Mountain Railroad relocated its headquarters from Dillsboro to Bryson City in 2008. The train used to bring hundreds of visitors per day to downtown Dillsboro, and they'd wander around town before and after their train rides, buying meals and souvenirs from local businesses. The train's departure hit the town hard, and though things have improved significantly in the last couple years, some see the river park proposal as a way to take that improvement even farther.
"I believe it will be a boon for the whole area, not just Dillsboro," said Dillsboro Mayor Mike Fitzgerald.
People will come through Dillsboro to raft, Fitzgerald said, but many of them will make it into a multi-day stay, heading through Cherokee to the Great Smoky Mountains National Park, searching for waterfalls in Cashiers or sampling craft brews in Sylva.
"We're known for outdoor recreation, and this will greatly add to and enhance what we currently offer," said the county's tourism director Nick Breedlove.
The NOC is located just half an hour away outside Bryson City, but the proposed river park is expected to add a different dimension to river recreation in the area. The Tuck is a calm, slow-flowing river on that stretch through Dillsboro, making it a good fit for families with kids looking for that first introduction to water-based adventure.
Fitzgerald is hoping that the emphasis on family-friendly recreation will cause the river park to work its way into many families' regular traditions.
"I'm looking forward to a lot of families being in the area," he said. "And as kids grow older, those kids will have memories and they'll be bringing their kids one of these years."
Mark Singleton, executive director of American Whitewater, says that's a good thing.
"Anything that connects people with the river and provides opportunities for individuals to interface with the river through whatever their chosen recreational tool is — whether it's hiking or biking or ziplines or paddling — that's all good," he said. "It all translates to some kind of economic development opportunity for the community."
Planning for traffic
Both Price and McMahan said the feedback they've been getting from the public has been overwhelmingly positive, though Price said he's heard some comments from folks wanting to be sure that the development will be a good neighbor to residences and businesses and that public access to the river will be preserved.
"I think they're concerns that our agreement addressed quite fairly," Price said.
T.J. Walker, who owns the Dillsboro Inn just a few blocks from where the proposed park would go in, is one person whose enthusiasm for the project is tempered with caution. He welcomes the development but believes concerns about traffic congestion and pedestrian connectors must be taken seriously.
"This is a recreation park project. It looks to be fun. So long as the traffic is managed, I look forward to it being a fun project and bringing people here," he said.
Walker compares North River Road to a "NASCAR off-road course," with rampant speeding and little speed limit enforcement. It's a narrow road that might be difficult to expand, he said, and he's concerned that the plans don't include a pedestrian connector to Dillsboro.
"The merchants of Dillsboro have done such a good job of hanging in there the last five or six years since the railroad left and the economy took a downturn, and they need respect," he said. "There needs to be a connector from this project to the merchants of Dillsboro."
Price said he's been working with the planning department to come up with a conceptual idea for a pedestrian connector, but there's no telling when that would be built, or even whether it would come in the form of a greenway extension or of a new sidewalk. The feasibility of construction and funding is still unknown.
As to the traffic issue, Fitzgerald believes it won't be a problem. Dillsboro has handled volume before, back when the train was running at full steam.
"We handled masses of people before that way, so that's nothing new," he said.
However, Walker pointed out, the train was located in downtown Dillsboro with most people arriving via U.S. 441 or U.S. 23 — not along the winding and narrow North River Road. So traffic-wise, the challenges could be different this time around.
If approved, the particulars of the plan may still need some working out. But when it comes to the basic concept, excitement appears to be high and support widespread.
"It's certainly a big step in the right direction," Price said. "We've got a solid project that I think Jackson County will be very proud of."
Be heard
The Jackson County Commissioners will hold a public hearing on the proposed river park development at 5:30 p.m. Monday, March 20, in room A201 of the Jackson County Justice and Administration Center.
A draft of the proposed agreement and a slide presentation on the project are online via links posted to the lower right-hand corner at www.jacksonnc.org.