Archived Mountain Voices
'Doc' Bennett was truly a man of the mountains
Wednesday, March 08, 2017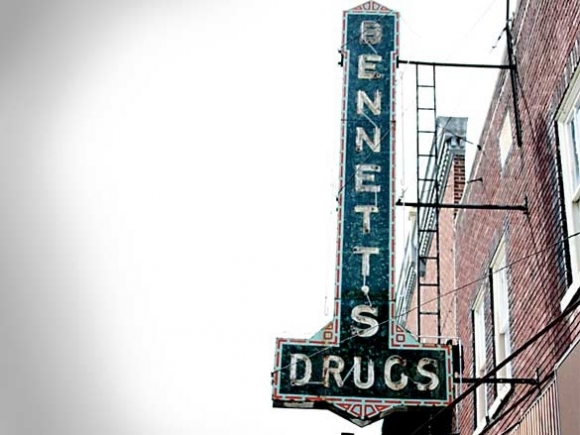 I have files in my computer containing articles I've forgotten that I wrote until, by chance, I run across them while looking for something else. This one appeared in the Smoky Mountain Neighbors, a weekly tabloid published in the late 1980s into the 1990s by the Asheville Citizen-Times in the counties west of Asheville. It will interest those old enough to remember when Bennett's Drug Store in Bryson City was the place you went to for drugs and just about anything else you might require.
BRYSON CITY — Sorry folks, no more ice cream cones, milkshakes, or sundaes at the marble-topped counters and tables. No more old-fashioned hospitality at the drug counter. No more advice on what to do for a foundered horse or poison ivy.
Bennett's Drug Store — a landmark in Western North Carolina for nearly a century — recently closed its doors for the last time when pharmacist Mary Alice (Bennett) Greyer decided to retire.
The closing marks the end of a single family's century-long medical service in a rural mountain county, and brings back memories of a remarkable man in that family whose influence extended far beyond his profession as a pharmacist.
Situated just north on the town square on Everett Street, Bennett's Drug Store was founded in 1905 by Greyer's father [in the storefront now occupied by Calby's Antiques and Gifts].
Kelly Bennett (1890-1974) was certainly one of the most influential and civic-minded citizens in Swain County history. His father, Dr. A.M. Bennett, was registered as a pharmacist by the state of North Carolina in 1888 and initially set up his practice in Whittier. Kelly Bennett was registered in 1912. His daughter, Mary Alice, was registered in 1936, being the first woman pharmacist in North Carolina. Accordingly, three generations of the Bennett family served Swain County as pharmacists for over 100 years, with 86 of those years being from the same location.
For his part in promoting the movement which culminated in the establishment of the Great Smoky Mountains National Park, Kelly became known as "The Apostle of the Smokies." That, however, was a somewhat limited designation, as he was in fact one of the foremost advocates of the entire region, being instrumental in bringing good roads to the mountains.
He was for 5 years on the North Carolina board of pharmacy and in 1954 was named pharmacist of the year; for 14 years Bryson City's mayor; for 20 years a member of the Swain County Board of Education; for 5 terms a state senator; for 2 terms a state representative; for 7 years on the N.C. Hospital Board of Control; a founder of the Cherokee Historical Association; and so on.
A dedicated gardener, fisherman, hiker and camper, "Doc" Kelly was also an accomplished photographer. He left behind a photo file of over 8,000 black and white negatives and 5,000 or so color slides. Many of his photographs were published in the Asheville Citizen-Times, as well as in magazines.
With his friend Horace Kephart, Bennett was one of the major forces behind the creation of the Great Smoky Mountains National Park. Shortly after his death, a peak just north of Bryson City in the park was named Mount Bennett. Another friend, Lamar Gudger, then a member of the U.S. House of Representatives, spoke at the dedication ceremonies, saying:
"We have come together to dedicate a peak for Kelly Bennett, not the highest peak, but certainly one which had much meaning for in the life of both Kelly and his beloved Tela. This was the mountain on which they would look each afternoon as the sun set in the Smokies. You had to know Kelly to understand that the mountains were the love of his life, that despite his services to his profession, to the government by his election to the state general assembly, he was first and foremost a mountaineer.
"Gazing at his peak from here, I recall the words of my own home county's motto: 'Give us men to match our mountains.' You in Swain County had such a man in Kelly Bennett. I personally want to thank you for sharing him with the rest of the state, indeed the rest of the nation and world."
If something took place in Swain County during "Doc" Kelly's lifetime, there was more than an even chance he either started it or had a hand in supporting or opposing it. A billboard sign in Bryson City that read "Ask Bennett, He Knows" was more often right than wrong.
The closing of Bennett's Drug Store marks the end of an era.
(George Ellison is a naturalist and writer. He can be reached at This email address is being protected from spambots. You need JavaScript enabled to view it..)