Archived Arts & Entertainment
Through the fingertips, echoes the history
Wednesday, March 08, 2017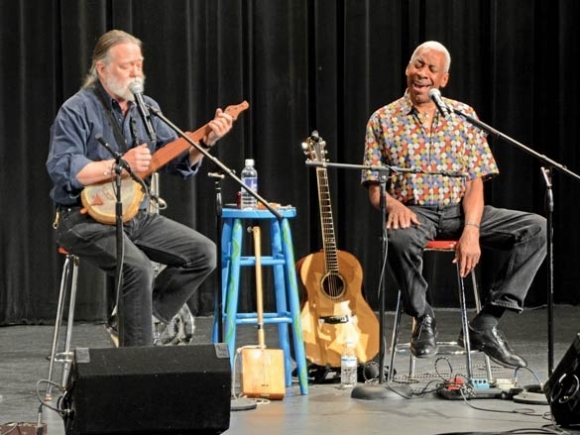 "You know, history becomes personal," Reggie Harris said to a silent auditorium last Sunday afternoon. "These are our stories, and our history — black and white — on this long road of broken dreams and possibilities."
Sitting onstage at the Swain Arts Center in Bryson City, Harris was joined by Scott Ainslie during their "Black and White and Blues" program, which received support from the North Carolina Arts Council.
The duo, both folk singers, scholars and historians, weaved through the origins of the music of the American South. It's European. It's African. It's also a hybrid, filled with the sounds of the blues, bluegrass, folk and mountain music. It's as dark as it is uplifting. And the wisdom these melodies conjure is as vital nowadays and it was hundreds of years ago when this country was in its infancy.
"It's always a pleasure to come here into the mountains of Western North Carolina because there's so much history and culture still here, still preserved," Harris told the audience numbering around 50. "The arts remind us of who we are, the spirits that keep us in touch with each other."
Ainslie is the author of the best-selling Robert Johnson At The Crossroads. Over the years, he's been awarded the "Sam Ragan Fine Arts Award" from St. Andrew's Presbyterian College, an "Indie Award" from The Independent in Durham and a "Living Heritage Award" from the National Slide Guitar Festival.
Harris is steeped in the storytelling traditions of his mentors, who range from Pete Seeger to Harry Belafonte to Bernice Johnson Reagon. He's also a founding artist in the John F. Kennedy Center's "Changing Education Through the Arts" program, and currently serves as musical education director and is a board member of the UU Living Legacy Project, an organization committed to increasing the knowledge of the modern Civil Rights movement.
"We are all given a role to play in life. And I'm just optimistic enough to think that if we simply perform our duties in the world with kindness and compassion, aiding those in need, afflicting those who abuse us or others, and generally putting our hands carefully on the wheel and giving it a shove in the direction of peace and justice, then the world will get better," Ainslie said. "A portion of this is sorting out the difference between our heritage, which is filled with violence and racism, and our legacy, which is what we pass on. We can choose to not pass on the hatred, the violence, the racism and bigotry that so easily comes to citizens of this country. But, it will be a struggle within and without ourselves to do so. I can actually think of no more worthy struggle."
Watching Harris and Ainslie bounce off each other with stories and songs, amid a wealth of musical knowledge and sheer stage presence, you found yourself soaked in the horrors and quest for redemption that still haunt the ashamed or forgotten chapters of our nation's past. Images start rolling through your mind of lynch mobs, water cannons, barking dogs and signs that say "Whites Only," the faces of Dr. Martin Luther King, Jr., Malcolm X and Medger Evers, the voices of Charlie Patton, Son House and Odetta.
"You can't understand the present, or formulate the future, without knowing the past. America has been very good at erasing its history and replacing it with weak, baseless bromides. The country was founded as a slave nation bent on genocide when it came to Native peoples," Ainslie said. "By forgetting our history of repression and violence, we chain ourselves and our society to that past and prevent it from realizing a future that could be fairer, less lethal to people of color, and economically better off. The nation is dragging slavery and racism around like a ball and chain around its feet. The very first step toward progress involves admitting you have a problem. We, as a nation, are no closer to transcending our past and race than it was in the mid-19th century, largely because we are in denial about what our nation has done and continues to do."
A thick air of sadness wafted through the auditorium when Harris spoke of tracking down the plantation right outside of Richmond, Virginia, where his family worked as slave labor, and how the ghosts of one's ancestry are always alongside one's own personal journey. It was as if you could feel the beads of sweat rolling down your face, the sound of whips cracking, the tears shed in anger and confusion as to why you are there, in the depths of a day-in-day-out hell.
"We have, as a culture, become less adept at acknowledging the struggle and celebration of life in the simple way that the blues makes relevant. People are used to complaining about their lot in life, but I feel that collective sense of being connected to a universal humanity has diminished," Harris said. "Telling that story, blues style, is a great way of pulling people into the common frame of shared ups and downs that help us to feel each other's pain and unite in our shared journey while also being able to state our personal story."
If there's one thing you could take away from the "Black and White and Blues" program, it would that where we stand today isn't too far from where we stood at the turn of the 20th century, let alone the turn of the 19th century. If there were two things you could take away from the program, it would be that, and also the glimmer of hope projected by Harris and Ainslie — a black guy and a white guy, side-by-side, walking towards a better tomorrow.
"Within the current political and social climate, there is, obviously, a deep sense of unrest and of people feeling disconnected and unrepresented — history tends to be cyclical," Harris said. "So, the issues and the ways that people address them, with adaptations and generational changes, are important to note and pass on. I see a rise in the energy around using music, visual arts and other forms, which would include forms made possible in the virtual world, to advance the cause of justice, freedom and community engagement. We are singing again in old and new ways to deal with the issues of a changing world."
Want to know more?
For more information on the "Black and White and Blues" program, visit www.kimandreggie.com (Reggie Harris) or www.cattailmusic.com (Scott Ainslie). The Swain Arts Center can be reached at www.facebook.com/swainartcenter.