Archived Arts & Entertainment
This must be the place: It's midnight, do you know where you life is?
Wednesday, March 01, 2017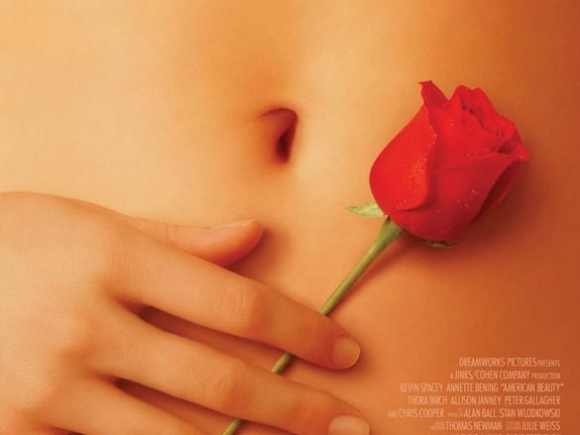 I finally had a moment of silence.
After a raucous Saturday night attending the Perpetual Groove show at The Salvage Station in Asheville, I found myself in the living room of my friend's house in West Asheville. Midnight had come and gone, and there I was, sitting on the couch, wide awake as folks were already asleep atop the air mattress on the floor and in the back bedroom.
Since I haven't had cable or a TV in almost five years, it felt like the ideal nightcap as I reached for the last cold beer and the nearby remote control, clicking on the glowing box in the corner. As per usual, nothing was on or at least appealing. But, when I drifted into the on-demand films, I came across a familiar and beloved title — "American Beauty."
The landmark 1999 film broke open a lot of doors for critics and viewers alike. It showcased the sheer beauty and utter chaos that can hide so silently behind white picket fences and well-kempt suburban homes. The whole "if these walls could talk" thing, where you realize that you're not alone in your thoughts that say, "Am I the only one with a family this crazy?"
When it hit theaters, "American Beauty" felt like some wall had been torn down between what we see and are told is "reality," and what the real story actually is when you finally hear the screams from down the hall or feel the kisses on your lonely neck. It's "appearance vs. reality" in its purest form.
I remember exactly where I was when I first watched it. Summer 2000. I was 15 years old at a friend's house in the tiny Canadian border town of Alburgh, Vermont (across the bridge from my hometown of Rouses Point, New York). It was the house of this girl I had a crush on, who was two years older than me, and liked hanging out with me for some reason. Her house was on Main Street and we walked down to the grocery store to rent a video, "American Beauty" being the choice for that evening. I sat next to her and her mother on the couch, her little sister on the floor in front of the TV.
Sitting there, something inside me clicked on when main character Lester Burnham (played by Kevin Spacey) said in the opening scene, "My name is Lester Burnham. This is my neighborhood. This is my street. This is my life. I am 42 years old. In less than a year I will be dead. Of course I don't know that yet, and in a way, I am dead already."
Nothing within my mind, body and soul was ever really the same after seeing that film, especially when Burnham said at the end, "I guess I could be pretty pissed off about what happened to me. But it's hard to stay mad, when there's so much beauty in the world. Sometimes I feel like I'm seeing it all at once, and it's too much, my heart fills up like a balloon that's about to burst. And then I remember to relax, and stop trying to hold on to it, and then it flows through me like rain and I can't feel anything but gratitude for every single moment of my stupid little life. You have no idea what I'm talking about, I'm sure. But don't worry, you will someday."
I felt like I became "aware" of nothing and everything when I left that house that night. Anytime something happened to me or around me, whether it was good or bad or ugly, I would (and do still to this day) think of how that moment in front of me — and emotion within me — will matter when compared to the grand scheme of things. I felt like a bird flying above the bigger picture, and it has become my viewpoint ever since.
Fast-forward to last Saturday on the couch in West Asheville. Though I had only intended to throw on "American Beauty" until I fell asleep, I stayed up and watched the whole thing. It was just as mesmerizing and vital as when I was 15.
My thoughts bounced around what life was like in 1999-2000 and where we stand today as a county and a people. What I've always taken away from "American Beauty" is that you can't 100 percent believe what you see at surface level with a person, that what their essence is might be something they're afraid or ashamed of revealing, or what they want to say from their heart isn't necessarily what echoes out of their mouth.
And with that notion, I find that's how I try to approach folks, especially those who might not agree or see eye-to-eye with whatever it is I bring to the table in conversation. You need to understand where someone came from to know where they're going, and why it is they have chosen that direction in life.
When asked about the "plastic bag" scene in "American Beauty," screenwriter Alan Ball said, "There's a Buddhist notion of the miraculous within the mundane, and I think we certainly live in a culture that encourages us not to look for that."
That's it, right there. The irony of "American Beauty" being released in 1999 is the mere fact — for me at least — that was the end of the era of taking notice of the beauty of the mundane. Think about it. Once the new millennium flipped over on the calendar, it feels as if we've been in hyper-drive for the last 17 years. Internet for all — instant gratification when it comes to shopping, entertainment, information and connecting with people around the globe (though I feel we've never been more disconnected, with face-to-face communication a lost art).
With all this technological advancement, I think about all the noise, anger, picking sides and such that has come through the door with it. Everyone with a smart phone has a voice and an opinion, and will broadcast it loudly, regardless of consequence. Take a moment this week and just think about what incredible depths reside in those you're yelling at across "The Great Divide." They all have secrets, fears, desires, and most of all, a soul somewhere in there that eagerly wants to be seen, heard and, most of all, loved.
Life is beautiful, grasp for it, y'all.
Hot picks
1Frog Level Brewing (Waynesville) will host Darren Nicholson & Caleb Burress (Americana/bluegrass) 7 p.m. Friday, March 3.
2National finger-style guitar champion Richard Smith will perform with his wife, cellist Julie Adams, at 6 p.m. Friday, March 3, at the
Balsam Mountain Inn.
3Lazy Hiker Brewing (Franklin) will host The Colby Deitz Band (Americana/rock) at 8 p.m. Saturday, March 4.
4No Name Sports Pub (Sylva) will host Dead Cat and Bob Fleming & The Drunk Girl Chorus (Americana/roots) at 9:30 p.m. Friday, March 3.
5The Classic Wineseller (Waynesville) will host a dinner evening with The Russ Wilson Duo (jazz/swing) at 7 p.m. Saturday, March 11.