Archived News
Faces and places from Pigeon Street's past
Wednesday, March 01, 2017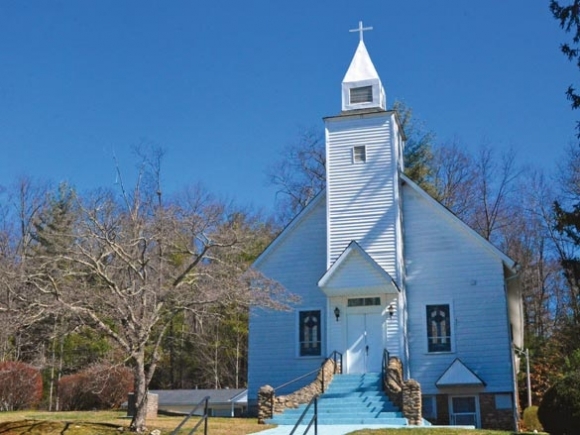 Standing in the parking lot of the Jones Temple AME Zion Church on Pigeon Street in Waynesville, Phillip Gibbs doesn't look 71 years old.
Like much of the historically African-American neighborhood that surrounds him, Gibbs' appearance belies decades of experiences central to the culture of an oft-overlooked people.
That culture and those experiences are rapidly disappearing as the Pigeon Street community braces for change, both from within and without; yet the struggle to remember the faces and places from Pigeon Street's past has only just begun — and not a moment too soon.
The Old Spider
Pigeon Street begins at South Main Street and runs southeast, sloping downhill away from town and curving gently between rolling hills just east of the bustling tourism district, tracing a path across the county and back through time.
Gibbs was born and raised in the area — as were his parents — when segregation conspired with geography to keep the residents of Pigeon Street separate from the whites who populated the rest of town.
"Back then, you didn't know if you were isolated or not. You grew up in an environment and learned to accept that environment," said Gibbs. "I didn't know I was isolated because I didn't know what isolation felt like — what you never have, you never miss."
Everybody in the small community known to some as "Scuffle" worked together, prayed together and stayed together, said Gibbs.
"We had our own schools, our own churches, our own little clubs. We were self-supporting and self-sufficient," he said. "The white people stayed in their neighborhood and we basically stayed in our neighborhood."
That neighborhood, which runs along Pigeon Street, has been anchored by Jones Temple for as long as anyone can remember.
SEE ALSO: National Register possible for Pigeon Street
"Worship is a big part of who we were and still are today. Black people like to come to the church together to not only listen and talk about who is in charge — which is our Heavenly Father — but we come here to pass information on to each other. It's like a social gathering here. We not only come here to praise, we also come here to socialize, one to another."
The church, which was moved from nearby Greenhill Cemetery, sits in the shadow of segregated Dix Hill Cemetery where weathered fieldstone markers high atop a mossy bald denote the nameless graves of African-Americans dating back more than a century and where, according to legend, a spectral figure prowls late at night.
But that ghost story isn't the only legend floating around Pigeon; in fact, much of the community's history is shrouded in myth.
Little has been written about the area, and as older generations pass on and older buildings crumble, irreplaceable links to days gone by are vanishing like the ghost up on Dix Hill.
Gibbs — perched atop a wooden bench at one of several organs inside Jones Temple, sunlight streaming through stained glass — remembers a far more vibrant neighborhood than exists today.
"We had a little place down here when I was pre-teen, it was called the Old Spider," he laughed. "It was a building across the street from where the Pigeon Community Center is now. That was our club. They would have music and they sold hot dogs and hamburgers and other stuff — bootleggers were rampant around here. That was our only actual club at that particular time. After it went away, we had a place moved in that was called Gentry's Drive In and then it changed to June's Drive In. And in that little strip on Pigeon Street, there were two or three clubs down there where the blacks used to gather."
The 1954 Mullin-Kille city directory lists a "Blue Bird Café" at 513 Pigeon Street; a similar directory published in 1959 by the Hill Directory Company lists "Abe's Drive In" at 517 Pigeon Street; and a 1962 version shows "Clark's Drive In" at 515 Pigeon Street.
Those cafes are long gone.
Separate, unequal
Sitting in a green velour recliner in her tiny, tidy home on the west side of town, Georgia Haley Forney will soon be 87 years of age, and likewise remembers the Old Spider, as well as growing up with her brother Phillip Gibbs in a Waynesville far different than that of today.
"We knew that we weren't as welcome with them [whites] as with our own color," Forney said. "Even going to the theater, I'd go to the westerns every Saturday — I love westerns — all the whites would be down below but we could see better than them because we were in the balcony."
Gibbs added that they were forbidden to use the front entrance of the theater and had to climb a fire escape to sit up top, where a man would eventually come around and collect their money.
He also recalls being bused to segregated Reynolds High School (see page 9) in the early 1960s, just as the civil rights movement began picking up steam.
"I remember even when I was in high school, it came to the point that blacks started rebelling for more equality, and the sit-ins and all these things happened," he said.
Tired of having to order and receive food through a small cubbyhole in the back of a Main Street restaurant called Charlie's, Gibbs and his high football team rebelled in the only way they could.
"We had a little activity bus and we'd swing through Charlie's to get something to eat. The man would have to come out to the bus to take our orders," he said. "So one time we ordered hot dogs and french fries and hamburgers and drinks and all this stuff, and the man went in and when he came back out with a big box in his arms, we pulled off. So he was stuck there with all that food."
Forney, too, remembers crossing the line that divided black and white at the theater.
"I had been in the front with some of the white kids. I had a friend and she'd grab my hand and say, 'Let's go inside together' and she'd sit on my side, with me. So we broke that line a long time ago. Yes we did."
Such personal acts of civil disobedience were about the extent of protest in segregated Waynesville; while the African-American population of the town and Haywood County has always been quite small, it continues to shrink.
"There wasn't as much going on here as there was in larger places," Forney said of activity during the civil rights movement, "because we didn't have enough blacks to stand up."
The 1954 Supreme Court case Brown v. Board of Education marked the beginning of the end for "separate but equal." However, it took 20 years or more for the full implementation thereof to pervade the segregated South, during which time the Pigeon Street Community declined further, largely due to economic opportunity calling to poor Appalachian African-Americans — and whites — from the east and from the north.
"Most of our young people have had to move out of back here in Western North Carolina," Forney said. "They had to go somewhere else to get a good job."
According to data from the U.S. Census Bureau, 3.3 percent of Waynesville residents identified as African-American in 2000. The 2010 census reports just 2.4 percent, or about 235 people.
Vexation
Chuck Dickson is the president of the local NAACP chapter, which sometimes meets in the cramped fellowship hall beneath Jones Temple.
Dickson is white, like 80 percent of those attending the Feb. 25 meeting and like every national president of the NAACP from its establishment in 1909 until 1975.
A projector connected to a laptop paints images and graphs on a heavily plastered basement wall just below the unnaturally low ceiling as a visiting professor talks to the group about Asian and Middle Eastern immigration.
Africans were among the first immigrants to North Carolina — albeit unwillingly — long before England jabbed her flag into the sandy shores of Roanoke Island in the 1580s. A 1526 expedition by Spanish slaver Lucas Vasquez de Ayllon to the mouth of Cape Fear included several West Indian slaves.
Although America's own peculiar brand of chattel slavery took hold in the eastern lowlands of North Carolina, the lack of large-scale agriculture — and large populations — left the mountainous highlands of Western North Carolina with little need for labor and resulted in relatively substantial pro-Union sentiment compared to other parts of the state and the South.
The 1860 census listed 313 slaves and 61 slave owners in Haywood County, out of more than 5,800 residents. Likewise every county in North Carolina west of Burke had less than 25 percent of its population enslaved that year.
As Reconstruction gave way to Jim Crow and segregation, most African-Americans in Waynesville lived in the Pigeon Street Community, and mainly kept to themselves.
When the civil rights era dawned in the late 1950s, it was spurred on largely by organizations like the NAACP.
"The mission of the NAACP is to put itself out of work," Dickson said. "When we have a racially just society, then we won't have any more concerns. But unfortunately in this day and age racism is as abundant as it's ever been."
Georgia Forney also admits to being troubled by the current state of affairs.
"With our present president — I don't really know because it shocks me, some of the things he says. I don't hardly watch it anymore, it just bothers me so much," she said. "It really does. I watched some of it last night and I just got so vexed that I don't watch it no more."
But in the basement of Jones Temple, it's a different story; even as Western Carolina University Professor Dr. Benjamin Francis-Fallon winds up his discussion by taking questions about U.S. immigration policy from the Asian Exclusion Act of 1924 through President Trump's recent immigration ban, the Town of Waynesville is investing significant resources that could soon transform the neighborhood, starting right up the street from the church.
'The water was the same'
A collection of ramshackle lots astride nearby Calvary Street host the decaying husk of a former church.
Just yards from Jones Temple, the building's doors have been ripped from their hinges and shattered windowpanes make walking a hazardous affair. Inside, an empty plastic bottle of rum lies gingerly near a faded bouquet of blue and white plastic flowers not far from where a pristine lectern still stands as though ready to address the rows of empty green seats.
The county acquired the lots through foreclosure a few years ago, and has entered into negotiations with the town regarding their future. The first order of business is the demolition of the structure, which has been a neighborhood problem for years.
Although the town's plan to convert the lots to a park is not yet final, Gibbs — who sits on the town's planning board — said he hopes it will be called "Obama-King Park."
In a separate-yet-related effort, town officials recently authorized a grant application that would help fund a study of historically significant structures and resources in the Pigeon Street community, perhaps shedding light on the facts surrounding Jones Temple, Dix Hill, the Old Spider and the other ghosts of Pigeon Street's legacy.
"I think our younger people don't realize just how bad it was," Forney said. "I tell my grandson and great-grandson, but they don't believe that, because they haven't been through what I've been through."
Forney speaks with the wisdom of a woman who's lived through 70 percent of the 20th century — plus 17 percent of the 21st — and sipped from the colored fountains at Belk on Main Street.
"And the water was the same! I just never did understand all that," she said.
Counterintuitive as it may sound, shedding tempered light on a painful past may reveal those forgotten, faithful memories of a place and a time that for better or for worse are gone but not quite yet forgotten.
"You're not my white friend, and I'm not your black friend," she said, remembering her young playmates. "You're just my friend. That's just me. Am I wrong? I don't know, but that's just me."
Her brother Phillip, locking up the doors at Jones Temple with Waynesville Director of Development Services Elizabeth Teague in tow, reflected on how those faces and those places from Pigeon Street's past might coexist with the ever-bearing internal and external loads on Appalachian African-Americans.
"Blacks, whites, everybody needs to know that this was a very integral part of Waynesville, the black community," Gibbs said. "Everybody knew where the black community was. They didn't come here much except for the people that were looking to find bootleg whiskey or something, and that's what used to happen. But this is all blacks that lived here, worked here, died here and are buried here up in our cemetery — buried on that hill right up there, because we couldn't use the white cemeteries. That's a part of history that everybody needs to know."