Archived News
Clampitt's constituents walk away without answers
Wednesday, March 01, 2017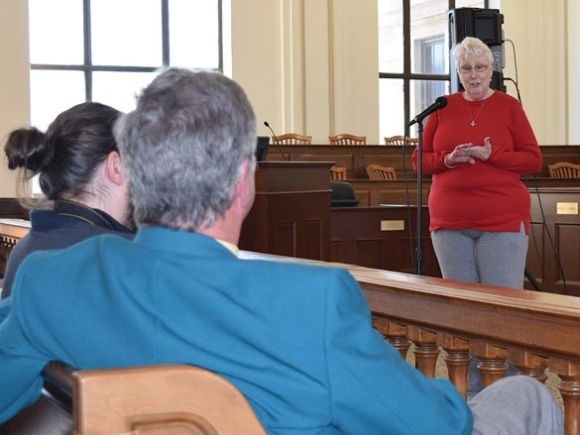 Newly elected Rep. Mike Clampitt was asked some tough questions during his first constituent meeting in Haywood County last Friday, and the crowd was not satisfied with his answers — or lack thereof.
The Bryson City Republican faced a crowd of more than 60 people at the Haywood County Historic Courthouse Friday afternoon. A majority of attendees were part of the WNC Progressive group that formed following the November election. Many of them came with "Disagree" signs to quietly express their differences of opinion with Clampitt while others were disruptive with hissing sounds, banging loudly on the wooden pews. Several law enforcement officers were on standby and had to ask some people to quiet down or they would be asked to leave.
Several speakers gave Clampitt praise for holding a town hall meeting at a time when other North Carolina congressmen are being accused of avoiding any public appearances during their first session break. However, they also didn't shy away from putting him on the spot and repeating questions when his reply did not answer the question that was asked.
"Clampitt refused to answer any of the questions. He has not considered any current issue before the legislature, even when he has co-sponsored the bill," said Katherine Bartel after the meeting. "He will 'do his research and consider it' once the bill is before him, but not in time to speak to his constituents about it."
Progressive concerns
Retired Naval officer Bob Maples questioned Clampitt's stance on gun rights. He wants to see more regulation and controls over who can carry weapons and where.
"People should not conceal carry in church or school," he said.
Clampitt responded by telling an anecdote about a time when he was fire captain of a station in Charlotte that got robbed at gunpoint in the middle of the night. When the gunman was asked why he chose to rob a fire station, Clampitt said the man replied that he knew fire stations were gun-free zones.
"You couldn't have guns at the station — that just advertises to criminals that it's OK to rob," Clampitt said.
Kenneth Weaver was overcome with emotion as he took to the microphone to talk about racism, immigration and the discrimination that he has faced throughout his life. As he struggled to continue speaking through tears, Clampitt joined him at the mic to encourage him to continue.
"I was raised by a racist but I'm not a racist. I was bullied in high school because I'm gay — and I'm no longer afraid to say that," Weaver said as the crowd cheered for him.
He went on to say undocumented workers were a crucial part of the community and shouldn't live in fear of being deported and separated from their families.
"They came to this country to make a better life for themselves and they're being treated like garbage and it disgusts me," Weaver said. "How is North Carolina going to help and not hurt these people?"
After asking the audience if they would ever drive without a license, Clampitt maintained that deportation was up to federal agencies and not in his legislative purview.
"ICE is federal — I'm focused on Haywood, Jackson and Swain counties," he said.
Natasha Bright circled back around to the immigration issue toward the end of the meeting. While deportation isn't within his control, Bright reminded Clampitt that the effects filter down to a local level.
"Eventually these issues will be in your purview and we feel strongly about immigration," she said. "We're in your district and we will hold you accountable for protecting these people."
Western Carolina University student Zack Daniels questioned Clampitt on climate change and asked him to elaborate on an earlier statement he made about the issue.
"You said 'God controls the weather.' Does that mean it's not necessary to take steps to prevent climate change?" Daniels asked.
Clampitt said he does believe God controls the weather but also said he was a proponent of clean water and clean air quality.
"We all have a responsibility to the environment," he said.
Clampitt was repeatedly asked about the impending repeal of the Affordable Healthcare Act and the Republican-led legislature's unwillingness to expand Medicaid, but once again the new representative said he couldn't control what Congress does or what happened in the N.C. legislature before he was elected.
Rhonda Schandevel of Canton — a Democrat who was unsuccessful in unseating Rep. Michelle Presnell, R-Burnsville, for the 118th District in the 2016 election — asked Clampitt what improvements he would make to the Medicaid system since Republicans have been quick to call the program "broken."
"I won't make promises I can't keep," Clampitt said. "But whatever comes to the Appropriations Committee, I will look at it. The money is out there and I hope we can capitalize on that."
Schandevel followed up by saying even though Clampitt can't vote on the repeal of the ACA, a repeal without a replacement would affect the people in his district and could leave millions of people without the coverage they need.
"Speaking as a parent of a person with a disability, when you vote on these bills, just remember all these people who need this system," she said.
Addressing local issues
Clampitt was quick to dismiss any federal related issues stating it was out of his pay grade, but he also wouldn't clearly state a position on several local issues.
Myrna Campbell, chairwoman of the Haywood County Democrats, said Haywood commissioners recently approved a resolution asking its local legislative delegation to introduce a bill to make the tax collector an appointed position instead of an elected one.
Campbell said she understood Sen. Jim Davis, R-Franklin, was willing to introduce the bill, but Presnell and Clampitt wanted the question to be placed on the ballot for residents to decide. Because Haywood County is the last county in the state that still elects a tax collector, Campbell asked why Haywood needed to have a referendum to make the change.
Clampitt said he doesn't put words in other legislators' mouths and they shouldn't speak for him. He said he hasn't had any official communication from the county commissioners or county manager about the tax collector position and wouldn't comment on his position until it comes up in the General Assembly.
On Monday, County Manager Ira Dove said the resolution and the official request for the legislators to act on the resolution would go out this week to the legislative delegation.
Moving on to another controversial statewide issue, Pat Robbins asked Clampitt about his stance on HB2 and whether he would support Gov. Roy Cooper's request for a full repeal of the so-called "bathroom bill" that requires transgender people to use the bathroom that corresponds with the gender on their birth certificate.
Clampitt replied by saying he understood Rep. Chuck McGrady, R-Hendersonville, recently introduced a bill to repeal HB2 but he hasn't read or studied it yet. He would not elaborate on his position on the controversial bill.
"He did not answer my question or anyone's questions directly," Robbins said after the meeting. "He said he hadn't seen HB2.0/HB186 put forth last Wednesday as a compromise to full repeal. I told him I had read it online and it did not sufficiently remove discriminatory parts of the bill. Still, he gave no direct answers."
Elise Curry of Waynesville told Clampitt she couldn't say that she was currently proud to be a resident of Waynesville or North Carolina because of the direction the state is going. She said she was mostly concerned about the environment — specifically the air, water and soil quality in North Carolina — and wants to see more priority for renewable energies instead of fossil fuels.
"Very few residents can afford renewable energy in their homes," Curry said. "What will you do to support renewable energy in our town, county and country?"
As Clampitt started to tell Curry there are plenty of reasons to be proud of being a North Carolinian, the crowd cut him off with loud chants of, "Answer the question!"
Clampitt replied by saying the state is now home to more than 100 solar farms and the number continues to grow.
"North Carolina has been a leader in renewable energy," he said.
He was later asked about whether he supported fracking, to which he replied that he didn't support it for his Western North Carolina counties, but didn't say he was opposed to it in the rest of the state.
Jennifer Brown of Bryson City asked Clampitt if he would ever support transferring any public lands back to private ownership. As someone who lives a mile from the Great Smoky Mountains National Park, she said protecting those federal lands from encroachment was important to her and many others in the community.
"Let me ask you something," Clampitt said. "Are you familiar with the Road to Nowhere?"
He went on to tell the audience about how the federal government seized thousands of acres of land from Swain County in the 1940s to create the national park and flooded local communities and roads to create Fontana Dam. The federal government signed an agreement to pay Swain County a $56 million settlement for not rebuilding the North Shore Road — or the "Road to Nowhere" — but has only made one $12 million payment since the settlement was made in 2010.
Swain County commissioners filed a lawsuit against the U.S. Department of Interior last year in a last-ditch effort to get the settlement money. Even though it is a federal matter, Clampitt said he is "working passionately to get that money for Swain County."
Clampitt also said he is against adding more designated wilderness areas within the national forests of Western North Carolina.
"I don't want wilderness — it devastates local economies," he said. "It should be a park for all to use, not just a select few."
Clampitt wrapped up the two-hour meeting by thanking everyone for attending and encouraged them to call and email him with concerns. Constituents can sign up for his weekly newsletter by emailing This email address is being protected from spambots. You need JavaScript enabled to view it..