Archived News
Community ready for a fight
Wednesday, February 22, 2017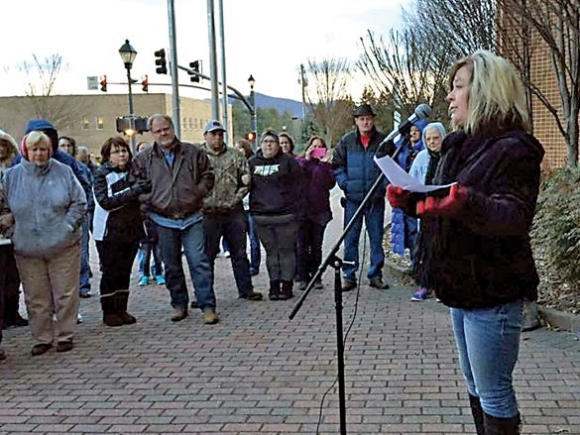 Macon County commissioners heard impassioned cries for help last week from families that have lost loved ones to addiction.
By sharing their stories and encouraging others to come forward, these families hope to break through the stigma and work toward finding solutions to the growing opiate epidemic.
"My family recently lost a loved one," said Carol Ward as she struggled through her tears. "She was a brave, beautiful, well-loved, smart person that had been raised properly and taught right from wrong and if she can die of this then none of our children are safe."
Jan Stanfield, a Macon County resident for 20 years, told commissioners the story of her son, Stephen, whose opiate addiction ultimately led to his death in 2006. She remembers her son taking off for Asheville on an April morning in search of drugs. After taking a dangerous combination of painkillers and cocaine, Stephen admitted himself to the hospital for chest pain. Doctors ran tests but found no abnormalities so they released him.
Stanfield said two weeks went by without any word from their son. He was eventually found dead on the roof of an auto repair shop just a few blocks from the hospital. He was only 24 years old. He had a bottle of 100 oxycodone tablets on him and an autopsy showed nine pills in his stomach.
"I'll never forget what the detective said when I asked him where he could have gotten all those pills. He just shrugged his shoulders and said, 'they're everywhere,'" she said. "We loved him beyond measure — he was funny and cute, hard-working, smart, he loved the outdoors and baseball. The whole dream of seeing your child growing into a responsible adult and living happily ever after was taken away."
In response to the growing concern about opiate addiction — which includes synthetic opioids found in painkillers and poppy opiates found in heroin — Carol Anne Elliott said she and others started a movement called Prayers Against Drugs. The group has a Facebook page and gathers at 6 p.m. on the first Friday of the month outside of the Macon County Courthouse to support each other and pray together.
"This was something laid on my heart after dear friends lost their daughter," Elliot said. "People need a place to go."
Not only is the group reaching out to God for help — Elliot said she knows everyone in the community needs to take action to address the drug addiction problem. She wants to see all support groups, organizations, law enforcement officers and the county government come together to find solutions.
Stephanie Almedia with Full Circle Recovery Center in Macon County told commissioners she's been working on the opiate epidemic fight for 20 years.
"And it hasn't gotten any better," she said. "There's a lot of young people using IV drugs that don't have anywhere else to go."
She said the increase in intravenous drug use like heroin has led to increased cases of HIV and Hepatitis C. While awareness of the issue has increased lately, Almedia said drug abuse still comes with a heavy stigma.
"Not many people are willing to talk about it," she said. "We hold an overdose event every August — we had 75 people last year but I think it will double this year because so many young lives have been lost."
Because of his involvement on the North Carolina Association of County Commissioners' mental health committee, Commissioner Ronnie Beale is very familiar with the many complicated factors at play when talking about addiction. People are becoming unintentionally addicted to painkillers that are prescribed to them, children are taking painkillers from adults, and addicts who can't get their hands on the expensive painkillers are turning to a cheaper drug — heroin.
Beale said Macon County leads the state when it comes to the number of opiate prescriptions written per capita. North Carolina also ranks high in the number of opioid-related deaths.
According to the Centers for Disease Control and Prevention, the state's drug overdose death rate increased 14.5 percent from 2014 to 2015. More than 1,500 people in North Carolina died from an overdose in 2015 — making it number eight in the country for most overdose deaths. West Virginia ranks number one.
Statewide data also shows that all but five counties in WNC have higher-than-average rates of opioid pills prescribed per person, particular in counties near the Tennessee border. Macon County topped that list with an average of 258 pills prescribed per resident in 2014, and Swain County prescribers wrote nearly two opioid prescriptions, on average, for each of the county's 14,000 residents.
As a product of the 1960s, Commissioner Paul Higdon said he's a former drug user and has family members who've had problems with addiction. He's seen how drugs destroy a family, a community, the labor force and the education system.
"When the best night's sleep you get is when your kid is in jail — that's not right," he said. "I've thought a lot about it — the only way you're safe is locked up — you've got to protect them from themselves."
Beale countered that it costs $88 a day to keep an inmate in the jail, but it's cheaper and more efficient to treat addicts in a rehab facility. The problem is the state won't allocate money for drug abuse treatment.
"They keep you (in the hospital) for nine days and send you home and say 'good luck' — that's not enough," he said. "If it's a disease you have to treat it like a disease."
More than anything, Stanfield says she wants to see the stigma removed from addiction. She said many people are of the opinion that drug addicts deserve to die because they've inflicted the disease on themselves, but even addicts have families that love them and want them to recover.
"Our society has decided certain people are not worthy of our worry and concern," she said. "Even drug addicts are loved by somebody — they are loved by God and that makes them worthy and deserving of our love and support and resources."
New alliance to tackle opioid drug epidemic
Vaya Health and community partners have formed the Western North Carolina Substance Use Alliance, a collaboration to reduce the prevalence of alcohol and drug misuse, as well as the number of fatal overdoses, in 23 western North Carolina counties.
The misuse and abuse of alcohol, prescription medications and illicit drugs affect the health and wellbeing of millions of Americans. In 2015, for the first time in U.S. history, the number of heroin-related deaths outnumbered gun homicides. In North Carolina, 25 percent of the 1,567 drug overdose deaths in 2015 involved heroin.
WNC has been hit particularly hard by the opioid epidemic, which includes heroin, other illicit drugs and prescription pain medications. In 2014, 17 of 23 WNC counties ranked among the top in the state in the rate of fatal overdoses — more than 20 deaths for every 100,000 residents.
The WNC alliance aims to increase collaboration across agencies involved in substance abuse prevention and treatment, leverage resources to maximize efforts, reduce duplication and establish top priorities for the region. This includes coordinating efforts to increase access to treatment and recovery services, strengthen prevention and education efforts and examine the impact of substance use on overall health and economic development, as a result of lost worker productivity.
For more information about the alliance, visit www.vayahealth.com. Access to services and crisis help are available 24 hours a day, seven days a week at 800.849.6127.