Archived Arts & Entertainment
Shouted, Written Down & Quoted: Paul Hoffman of Greensky Bluegrass
Thursday, February 16, 2017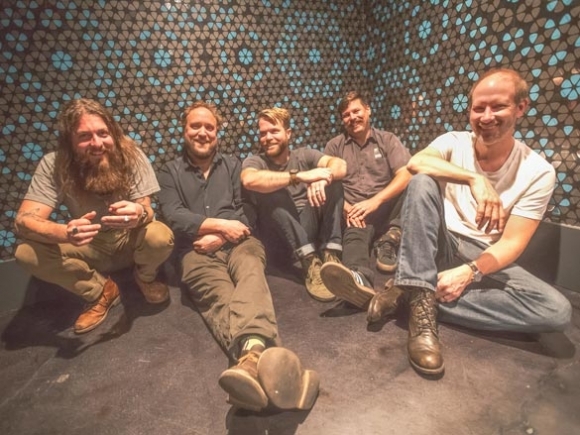 Within almost two decades together, Greensky Bluegrass has grown from a scrappy string band to one of the premier live stage acts currently touring the country.
It's been a long road from their humble beginnings in Kalamazoo, Michigan. And in that time, the quintet has become a melodic bridge between the bluegrass, jam, rock and electronica scenes.
Amid those vastly different realms, Greensky Bluegrass has navigated through those numerous physical stages and emotionally sonic moments with such ease. That's partly due to their deep and sincere collaborations with such a wide variety of groups and styles, but mostly because Greensky Bluegrass remains a sponge — of sound, wisdom and purpose.
And at the helm of Greensky Bluegrass is singer/mandolinist Paul Hoffman. The defacto leader of the band, Hoffman has become sort of a touchstone of not only modern bluegrass and jam music, but the music scene in general — a musical landscape with as much of a catch-me-if-you-can attitude as it is a place of unlimited possibility.
Smoky Mountain News: What do you see when you look at bluegrass today? I see Greensky as a bridge between the old school and new school…
Paul Hoffman: It's pretty exciting. There are all kinds of bluegrass bands these days, people trying new things. We play and make music that we care about. Whether it comes across as bluegrass or not, it's all about serving the song.
SMN: What about that type of music speaks to you?
PH: I've always been drawn to acoustic music, ever since I was a kid. I got into bluegrass and the mandolin because of David Grisman, which led me to finding other players interested in that type of music. With bluegrass, it's all about the variation. It's about playing real music up there. It's the songs. I'm a songwriter, and the song is what matters most.
SMN: There is a deep link between Greensky and the jam scene. What it is about that scene that makes it so seamless of a connection with what you're trying to do?
PH: My connection with that scene is the relationship between the bands and their fans, where it's all about that live experience. It's more about creating a unique experience each time, seeing a lot of shows and being part of something — a community — instead of one single event. It's being able to share something deep with people, to provide something important to the listener — it's a powerful connection.
Editor's Note: Greensky Bluegrass will be performing as part of Umphrey's McGee's "Blue Ridge Rockway" Feb. 17-18 at the U.S. Cellular Center in Asheville. Greensky Bluegrass will open for the legendary jam-rock act both nights. Umphrey's McGee will also play a special Sunday show on Feb. 19 at The Orange Peel. Tickets are available at www.ticketmaster.com or www.greenskybluegrass.com.