Archived Reading Room
Blizzard of 1993 is catalyst for a fine first novel
Wednesday, February 15, 2017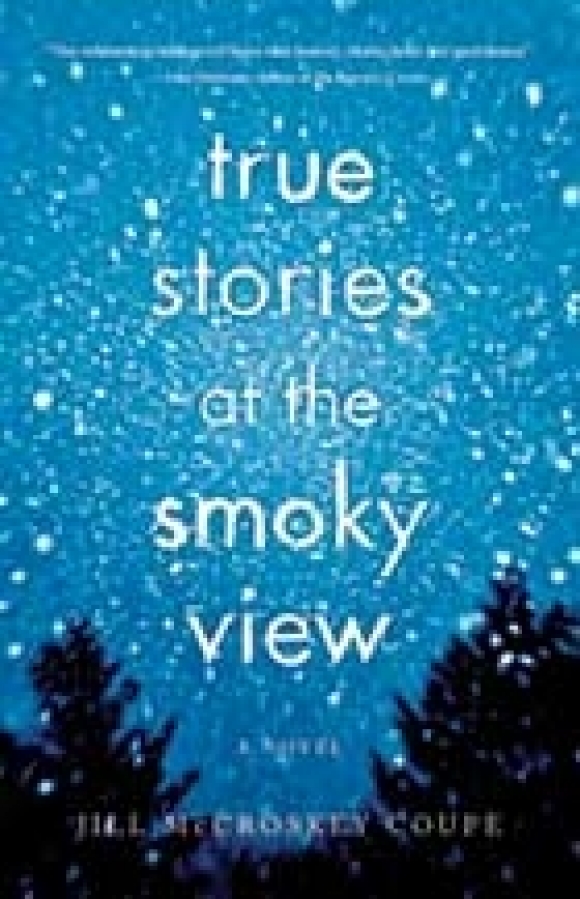 In True Stories At The Smoky View (She Writes Press, 2016, 325 pages, $16.95), Vrai Stevens Lynde — the "Vrai" is short for Vraiment — finds herself and a 10-year-old runaway boy trapped in a room at the Smoky View Motel near Bristol, Tennessee, during the great blizzard of 1993. Snowbound for several days — the monster storm has completely closed I-81, and the motel desk clerk delivers food to the stranded travelers on a tractor — Vrai and Jonathan begin comparing notes and sharing stories from their life, an exchange of information resulting in a lifelong friendship and a mutual decision to embark on a crusade to right an injustice.
Vrai, a librarian at a university in Baltimore, has returned to Knoxville to attend the funeral of an old friend, Skip, who had also worked at the same library, was fired, and died in mysterious circumstances. The newly hired library director, who was refused tenure as a history professor, seems psychotically intent on driving away key members of his staff through harassment and intimidation. With two of her colleagues dead, Vrai believes she is next on the man's list of employees to be fired.
In addition, Vrai is separated from her husband — she refused to move to Seattle with him, and their marriage is a shambles — and she has taken as her lover another friend from her Tennessee childhood, a married businessman, Lloyd, who lives in Asheville.
Adding to Vrai's burdens is Jonathan Santiago, son of Laramie, Lloyd's sister, and a Chilean poet, Miguel. After the couple was murdered, most likely by a hit team from Pinochet's Chile, Lloyd and his wife Marianne had take the orphaned Jonathan into their home. Neither of them was particularly fond of the boy, and when after the funeral for Skip Jonathan quarrels with Marianne, she and Lloyd leave him shoeless and on the street in the cold while they make a coffee run.
Vrai then picks up Jonathan, tries to track down Marianne and Lloyd, and through a series of misconnections, ends up taking the boy north, where the storm forces them from the road and into the motel. While there, Vrai and Jonathan read some material found on Skip's computer, make some connections, and realize the head librarian was probably complicit in the death of Skip.
True Stories At the Smoky View offers readers several gifts. First, of course, is the description of the '93 storm. Author Jill McCroskey Coupe does a fine job of recreating the chaos caused by this enormous storm. The highways shutting down, the motels filling up, the problems in some places getting food to the snow-bound, the power outages: all these and more are in True Stories At The Smoky View.
Through Jonathan's eyes and Vrai's observations on the murder of his parents, Coupe gives us a quick but vivid survey of the dictatorial policies of Augusto Pinochet in the 1990s. At the end of the novel Jonathan, now 17, still does not know who murdered his parents or why, but Coupe leaves us with the hope that justice will finally find the killers. And though Chile is now a democracy, albeit with some problems, True Stories At the Smoky View reminds us that dictatorships and communist governments still remain alive, if not always well, in our 21st century. (See en.wikipedia.org/wiki/democracy_index)
Finally, the tangled relationships among the characters and their interior complications in True Stories At The Smoky View will appeal to some readers. Coupe has created fully human characters, with all their virtues and flaws. Vrai, for example, is an admirable woman, inquisitive, compassionate, and humorous, yet she also commits adultery with Lloyd, who turns out to be a liar. Bob, Vrai's husband, seems a solid man, but eventually takes a lover who bears his child. The hatred and paranoia of the villainous Frank, the director of the library who persecutes his employees with lies, gossip, and even obscene phone calls, will strike a familiar chord in anyone who has dealt with such a personality. Even Jonathan, who has a passion for truth and justice, deceives Vrai at the beginning of the book, telling her that Lloyd and Marianne are not coming back for him.
One minor quibble about this novel: the first 20 pages of True Stories At The Smoky View offer readers too many characters, too many stories. Many readers, I suspect, will find themselves as I did, stopping the middle of a paragraph to turn back to the preceding pages to try and identify which character we were now meeting again. Patient readers will eventually work out the tangled relationships of Vrai's various friends and family.
True Stories At The Smoky View examines the mysteries and complexities of family, friendship, love and romance, and evil both grandiose and petty. In Vrai Lynde, in particular, Coupe has given us a vivid portrait of a complicated woman torn in many directions by her loves and her loyalties.
Jill Coupe grew up in Knoxville, worked as a librarian at Johns Hopkins University, and earned an MFA in Fiction from Warren Wilson College. True Stories At The Smoky View is her first novel.