Archived News
Casino expansion nearly nixed: Tribal Council decides in split vote to continue with $250 million project
Wednesday, February 15, 2017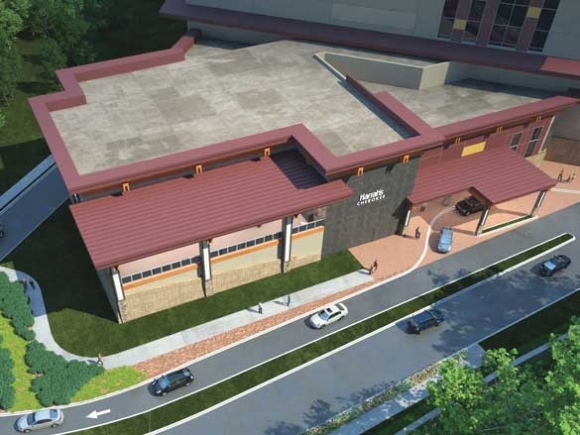 A newly approved expansion project at Harrah's Cherokee Casino Resort was nearly derailed when a resolution to kill the project was narrowly rejected in Tribal Council this month, with the final vote an even 50-50.
On Jan. 17, Council had voted 8-3 to allow the Tribal Casino Gaming Enterprise — which oversees the casino — to borrow up to $250 million to build a fourth hotel tower, 100,000-square-foot convention center and new parking deck.
Tribal Council votes are weighted by the population of each community represented, so the 8-3 vote translated to a 69-24 approval. Councilmember Bo Crowe, of Wolfetown; Councilmember Adam Wachacha, of Snowbird; and Vice Chairman Brandon Jones, of Snowbird, were the only nay votes. Councilmember Teresa McCoy, of Big Cove, was absent.
Some councilmembers apparently had second thoughts on the decision, and on Feb. 2 the body considered a resolution from Councilmember Albert Rose, of Birdtown, that would overturn the decision to approve the project. Rose had originally voted in favor of the expansion.
"I haven't seen a plan for it. With an amount like that, you need to see a plan," Rose told council. "There's a lot of unanswered questions about the hotel part, why we're still going to have to contract rooms out."
Currently, the casino holds contracts with outside hotels where casino guests spend about 80,000 nights per year. However, Harrah's also turns away about 120,000 hotel guests each year due to lack of space. Last month, Jeremiah Wiggins, the casino's director of planning and analysis, told council that outside hotel contracts would likely continue even after the expansion, as the new event center is expected to generate additional demand for overnight stays.
As to the planning issue, said TCGE Chairman Jim Owle, it didn't make sense for the casino to spend $100,000 for detailed plans before knowing whether Tribal Council wanted to pursue the project. Now that it's received approval, Owle said, the casino will soon have those plans developed.
Questioning the timing
Councilmembers also questioned the project's timing, with several of them referencing the administration of President Donald Trump, whose companies own multiple casinos across the country. Would policies unfavorable to casinos on Indian land be forthcoming, they wondered? In addition, they said, what about the casino legalization in Georgia that's been rumored for years? Would the tribe be stuck holding the bag on a giant debt as the facility's potential for profit plummeted?
"Of all the times we need to be really careful with this tribe's resources, especially its money, it's now," McCoy said. "We have to be careful and cautious."
Meanwhile, Harrah's regional vice president of finance, Adele Jacobs-Madden, made the case that the timing is just right. Doing the expansion project now will save the tribe money on financing costs, and it will further establish Harrah's as a leader in the convention market, she said, putting it head-and-shoulders above any future facility to come about in Georgia.
"If it (Georgia gaming) was approved tomorrow, it would still be two or three years out," she said. "By that time we've established ourselves as a destination market and conventions book two, three, five years out, so we could theoretically have that convention business already booked by the time it was open."
Points of trust
McCoy, however, felt it made sense to halt the project and take time to talk over the details — of expansion plans, and of other points of trust between the casino and the tribe. Over the past two years, Harrah's has had two parking decks fail. And the controversy over the Dakota Access Pipeline's potential impact on the Standing Rock Sioux has caused Tribal Council to question whether it is supporting banks that are financing the pipeline project. McCoy asked Brooks Robinson, general manager at Harrah's, to provide a list of banks that Caesar's Entertainment — Harrah's parent company — invests with or borrows from. Robinson told McCoy he did not have that information immediately available but would provide it.
"I'm not going to borrow money from another bank that has anything to do with a bank that's going to kick the crap out of a bunch of native people in the Dakotas," McCoy said.
Leeann Bridges, Harrah's regional vice president of marketing, said in a follow-up interview that she does not have information on Harrah's banking ties to share publicly but that the issue with parking deck failures has been addressed and should not be an issue going forward.
Following the failures, Harrah's had independent engineers look at the structures, and the casino has improved the structures at every deck level to ensure no repeat failures will occur, Bridges said. The same company constructed both failed decks, and Harrah's is currently in litigation over the failures.
"It would be very doubtful in my opinion that we would contract with that company" to build the new parking deck proposed with the expansion, Bridges said.
Tribal Council came down divided on the question, with six members voting to table the resolution for a work session and six members voting to pass it.
Voting to pass the resolution were Councilmember Richard French, of Big Cove; McCoy, Wachacha, Jones, Rose and Crowe. Voting to table it for a work session were Chairman Bill Taylor, of Wolfetown; Councilmembers Tommye Saunooke and Marie Junaluska, of Painttown; Councilmembers Alan "B" Ensley and Anita Lossiah, of Yellowhill; and Councilmember Travis Smith, of Birdtown.
The weighted vote came out to 50-50, meaning that the resolution is dead and the project will continue. However, council will likely schedule a work session later to discuss the expansion.
Bridges said that councilmembers had "very good questions" but that Harrah's is "very, very confident" that its business will support the cost of expansion.
"We have to keep improving so we stay competitive in our environment, the entertainment industry," Bridges said. "That's what we're charged with, and we're always going to go through these steps and make recommendations on solid projects. Our role is to answer questions and do our best to assuage any fears about is this the right thing to do for the tribe."
Bowling alley management agreement signed
Harrah's Cherokee Casino Resort has signed a management agreement with UltraStar, part of Dynamic Entertainment Group, in anticipation of a September opening for a new bowling facility now under construction.
The two-story, 52,000-square-foot facility will house 24 bowling lanes, full-service dining and an arcade featuring about 50 different games. The top floor will be for guests 21 and older and cater to events and parties, while the bottom floor will provide a family-friendly bowling experience.
Based in Toronto, Canada, Dynamic Entertainment group was founded in 1986. It operates another UltraStar Multi-Tainment Center at Harrah's Ak-Chin in Arizona.
"They've had a solid performance there," said Leeann Bridges, regional vice president of marketing for Harrah's.
Dynamic Entertainment's president Adam Saks said that UltraStar strives to be the "gold standard of entertainment experience," with Harrah's Cherokee General Manager Brooks Robinson expressing enthusiasm for the partnership.
"They're going to help us extend the Harrah's Cherokee experience to an even wider range of guests in this terrific family-friendly venue, which will help make Harrah's Cherokee a destination for tourists as well as members of our own communities," Robinson said.