Archived Outdoors
From mountains to sea: N.C. woman relives six months spent hiking the state
Wednesday, February 08, 2017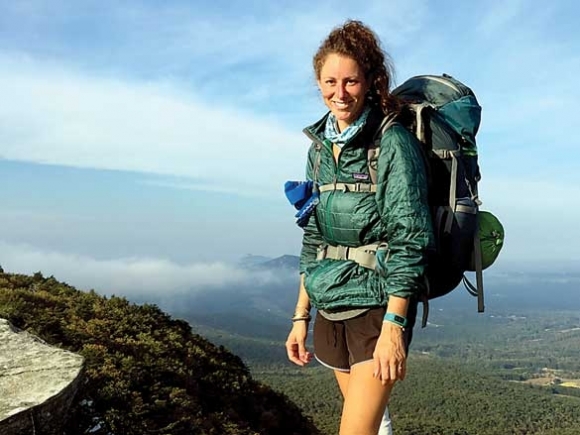 If you'd polled Kimberley Brookshire's friends a couple years ago, they'd likely have said the chances were slim to none that the Charlotte resident would ever think seriously about leaving it all behind to hike more than 2,000 miles through North Carolina.
"I wasn't much of an outdoors person," said Brookshire, 32.
But she is now. Last fall, Brookshire became the first woman to complete a "yoyo hike" of the Mountains-to-Sea Trail. In plain English, she hiked the 1,200-mile route from Clingmans Dome in the Great Smoky Mountains National Park to Jockey's Ridge on the Outer Banks and then turned around to do the whole thing over again. She finished the trek in November 2016, 206 days after setting out solo.
After years of working in the fashion industry — as a magazine writer and then as a teacher of young girls — Brookshire had the itch to try something different. She'd recently discovered that she enjoyed day hiking, and with the beginning of 2015 she resolved to try a long-distance hike, something that was completely outside of her comfort zone. The next year was devoted to reading books, gathering gear and taking survival courses.
Finally, she was ready. She took leave from her job as a nanny, sublet her apartment and embarked solo on the cross-state trek.
"At first it was terrifying," Brookshire said. "I had never camped by myself or spent the night outside by myself except for maybe once at my house to practice, so it was a little strange. All the noises — I just know it was something that was going to come and eat me or tear my tent apart. It took about two weeks to really feel good in my tent.
"After that I slept the best I'd ever slept in my life."
Conquering the mountains
Those first weeks of hiking were hard ones for Brookshire. Her body hadn't yet adjusted to the demands of the thru-hiking life, and the rugged topography of the western region wasn't doing her any favors. More than once, she'd reach a summit and wonder how she'd ever made it up. Still, the experience was a positive one.
"I really enjoyed the mountains," she said. "They kicked my butt a lot."
On the way back, Brookshire got to see just how much stronger she'd become during her months on the trail.
"On the return I was pretty much running up mountains because I'd been walking for so long," she said. "It was easy as pie almost."
The changing seasons provided an additional contrast. Brookshire had started her hike in May, when the mountains were bulging with greenery and an abundance of running water. When she returned, autumn leaves were falling and the region was in the thick of drought and wildfire. Some mornings she'd wake up to a tent full of smoke.
"The worst thing about that was just the drought itself," Brookshire said. "Water was very scarce to come by. All the streams and creeks and rivers had significant drops with the water or were no longer there."
She was never more grateful than when some stranger would stop to offer her some water. In fact, water is at the center of one of the trek's most meaningful moments. Brookshire had already been rationing it for a few days as she hiked along the Blue Ridge Parkway east of Asheville. She came upon a man and his dog, returning to the car they were living out of after a walk in the woods, and she asked him if he had any water. He gave her two full bottles.
"He probably ended up saving my life and he didn't even realize it," Brookshire said. "I had some money and I couldn't eat my money or drink my money, so I gave him all the money I had for two bottles of water."
The man was touched. He gave her two necklaces, one of the Virgin Mary and the other of St. Christopher.
"I wore them the rest of the trip," Brookshire said.
N.C.'s flatlands
The trail wasn't all mountains. East of Greensboro, much it was road walking as the route made its way toward the coast. Soon after the road-walking portion began, around Falls Lake, Brookshire met Michael Boncek. Boncek was also thru-hiking and had already traversed the state once, walking to raise awareness for the suicide rate among veterans.
"It was really nice to have something to give back to," Brookshire said. "I was walking for fun, and he was walking for a purpose."
The two became friends, walking hundreds of miles together until they arrived at the trail's end at Jockey's Ridge State Park. Boncek was planning to turn around at the terminus to do the trail a third time, and as the coast got nearer Brookshire decided that she didn't want to quit hiking either. Instead, she quit the job that had been waiting for her the past three months.
That decision meant that the trail's end would not really be the end, but it was an emotional moment nonetheless. Family and friends were waiting for them. Brookshire waved away a local reporter who wanted an interview as she climbed — interviews could wait until after she'd conquered the trail.
"I didn't want it to be anybody else's moment but mine and Michael's," she explained. "It was really surreal. My heart started pounding really fast like I didn't know what I was doing anymore."
But the moment passed, and it was time to look to the trail ahead. Brookshire and Boncek walked down to the visitor's center, signed the thru-hiker logbook, and immediately began the walk westward.
The yoyo
She'd cover the same territory on the second hike, but the experience would be completely different. She hadn't planned for this trip like she had the first one. There was no job waiting at home, nobody subletting her apartment, no money saved up to get her through the next few months.
She had more to worry about. But somehow she found that she worried less.
"On the way back, all of the things I was worried about beforehand — job and family and all that stuff — I just kind of let it go," she said.
She and Boncek remained a team for about half the hike until an injury got him off the trail. And Brookshire went on to finish the trek solo, just like she'd started it. Except colder, and with smoke sometimes in the air. And, unlike the first time she completed the MST, this time she was ready to go home.
"One of my goals was to finish before Thanksgiving so I could go home and eat a lot of food," she said.
She made that goal with two days to spare. Her parents were both there to meet her at the trailhead. For Brookshire, this was a big deal.
"My parents were not very friendly for about 13 years before I started this trip," she said. "They had been divorced for a while. They both surprised me on the day that I left from Clingmans Dome and walked to the parking area together. They are friends now because I went on this trip and are kind to each other."
The newfound harmony between her parents was wonderful. But other elements of off-trail life were harder to swallow.
"It is really hard to get back into a lifestyle where everything is so busy and there's lots of loud noise and people around," Brookshire said. "It was different and I didn't really love it at first."
Brookshire put off re-entry for a while. She took off for a month and a half to visit her sister, who is a teacher in Thailand. Now she's working on a book drawn from the daily journal she kept while on the trail. Brookshire's thinking that the future will take her somewhere far away from Charlotte — perhaps to Montana or Colorado, somewhere with few people and many opportunities for outdoor adventure.
"I'm kind of excited at the fact that I'm a very different person than I was going into this trip, and it's changed me in ways I didn't even realize were possible," Brookshire said.