Archived Arts & Entertainment
Feet in the sand, not your head
Wednesday, February 08, 2017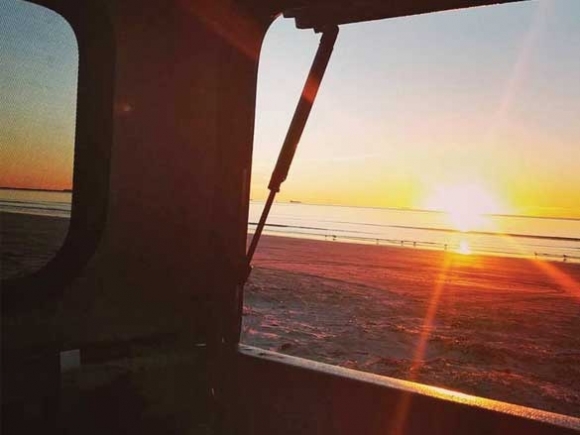 How could something so beautiful be so ugly?
Standing at the edge of the ocean on the Gulf Coast of Texas, I looked down at my feet being washed over by the relentless waves of crisp waters filled with mystery and wonder. I kicked around pebbles and broken shells, just glancing down at them with such awe, almost a Zen-like state of mind where you simply zone out and immerse yourself in the winds of change, and of self.
With all the chaos erupting way up there in Washington, D.C., since Jan. 20, I awoke the other day in the back of my old pickup truck to the sounds of crashing waves right outside my open tailgate. The sun was a few minutes from creeping up over the horizon, the morning dew starting to drip down the side windows of the truck cap. A couple of early morning walkers were already up and moving along the shoreline. I sat up and welcomed the sun as it finally arose, peering over several enormous freighters anchored way out in the Gulf.
And I thought to myself, how many sunrises has this beach seen? Probably as many as there are grains of sands on said beach, eh? With all this natural beauty around me — and all of us, at all times — why must there be such a counterbalance of "doom and gloom"? Perhaps it's just the natural order of things. You know, Isaac Newton's Third Law, which states, "for every action, there is an equal and opposite reaction."
Meandering up the Texas coast for the better part of the last week, I keep turning my head to the right, eyes squinting in the bright sun at the big blue pool of water, where somewhere due east is Florida, due south an array of islands and cultures I hope to someday explore.
Being somewhat disconnected from the outside world has been nice while beach camping and living like a nomad out of the back of the rusty, musty pickup. Yes, I have a smartphone that dings incessantly with folks asking where I am and when to expect things on events and subject matter I've planned to write about or promote (or both).
And yet, there are those long minutes and even longer hours where that dang smartphone is hidden underneath some dirty clothes on the driver's seat in the truck, purposely put on vibrate, and several yards away from my ragged beach chair and beer holder filled with the coldest Lone Star cans this side of Austin.
Isn't it wild to think that — in terms of the timeline of the universe — we're just a blip on the screen? Our entire history as a species is a mere second in the endless abyss that is time itself. That notion is not meant to say whatever we do (or try to do) with our lives is all for nothing. Far from. What that means, is that we've been given this chance to be present and alive in this exact crossroads of time and place, so why not make the most of it by being a positive and contributing force?
Last week, I had the pleasure of sitting down and interviewing singer-songwriter Hayes Carll. I asked him about what he sees and thinks about the world nowadays. And what he said really struck a deep chord within me: "You can't communicate with people who have different points of view if you're demonizing them. Liberal or conservative, if you can't have a civilized conversation with them, then you're just yelling at each other and treating each other as a monolith group. Whether it's a Muslim, Mexican, Republican or Democrat, we're not monoliths. That idea of treating these groups as monoliths is a disservice to our country. We can't talk about these issues more because 'they're the enemy.'"
At the end of the day, every single one of us was at one time born, where we will all cry, laugh, bleed, win, lose and, ultimately, die. The only differences we see are what we're told are exactly that — differences. Yes, there are dangers out there, that's just part of being a society trying to find steady ground in turbulent times. Are there bad people? Of course. But, are most people of good nature and want to sincerely help one another? I believe so, in my heart-of-hearts.
It's a weird world out there, I can attest to that. And within the confines of history, it's not any weirder than any other time before, or after today either. What makes it all seem so much more intense is that we've created a daily existence where all of these negative people, places and things are always in our face (or vibrating on our nearby table, waiting to be picked up and interacted with).
I think we all need to track down our ragged beach chairs and cold suds, and just walk out into the backyard, phone left inside (on silent) and soak in the afternoon sunshine like a lazy cat with no plans for the day except to be left alone to collect one's thoughts, that centering of the soul we all too often disregard in favor of fast-paced priorities that don't really matter in the grand scheme of things. Onward and upward.
Life is beautiful, grasp for it, y'all.
Hot picks
1 Acclaimed chamberfolk act Harpeth Rising will perform at 7:30 p.m. Friday, Feb. 17, at The Strand at 38 Main in Waynesville.
2 The "Songwriters in the Round" series will continue with a "Valentine's Songwriter" evening featuring Henry Hipkens, Pat Bergeson and Annie Sellick at 6 p.m. Saturday, Feb. 11, at the Balsam Mountain Inn.
3 There will be a "Chocolate & Bier Pairing" from 6 to 9 p.m. Saturday, Feb. 18, at Heinzelmännchen Brewery in Sylva.
4 There will be wine-tasting fundraiser for Becca Swanger, who is running for the 2017 Mardi Gras Ball queen to raise money for the Haywood County Schools Foundation, from 5:30 to 7 p.m. Friday, Feb. 10, at Cork & Cleaver (Waynesville Inn).
5 The Jackson County Extension Office will be offering an "Alcohol Ink Workshop" from 10 a.m. to noon Thursday, Feb. 16, in Sylva.