Archived News
Shining Rock receives grant for outdoor classes
Wednesday, February 08, 2017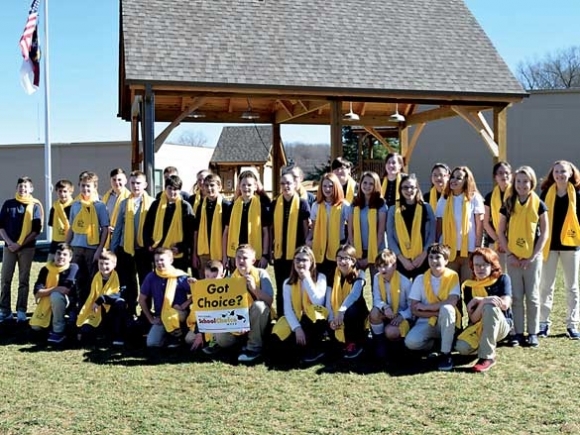 Shining Rock Classical Academy will be able to construct an outdoor classroom on its campus this year thanks to a $10,000 grant from Parents for Educational Freedom in North Carolina — the state's leading parental school choice advocacy organization.
It was fitting for the check to be delivered Jan. 25 to the Waynesville charter schools during National School Choice Week. PEFNC President Darrell Allison made the trip from Raleigh to present SRCA with the grant check and congratulate administration and students for their early success.
"It usually takes a while to be great when you're first getting started, but Shining Rock has been a shining light in the state," Allison said to the SRCA seventh-grade class.
Allison was referring to SRCA being the first charter school to open in Haywood County in 2015 and also earning a 'B' in the state public education grading system during its first year of operations.
"That's rare," Allison said. "We want to replicate and duplicate your model throughout the state."
Since experiential learning opportunities are one of the ways SRCA differentiates itself from the traditional public schools' curriculum, School Director Ben Butler and SRCA students are excited about getting an outdoor classroom on it's campus. Butler said the plan was to create an amphitheater type set up with seating on Lake Junaluska Assembly property situated behind the school on Dellwood Road. He hopes the project can be completed by June.
"This is an opportunity for classes to get outside for lessons in science or writing," Butler said.
Seventh-grader James Lee, who will be part of SRCA's first graduating class, said he enjoyed the outdoor learning that is available at SRCA and couldn't wait to use the new outdoor classroom.
"The main goal is to be outside more and this gets kids out there who would usually be inside playing video games," he said. "And an outdoor classroom is something that would be considered a waste of money in the public schools."
Seventh-grader Holly Porter said her class has been able to spend time at Lake Logan canoeing, cleaning up litter around Lake Junaluska and went on a three-day trip to Earthshine Discovery Center for zip lining and other team building activities.
"We learned how to clean up our environment and you get to help the little kids learn how to pick up trash," she said.
"It was also a good bonding experience for all of us in the beginning," Lee added.
The funding from the grant came from PEFNC and its N.C. Public Charter School Accelerator Program, which has assisted 12 public charter schools get started in the state since 2012 when the cap on charters was lifted. Before new legislation was passed in 2011, there was a cap on charter schools that allowed only 100 to operate in North Carolina at any given time. That number has grown to about 170 public charters since the cap was lifted.
The process to open a charter school is still arduous. Butler said the accelerator program staff has been instrumental in helping SRCA succeed since the beginning. Not only did the program provide guidance through the charter application process, it has given funding to help SRCA provide bus transportation and now an outdoor classroom.
"Beyond financial help, they have been really helpful in advancing us as a rural charter school," Butler said. "And they have helped me personally develop a vision for the school."
Thom\as Miller, director of the N.C. Public Charter School Accelerator, also attended the check presentation at SRCA, and spoke about how the program is pushing to open more rural charters across the state. Even with the large growth since the charter cap was lifted, he said there are still 40 counties in the state without a public charter school.
Through public and private funding partnerships, Miller said the accelerator program was able to provide grants to charter schools to help offset the fact charters don't get state funding for capital projects.
"We try to give them money for their budget that otherwise would be set aside," Miller said. "They don't get capital funds — they have to do more with less — so we try to fund that extra money because they don't have a school system to call on. We also try to help with policy, strategy and navigating the laws."