Archived Reading Room
Hillbilly Elegy author can't shake the label
Wednesday, February 01, 2017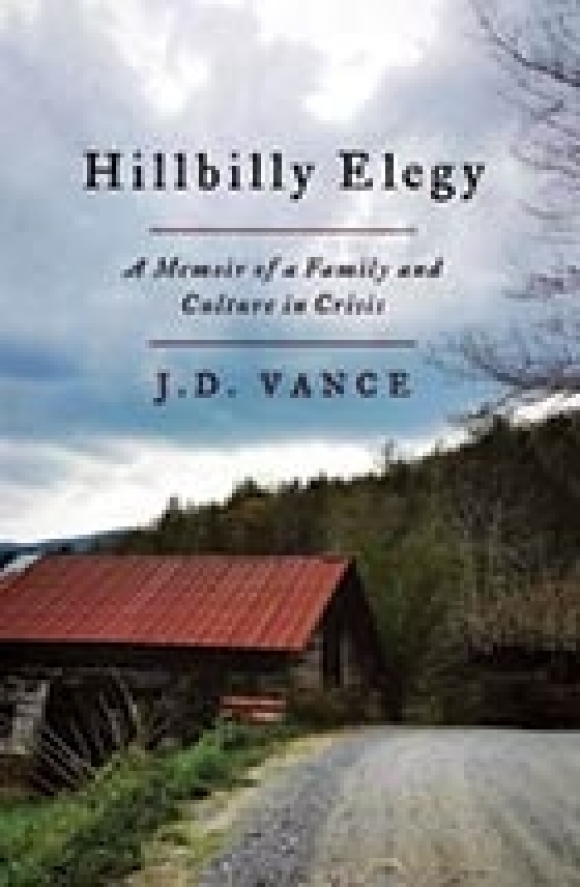 "Southern Appalachia is a region about which, perhaps, more things are known that are not true than any other part of the country."
— John C. Campbell
Early in J. D. Vance's passionate tribute to his "hillbilly roots," the author recalls "the Hillbilly Highway." The term was applied to the network of roads that ran from the Southern Appalachians to the industrial towns of the North. Vance notes that this stretch of highway became famous due to the awesome numbers of cars with tags from Kentucky, Tennessee and the Carolinas that packed the roads to Dayton and other northern cities on the days before and after holidays (Thanksgiving and Christmas). Usually, the term is derogatory, coined by alarmed northerners who saw their cities flooded by hillbilly transplants.
Vance provides ample facts that reveal that the migration was mutually beneficial. Due to a shortage of labor, Dayton had developed a vigorous recruiting program designed to recruit a southern work force. It proved highly successful since places like Dayton, Flint and Detroit were all filled with hillbilly settlements. All of these transplants immediately set about establishing closely knit neighborhoods where they continued to practice a lifestyle that preserved their beliefs and customs ... one of which is going home for the holidays.
In addition, Vance reminds the reader that the Scots-Irish are a "distinctive subgroup, the most persistent, unchanging culture in the country. Their family structure, religion, politics and social lives remain unchanged," whereas other cultures are quick to abandon traditions and customs."
Having said this, Vance launches into a personal history where he readily catalogues the problems involved in attempting to live in two worlds: Middletown, Ohio (location of the factories), and his grandmother's house in Kentucky. It is an astonishing account of the author's childhood, his education, his military career (Marines), his years at Yale Law School and his current Ivy League life. It is an astonishing biography.
Vance was born to an alcoholic mother who gave him up for adoption. He was taken in by his grandparents, and Vance recounts a series of stories that reflect his home life. His grandmother carried a pistol all of her life, and when confronted by officials of the law or store clerks who angered her, she drew it and fired. She rarely injured anyone. His grandfather did not work and had never been employed. His actual father had vanished after Vance was abandoned, and Vance went through five "would-be" fathers, several of which he liked, but all of them vanished at his mother's whim.
An alcoholic, Vance's mother finally became a heroin addict. In later life, she was repeatedly placed in mental health facilities. However, despite her offensive language and short temper, Vance's grandmother was the most stable member of the "crazy Blanton family." Although she had a manic hatred of pedophiles and homosexuals, she gave Vance a place to sleep, taught him how to fight when bullies plagued him, and through it all and stubbornly repeated a kind of mantra, "My children will have a better life than I have."
Since Vance had been a timid child and had trouble asserting himself, he does conclude that his grandmother made him finish school. After his grandfather died, Vance attended Ohio State where he experienced a growing depression and finally, he joined the Marines. At this point, he undergoes a near-mystical experience. Although Vance attributes his survival to his grandmother, it is the Marines that gives him confidence and finally fills him with a need to venture into the Ivy League life where he pursues a legal career.
The last part of Hillbilly Elegy is a summing up of Vance's reason for writing this book. He is painfully aware that he is an anomaly. There are thousands of young, deserving hillbillies who will never make it to the Ivy League. Why? The obvious answer is that they do not have the resources, and anyone reading this book will be equally aware that the majority of us will not have the intervention of someone who is in a position to help. J. D. Vance is blessed by always being at the right place at the right time.
In one candid section, the author admits that there were times when his successful rise to a prominent position in the Yale Law School would have been halted if someone had not told him he was wearing the wrong clothes. He had to give up the Marine combat boots and not long after he had found Joseph E. Banks, he found that he had to move to another preferred clothing store. He also notes that the fact that he had waited until he was in Yale School to find "a suitable wife." He also confesses that Usha has saved him from numerous disasters. Thanks to Usha he knows which fork to use, which wine to order, which hand to shake. Sounds a bit like a "trophy wife": intelligent, beautiful and capable since she, too, is a lawyer.
Vance insists that in spite of the six-figure income, the prominent position, and the fact that he vacations in the Bahamas and attends the Metropolitan Opera, he still feels like a hillbilly. Recently, when he attempted to share one of his favorite restaurants with a Yale Law School companion, his friend was not favorably impressed and branded Cracker Barrel just another greasy roadside cafe. That offends me, too. Time to call Granny.
(Gary Carden can be reached a This email address is being protected from spambots. You need JavaScript enabled to view it.)