Archived News
WNC progressive group gaining momentum
Wednesday, February 01, 2017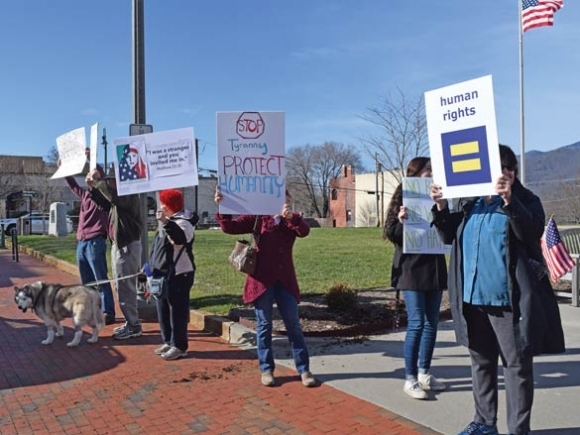 What started as a small group of like-minded people helping each other deal with aftermath of Election Day has now morphed into a progressive political action team with more than 400 supporters.
"We started this as a support group following the election because we had a lot of feelings about it," said Chelsea White, one of the organizers for Progressive Nation WNC.
About 15 people showed up for the first meeting in Waynesville after Election Day and then numbers dropped during the holidays. But the group had resurgence after Inauguration Day on Jan. 20 — about 40 people showed up to the Waynesville Armory on Jan. 23 and about 100 showed for the Jan. 30 meeting.
White says the group has already outgrown the Haywood Democratic Headquarters where they first met and now is outgrowing the Armory space as well.
"With this number of people we're freaking invincible," she said as she stood on top of a chair in the middle of the crowd trying to be heard by everyone.
With about 400 members on its Facebook group, and more than 100 on its email list, White, Amber Kevlin and Natasha Bright — who all worked on Hillary Clinton's campaign locally — decided they had to turn their post-election pity party into a call for action to keep the groups' momentum going.
The group has been sending postcards, emails and making phone calls to their congressmen in Washington, D.C., to tell them they are unhappy with a number of President Donald Trump's actions so far in office — the temporary ban of citizens from seven predominately Muslim countries from entering the country, repeal of the Affordable Care Act, plans to build a wall along the Mexican border, the pending confirmations of Betty DeVos as the Secretary of Education and Sen. Jeff Sessions as the Attorney General and plans to move forward with the Dakota Access and Keystone pipeline projects.
The list goes on and it seems every day Trump makes another controversial decision to protest.
"Doing what we do is exhausting — especially right now," White said to the group Monday night. "But we have to support each other."
But not everyone involved in the progressive group is a Democrat and not everyone voted for Clinton. Progressive Nation WNC is not affiliated with one party, but White said the group acknowledges that working within the two-party system however flawed is the most effective way to effect change. If the Tea Party can take control of the Republican Party to push it to the extreme right, White said the group could push the local Democrat Party to be more progressive and active.
The group plans to partner with other progressive groups in Asheville and throughout the region to plan rallies, marches and protests against the Trump administration's agenda. The group also discussed joining forces with the Moral Monday Movement by holding a Moral Monday rally in Sylva on Feb. 11 in conjunction with the larger rally planned in Raleigh.
On Tuesday morning, many members of the group were out in front of the Haywood County Justice Center with protest signs for what they call "Resist Trump Tuesday." A few protesters at a time went into Congressmen Mark Meadows' local office to discuss their concerns with staffer Beverly Elliott.
Diane McPhail of Highlands — who was a John Kasich supporter during the election — said she came to speak to Meadows' staffer about her concerns regarding Trump's Chief Strategist Stephen Bannon.
"I'm an old friend of Mark Meadows and I've spoken to him at length recently on the phone and now I'm even more concerned about the role of Bannon and the unwise restructuring of the National Security Council," she said. "I came today because I trust Mark Meadows to take this into serious consideration as our representative — this is about the very foundation of our democracy."
Hannah Ensley, a senior at Pisgah High School, was perhaps the youngest constituent to show up with a sign in front of the courthouse Tuesday morning and wishes more people her age would get involved at a grassroots level to effect change.
"I'm here today out of necessity — turning 18 and about to be a full-time citizen, I want to live in an America that I can be proud of and where people care about each other no matter what walk of life they come from," she said.
Carl Matthews of Waynesville said he was rallying to support his family's rights.
"I am in a same sex marriage and we have three adopted children — two that are of Hispanic decent and one African American child," he said. "They are all American citizens but they could still be subject to racial profiling and discrimination."
Follow the group "Progressive Nation WNC" on Facebook for updates about meetings and upcoming rallies.
Feb. 2 update: The Progressive Nation WNC group will begin meeting at the Folkmoot Friendship Center at 5:30 p.m. every Monday.