Archived Arts & Entertainment
The love that we need: WNC welcomes Hayes Carll
Wednesday, February 01, 2017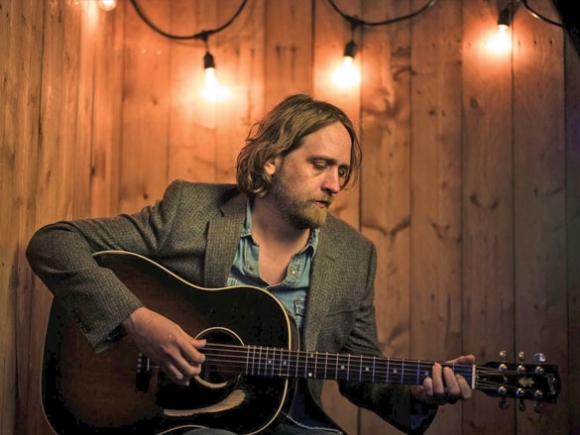 Sitting in the back of his tour van in a Texas parking lot on a recent cold prairie night, Hayes Carll takes a sip of Jameson from a small plastic cup, leans back into the bench seat and kicks up his boots.
He'll be the first to tell you the world today is an odd — and sometimes confusing — place, and he'll also be sure to remind you that the sky ain't falling. Sure, there's an increasing divide between who we are and where we're going as a society. But, real compassion and understanding comes from seeing the other side as a piece of some large pie of humanity, rather than a segment of the population that needs to be alienated, or worse — eliminated.
Carll takes another sip from the cup and thinks about his impending sold out show that evening at the legendary Gruene Hall (the oldest dance hall in the state), a stone's throw from the van in downtown New Braunfels. Over the better part of the last decade, he's climbed the ranks of singer-songwriters, where his name gets whispered in the same breath as Jason Isbell, Townes Van Zant or James McMurtry, to name a few.
At 41, some might look at 20 years on the road as a grueling task. But, for Carll, he sees it as only the beginning of solving the great mysteries of life — where creative fulfillment, finding balance amid the cosmic chaos, and that internal desire to make a simple connection with fellow man bubbles to the surface of his beloved melodies.
Smoky Mountain News: As a touring artist and performer, what do you see in the world today?
Hayes Carll: Well, it's a scary time, you know? I try to be an optimist, and I try to be open-minded. But, a lot of things I believe in, and I believe make our country what it is, are being cast aside at an alarming rate. So, it's hard to keep up and trying to stay aware of what's going. I'd hate to pass judgment on anybody prematurely, but I've yet to see much in the language and tone of the controlling party at the moment that gives me a lot of hope or optimism. There seems to be a lot of polarization in the country, and it has been like that for a long time, as I've written about for years. As an artist, there are those levels where you feel it's your role to stay engaged and inform people. And then you look at it and say, well, most people who follow play probably don't give a shit about what I think about the political landscape. I also don't want to be part of the noise and get blocked out. It's an interesting line. I want to be able to add something to the conversation — creatively or socially.
SMN: I think we as a people have a lot more in common than what we're told.
HC: Yeah, that's the major issue I keep coming across, this polarization and separation of the tribes — us versus them. And that's what's scary to me, and what Trump is really good at and using it to his advantage. You can't communicate with people who have different points of view if you're demonizing them. Liberal or conservative, if you can't have a civilized conversation with them, then you're just yelling at each other and treating each other as a monolith group. Whether it's a Muslim, Mexican, Republican or Democrat, we're not monoliths. That idea of treating these groups as monoliths is a disservice to our country. We can't talk about these issues more because "they're the enemy."
SMN: What do you love about this life you've created? Why do you get up everyday and want to do this?
HC: Well, it's something I don't want to do everyday, being on the road. I still love touring, though. In my younger days, I was on the road 200-250 nights a year, and that's not the life for me anymore. I've got a 13-year-old son, who I just dropped off to his mom, my ex-wife. And I'm in a relationship. My girlfriend is in New York. My kid is in Austin. And I'm on the road a lot. I love doing this, I can't complain. It's the job I've always wanted, and I've been incredibly blessed for the last 20 years. I love telling stories, performing in front of people, that high that comes from using those creative muscles and the energy that comes from connecting with people — there's nothing like it in the world.
SMN: Are you happy with where you are today?
HC: Yeah, I'm in a good place. I realized a couple of years ago that I wasn't happy. And it didn't make sense to me because, by every measure, I was living my dream. In this industry, you're on a hamster wheel. There's always somebody doing better, and there's always another milestone. And that'll drive you crazy. Finally, I had to say I'm the luckiest guy in the world to do what I get to do and if I'm not happy, I have to fix that, and I have. I keep coming back to this quote from my good friend Ray Wylie Hubbard, who said in a song of his, "And the days that I keep my gratitude higher than my expectations, well, I have really good days."
Want to go?
Singer-songwriter Hayes Carll will perform at 8 p.m. Saturday, Feb. 4, at The Grey Eagle in Asheville. Bobby Bare Jr. will open the show. Tickets are $17 in advance, $20 day of show. www.thegreyeagle.com.