Archived News
North Carolina GOP celebrates inauguration
Wednesday, January 25, 2017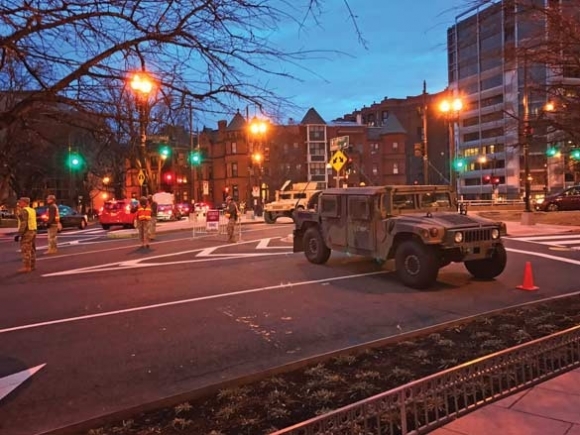 Inaugurations make for early mornings. Getting into or out of the tangle of security and Humvees blocking the streets of Washington, D.C., requires an early-to-bed, early-to-rise mentality that quickly acquaints one with the deep blue hues of dawn punctuated only by the phosphorescent orange glow of municipal street lighting.
A bus readied in Raleigh idled beneath that inky sky on the morning of Thursday, Jan. 19, ultimately bound for Tyson's Corner, Virginia, with a detachment of North Carolina Republicans eager to celebrate their victory.
After arriving at the hotel, the delegation hosted a welcome event at the Lincoln Memorial in conjunction with the inaugural concert that featured performers 3 Doors Down and Toby Keith. The next morning — Friday, Jan. 20 — ticketholders who were to attend the swearing-in ceremony filed past the military personnel stationed about the city until arriving at one of six gated checkpoints.
It was here that officers from the Transportation Security Administration in conjunction with the U.S. Secret Service provided a thorough screening, even helping the wheelchair-bound pass through metal detectors before they were subsequently patted, prodded and otherwise searched for possession of any objects on a long list of prohibited items.
Among those items were umbrellas — an unfortunate fact for those who suffered through the chilly, damp air, for just as President-elect Donald Trump became President Trump and took the podium to swear on two Bibles, it began to rain, gently at first but increasing in intensity as the capacity crowd began to pull from their pockets ponchos.
"We, the citizens of America, are now joined in a great national effort to rebuild our country and restore its promise for all of our people," he said during what may have been the most highly anticipated inaugural speech ever.
"… for too many of our citizens, a different reality exists: mothers and children trapped in poverty in our inner cities; rusted out factories scattered like tombstones across the landscape of our nation; an education system flush with cash, but which leaves our young and beautiful students deprived of all knowledge…"
The next day, the NCGOP group embarked on a guided tour of the capitol with seven-term Congresswoman and Chair of the House Committee on Education and the Workforce Virginia Foxx, R-Banner Elk.
As of press time, the confirmation hearing for President Trump's Education Secretary nominee — Michigan billionaire Betsy DeVos, who has no professional experience in public schools — had been rescheduled to Jan. 31 after her ethics report was submitted to the Senate Committee on Health, Education, Labor and Pensions.
"…we must speak our minds openly, debate our disagreements honestly, but always pursue solidarity. When America is united, America is totally unstoppable…"
From there, the group moved on to the Newseum, a 250,000 square-foot temple to the First Amendment on Pennsylvania Avenue that includes theaters, galleries and a history of communications from the dawn of time on through the internet age. Later in the day, Trump spokeswoman Kellyanne Conway continued her outright war with the media by introducing a memeworthy new term to the cultural lexicon: "alternative facts."
At the same time, the Women's March on Washington was taking place across town; nearly half a million marchers showed up to protest the new Trump administration, citing concerns about reproductive rights, LGBTQ rights and wage inequality.
"Finally, we must think big and dream even bigger," Trump said as his speech drew to a close. "In America, we understand that a nation is only living as long as it is striving. We will no longer accept politicians who are all talk and no action, constantly complaining, but never doing anything about it. The time for empty talk is over. Now arrives the hour of action."