Archived Arts & Entertainment
A song for young love: The Lettermen roll into Franklin
Wednesday, January 18, 2017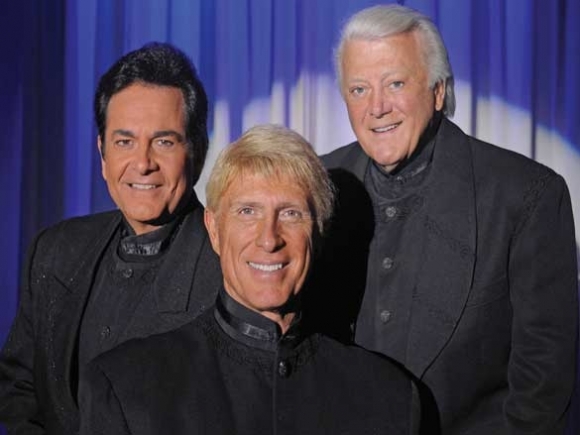 It was a 1963 station wagon with six musicians and their equipment.
When Tony Butala reminisces about the beginning of The Lettermen, a legendary vocal trio, he remembers crisscrossing America, playing upwards of 200 shows a year in the early 1960s. Starting the ensemble in 1957, Butala created one of the most successful acts of an era where vocal style and intricate songwriting reigned supreme.
Throughout their years of acclaim, The Lettermen garnered numerous hit singles ("The Way You Look Tonight," "When I Fall In Love, "I Only Have Eyes For You," Come Back Silly Girl," etc.), with 11 gold records and 32 consecutive albums that landed on the Billboard charts. It was a time of sock hops, soda fountains and hand holding, all before the Kennedy assassination and the arrival of The Beatles on The Ed Sullivan Show — both lines in sands between vocal groups and the impending rock dominance that would define the rest of the decade.
But, for Butala, now 76, hitting the stage every night these days isn't about nostalgia or trying to erase well-earned wrinkles on the faces of his fans. It's about celebrating a unique time in our nation's history, and also showcasing the beauty of melodies that have found a special place in the hearts of those who cherish songs immortal.
Smoky Mountain News: This year will be the 60th anniversary of The Lettermen…
Tony Butala: I started the group in September 1957. Our first job was in February 1958. Well, it's kind of become my life. When we first started this group, we were a pickup act for a Vegas Revue. It was called "Newcomers of 1928," and The Lettermen auditioned and got the part to play The Rhythm Boys, which was a group with the Paul Whiteman Orchestra that was big in the 1920s, which included a brand new singer by the name of Bing Crosby. So, I impersonated Bing Crosby in the showcase. And at that time, in October 1957, the Sputnik satellite was sent into space. The writer for this review got the idea that we have this story onstage where these kids get sent into outer space and somehow get caught in the Earth's gravitational pull, and when they come back, they crash on Earth back in time in 1928. The revue took us from Vegas to Florida and back to LA.
SMN: Did you ever think in 1957 that The Lettermen would be still relevant and performing in 2017?
TB: [Laughs] Not at all. Absolutely not. Hey, it was a job, and the name The Lettermen was a good idea. School names were the "in" thing back then. I said later on it was a horrible name to choose, because as good as it was a name for the late 1950s and early 1960s, by 1963 onward names started changing, where you had names like Iron Butterfly and Led Zeppelin. Our name had a stigma of the past. So, we got rid of the letter sweaters.
SMN: What's interesting was that era, the late 1950s, is where people started looking at rock-n-roll as something that was here to stay, and not a passing fad…
TB: At that time, the kids became the program directors. There was a very big transitional phase. Live shows back then were really hard to do, but record companies started to realize that colleges was where the kids were, so big recording acts had to play places like Iowa between shows on the coasts. That's where these college circuits started to really build up, and The Lettermen were right in the middle of it.
SMN: What sticks out most for you about that time?
TB: One thing was that Peter, Paul & Mary were very big at that time. They were the end-all-be-all and every college wanted them to play their school. They'd fly around and play. They'd have this big, beautiful RCA microphone, but we noticed why would they go to the trouble to fly in, set the mic up, and use these small speakers in the arena ceiling, where it would just buzz and not sound clear? We bought a 1963 station wagon in 1962. We had our own small sound system, three Lettermen in the front seat, three musicians in the backseat, and our equipment in the way back, with a rack on the top with suitcases covered by a tarp.
SMN: What do you think about the music industry today, as in breaking through as a performer?
TB: I think it's much easier today. We didn't have all the television programs like now. We had The Dick Clark Show, which if you were on, you'd also surely have a hit. Now, there are so many new avenues for exposure. This isn't sour grapes on my part, but it just is easier to get known.
SMN: When you're performing, what's it like to see those folks in the audience so excited to hear those songs?
TB: Oh, wow. It's a thrill. Some of the older, grey-haired people, they start to hold hands and hug a little bit closer. I tell people all the time, if The Beach Boys are known for their surfing and hot rod music, and The Beatles were known for their British Invasion music, then The Lettermen were known for our backseat music. We have a niche. More babies were born because of The Lettermen music than by any other group. I tell you, if I wasn't a singer, I'd be digging ditches back in Sharon, Pennsylvania. It's been a great career. What thrills me is to hear the beautiful stories from our fans about how our music touched their lives. When you can mean that much to people's lives, I feel it's a blessing and a privilege to get to do this.
Want to go?
The Letterman will hit the stage at 7:30 p.m. Saturday, Jan. 21, at the Smoky Mountain Center for the Performing Arts in Franklin.
Tickets start at $25 per person. For more information or to purchase tickets, visit www.greatmountainmusic.com or call 866.273.4615.