Archived News
Painting helps Swain County artist heal
Wednesday, January 18, 2017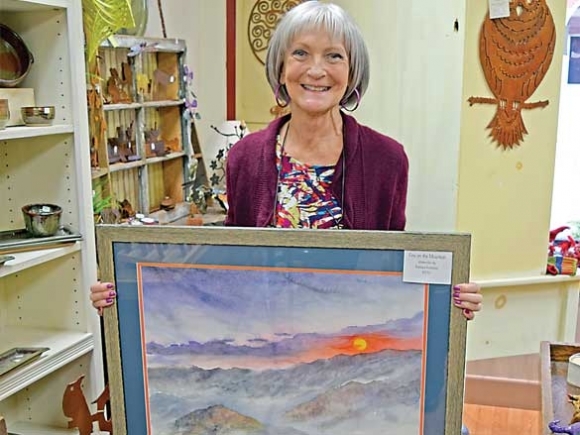 Barbara Robinson can find artistic inspiration wherever she may be.
Sometimes it's looking out over Frye Mountain from her art studio window at home, while at other times perhaps a particular barn she spots while driving through Swain County will pique her interest. Other times it's a vision in her head that works its way out over time.
"Sometimes I draw while I'm getting my chemo treatments for a couple of hours and then I come home and paint it," she said. "I really enjoy painting — it helps relieve my stress and tension."
The last three years have been tough for Robinson as she undergoes treatment for ovarian cancer. Living with cancer is a daily struggle to find strength — every day is two steps forward and one step back — but Robinson tries to keep a brush in her hand and a smile on her face.
That's why she was so ecstatic to hear that one of her watercolor paintings was chosen to be displayed in the Mars Hill Welcome Center for the next six months as part of the Western North Carolina "Artists Count" series.
"I was so happy. It was the best news I've heard in three years," she said. "It's really an honor."
The "Artists Count" project is hosting a series of exhibitions to highlight the rich visual contributions made by area artists. The first of these exhibits will be on display during winter and spring 2017 and highlights the work of artists in Jackson and Swain counties. Robinson's "Autumn Lights" will be on display until July.
In the time it took for "Autumn Lights" to be chosen for the exhibit, the piece had already been sold and delivered to someone in Greensboro. Robinson said the buyer was nice enough to send it back so it can be displayed for six months.
Robinson describes her watercolor paintings as "landscapes that come from the soul." Whether she's painting the different blues in the night sky or the purple flowers growing up the rock wall at her home, Robinson has an eye for the color palettes in the natural beauty surrounding her.
"Having cancer has somehow made me more aware of colors of the night sky, and I'm taking more risks with the paint now," she said.
She likes the freedom watercolor gives her. With watercolor, she starts with light colors and keeps adding in the darker layer of complexity.
"With watercolor you don't know how it will end up," Robinson said. "And if I don't like it I can wash off the canvas in the bathtub."
Robinson is a fairly prolific artist. Most of the time it comes easy to her, but sometimes the creativeness is hard to come by. Some days it might take her two hours to finish a piece, while others take a week.
"When the muse is there I can paint three in a week and then she's gone," Robinson said.
More of her work can be seen and purchased at Wild Fern Gallery in downtown Bryson City, but it's taken her many years of painting before she was convinced others would be interested in purchasing her work.
The Bryson City native started painting when she was 17. She remembers taking a lesson or two with well-known local artist Elizabeth Ellison when she and her husband George Ellison had a bookstore in downtown.
"I remember sitting in the back of the store with us both huddled around the kerosene heater and drinking hot tea probably for the first time ever," Robinson said.
Painting was put on the backburner when she got married and moved to Virginia to start a family. She picked it up again and had a few more lessons with Ellison when she moved back to Bryson City in the 1980s, but stopped again when her husband was diagnosed with cancer.
"But when I was 53 — so about eight years ago now — I started painting again and I haven't stopped this time," Robinson said. "It was my therapy then just like it's my therapy now."
A friend finally convinced Robinson to put her work in a local show at the Swain County Fine Arts Center. While she was convinced no one would be interested, she sold nine paintings at that first art show.
"The first painting I sold was of Lambert Wilson's old family barn — and he bought it," Robinson said with a chuckle.
But that's why her work is so popular. For locals, they recognize the Swain County landscapes of Alarka, Noland Creek and Deep Creek. For tourists, they want something to remind them of their trip to Western North Carolina.
"I think they can see the passion in it and it's something they relate to because I paint it to make them feel like they are there," Robinson said. "Whether they are local or visiting, people want to take a piece of the mountains home with them. And I never get tired of them either — I could paint these mountains all day."