Archived Arts & Entertainment
This must be the place: In the presence of the Founding Fathers
Wednesday, January 11, 2017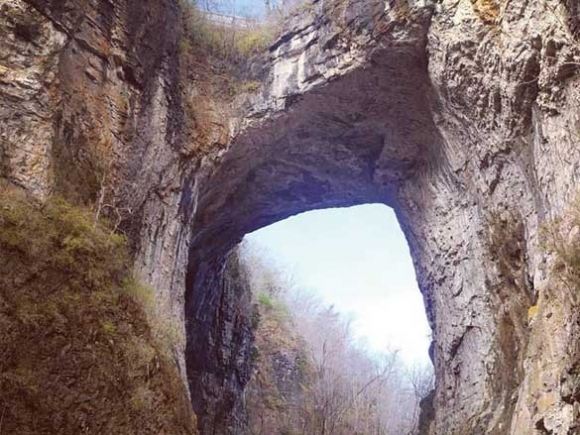 I decided to not wear the hardhat.
Standing underneath the magnificent 215-foot high ancient rock arch at the Natural Bridge State Park in Virginia, I found myself in awe of Mother Nature's creativity, and also of the history attached to the property.
Driving solo from Brooklyn to Waynesville following New Year's Eve, I made it as far as Lexington, Virginia, in one shot as my eyelids became heavy, my body restless to get out of the truck. Browsing Priceline.com on my smart phone, I came across a few last minute hotel deals for under $60, most of which came with horrendous reviews for cigarette burns in the sheets, mold in the ceilings. Wondering if I should just sleep in my truck and resume the drive in the morning, I decided to expand my search to the next town south — Natural Bridge.
And what popped up was the Natural Bridge Historic Hotel, priced at $52 that night. Looking at the profile photo of this majestic building, I couldn't believe a place like this was that inexpensive. But, when I rolled up to the enormous structure, I was greeted with a smile and a $52 room (off-season).
Though I had heard of the Natural Bridge before, I'd never pulled off the interstate to see it first-hand. When I awoke in my massive fluffy king size bed the next morning, I opened the shades to reveal a bowl of mountains surrounding the hotel. The lady behind the counter informed me the Natural Bridge was mere yards away from where I was standing in the lobby.
Made up of rock 500 million years old, the arch was known as the "Bridge of God" by the local Monacan Indians. And it was here, in 1750, a young George Washington was surveying the property for Lord Fairfax, with Washington's "G.W." initials still visible on the left wall of the bridge. Twenty-four years later, Thomas Jefferson purchased the property for his personal leisure and to preserve it for future generations, to which it has since become an international destination, known for years as one of the "Seven Wonders of the World."
It was Jefferson who said of the bridge, "The most sublime of Nature's works." And, as I gazed up at it, I agreed. Seeing as it was the off-season, I was pretty much alone while strolling the trails, the nearby gift shop, cafeteria and learning center all closed up until spring. I could hear dead leaves rustling and swirling around my pace, old boots atop my feet kicking pebbles down the dirt path.
I found myself looking up at the trees, the rock walls and stream, and wondering if where I was standing was exactly where Jefferson and Washington stood, and if they saw what I saw, and wondered what I wondered — what does it all mean?
Once I located the "G.W." initials carved in the left wall, I stared at them with curiosity. That right there was where our nation's founder and first president climbed up 23 feet and left his mark, as a member of the British Empire, 26 years before he rose up with his friends and created the land by which I was birthed from.
I let out a deep sigh, my eyes moving along the walls, head aimed upwards to the top of the arch, some 55 feet higher than Niagara Falls. I thought of Washington, of Jefferson, of the Monacan tribe, and of where we are today as a county, a people.
This year may seem like a crossroads in our history, but it's just another year, a subsequent chapter in this ongoing saga that is America — the greatest social experiment ever conceived. This year, 2017, is no different than the chapters titled "1776," "1812," "1861," "1917," "1941," "1963," "1975," or "2001" for that matter.
What would Washington and Jefferson think of the here and now? Besides the confusion of modern technology and lack of grammatically correct and respectful dialogue, they'd probably tell you and me (and all of us) that what remains at the end of the day is the will to get up tomorrow and keep fighting. America was not constructed overnight, nor will it be perfected and straightened out in that same timeframe.
There is so much fear and sadness running rampant in our world today. And a lot of it in our daily lives comes from what we see, hear and interact with on the television, radio and computer. But, when you truly pull yourself out of that nonstop routine, and take a moment to see the big picture, you'll see that today is just another day, with yesterday already in the history books, tomorrow yet to be determined.
And it's that "yet to be determined" that dictates you, in how you react to that notion. I see "yet to be determined" as a chance to make real, honest and positive change in my backyard. Think globally, act locally, as they say.
Saying goodbye to the Natural Bridge, I smiled at it, glancing once more at the "G.W." on the wall. I thought of the founding fathers, the unknowns they faced, the unknowns that are currently at our doorstep. One step at a time back up to winding staircase, I made it back to the parking lot. Putting the old pickup truck into drive, I merged onto the interstate, the nose of the vehicle pointed towards Western North Carolina. Onward.
Life is beautiful, grasp for it, y'all.
Hot picks
1 No Name Sports Pub (Sylva) will host The Dirty Soul Revival (rock/blues) at 9:30 p.m. Friday, Jan. 13.
2 Librarian George Frizzell will present an overview of newspapers in Jackson County from the late 19th century to the present at 7 p.m. Thursday, Jan. 12, in the Community Room at the historic Jackson County Courthouse in Sylva.
3 The Water'n Hole Bar & Grill (Waynesville) will host Humps & The Blackouts (psychobilly) at 9 p.m. Saturday, Jan. 21.
4 A production of "Romeo and Juliet" set in post Civil War America will run at 7:30 p.m. Jan. 13-14, 20-21 and at 2 p.m. Jan. 15 and 22 at the Haywood Arts Regional Theatre in Waynesville.
5 The Classic Wineseller (Waynesville) will host Bohemian Jean (acoustic rock/pop) at 7 p.m. Friday, Jan. 20.