Archived Reading Room
Book about artist is itself a work of art
Wednesday, January 04, 2017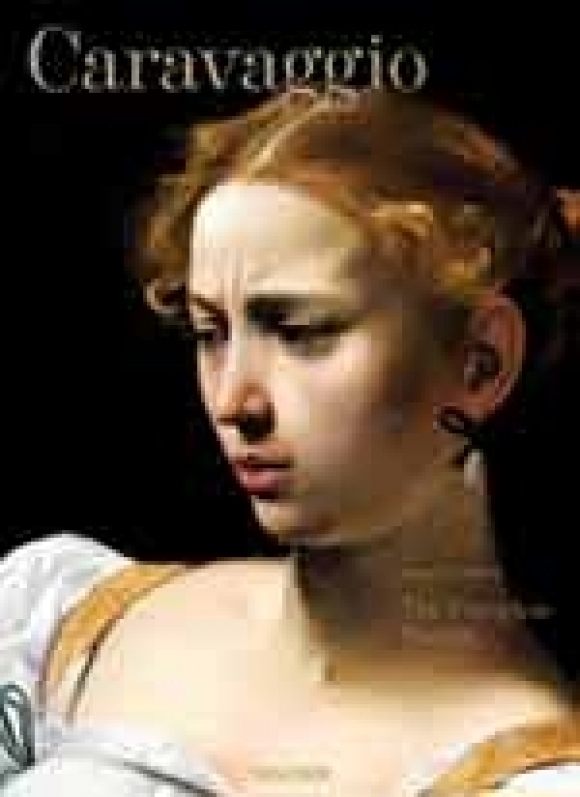 In mid-October I attended the second lecture of three at my local library on the Italian artist Caravaggio (1571-1610). A visit to Rome the previous year had sparked my interest in him and his work, and the lecture sent me to the library "Holds" desk where, as the speaker had informed us, he had placed on reserve several books on the painter. Despite having missed the first lecture, and despite the crowd of 70 some attendees at the lecture, I found to my astonishment that no one had checked out any of the books.
The other attendees didn't know what they were missing, for among these volumes I found one beauty that knocked my socks off.
Sebastian Schutze and his team at Taschen Publishers have created the dazzling Caravaggio: The Complete Works (Taschen, 2015, 306 pages, listed as $69.99, though you can obtain it for less at various bookstores and online sites). Along with a narrative of Caravaggio's life and an analysis of his themes and techniques, this magnificent tome includes detailed insets from many of his paintings and foldout pages designed to give viewers a more expansive view of the works under discussion. Caravaggio weighs in at over nine pounds and stands 15 inches tall, and with the exception of the text, every ounce and every inch bestows on the viewer lush examples of the painter's work.
Before proceeding, I should tell you I am unqualified to review this book as some sort of art historian, critic or painter. I know something about a few artists, can recognize some principal works, and take pleasure in looking at paintings, but I am an amateur of the first order in any critique of art.
Yet most of us can recognize beauty when it leaps up before us, and from the moment I saw its cover illustration of Judith from "Judith and Holofernes," Coravaggio leapt up and won my eyes and heart.
In the foldout of "The Calling of St. Matthew," for example, we see Caravaggio's startling use of light and shadow. Christ stands in shadow to the right of the canvas, his figure half-blocked by St. Peter, his hand caught in a beam of light as he points at the tax collector Matthew, who is pointing his own finger at his chest as if to say, "Who, me? You want me?" Two other men at the table are counting money, which is also illuminated by the beam of sunshine, while the boy whose inquisitive face is most fully caught by this light leans slightly back, as if leery of the sudden entrance of this stranger with the pointed finger.
Caravaggio is a link between Renaissance and Baroque painting, godfather to painters such as Rubens and Rembrandt. Some regard his work as the first real modern painting, an idea supported by his fidelity to what he saw. Horticulturalists have commented on the realism of the spots and fungi found on the fruit in his "The Boy with a Basket of Fruit," and some contemporaries criticized him for the realism and humanity of his saints.
Caravaggio was also skilled in depicting human emotions, particularly when concerned with violence. In "The Martyrdom of St. Matthew," for instance, we witness the saint about to be stabbed to death in a church. The assassin, his sword drawn back for the fatal thrust, is growling or shouting at the saint; a boy, his hands raised in horror, his mouth wide with a shocked cry, flees terrified from the murder; other men watch with sickened or impassive expressions.
In addition to the power of his painting and his influence on other artists — in the book's epilogue, Schutze says of Caravaggio "seldom has the art of one painter exerted so profound an influence upon a considerable number of contemporaries in so short a time" — I suspect Caravaggio fascinates us moderns because of his stormy, eventful life. He came to Rome as a very young man with nothing but his talent and ambition. He worked in the studios of several other artists before making his own way. He then dared, as I stated above, to paint what he saw: the filth on a saint's legs, the rot in certain fruit, the horrible face of death.
Moreover, Caravaggio was a wild, violent artist. He engaged in frequent street brawls, eventually murdering a man and having to go on the lam for the rest of his life. He seemed to have positively enjoyed picking fights; he vandalized various properties; he was called "a crazy man" by one of his contemporaries at a time when street fights were common; he died mysteriously — by assassination or fever we do not know — on his return to Rome to receive his pardon.
Readers interested discovering more about Caravaggio will find several biographies and novels available for ordering from your local bookstores or online. Peter Robb's M: The Man Who Became Caravaggio, which I am reading and which is too speculative for the biography it claims to be, nonetheless gives readers a feel for Caravaggio's Italy and the vendettas and betrayals of that time.
As for Schutze's Caravaggio: The Complete Works, this is more than just another art book. The collection is itself a work of art, stunning with its hundreds of pictures, its lavishly decorated cover, its vivid and solid critique.
Full marks for this one.
(Jeff Minick is a writer and teacher. This email address is being protected from spambots. You need JavaScript enabled to view it.)