Archived News
Bryson City Bicycles receives small business grant
Wednesday, January 04, 2017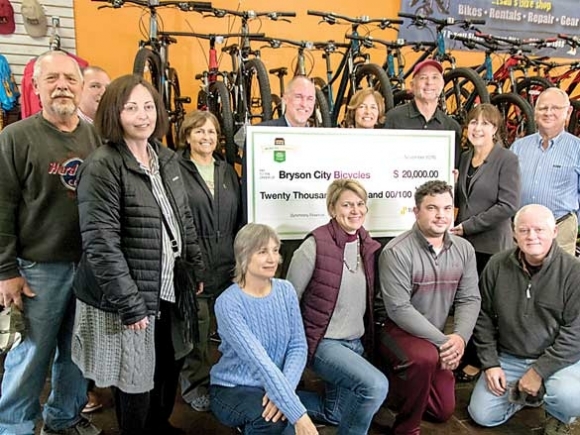 Bryson City Bicycles will use a $20,000 grant to expand its online presence and to provide a fleet of bicycles for Swain County High School.
Shop owner Diane Cutler recently accepted the check after competing to win in the Working Forward Small Business Awards, a program launched by Synchrony Financial to recognize the big impact small businesses have in their communities.
"We were so moved by the response to this contest, and by the passion that our partners have in wanting to make a positive impact on the people in the communities where they do business," said Glenn Marino, executive vice president and CEO, Payment Solutions, Synchrony Financial. "These stories were inspiring, and truly shined a bright light on the importance of small businesses in local communities and the commitment these owners have to improving lives, a value also shared by Synchrony Financial in our Purpose Statement."
Bryson City Bicycles was one of five small businesses across the country selected to receive the grant. Synchrony Financial received more than 1,100 entries in just six weeks, and a panel of judges determined the winners based on the criteria.
Cutler plans to use the proceeds to establish an e-commerce platform for her shop, and also chose to use half of the winnings to purchase a fleet of mountain bikes for the local high school where many families cannot afford bicycles, as part of an outdoor recreation program.
Cutler said her small bike shop has beat the odds by staying open for seven years — 85 percent of bike shops fail within three years — and has even been honored with four national industry awards for excellence over the past three years.
"Giving back to our community and being involved with local and national advocacy has been part of our business model and contributes to our success," she said.
While Cutler says bike shops are notorious for being exclusive to certain demographics, she vowed to be a resource for all riders — women and men, young and old, experienced and novice riders.
"New riders and not so buff individuals love us because we're attentive, informative and make them feel good instead of embarrassed or foolish," Cutler said. "Enthusiast riders love us because we're engaging, can fix anything, and carry all the cool new stuff. Having a woman co-owner on the sales floor also lends a softer side to a traditionally male dominated industry."
Cutler says her greatest challenge as a business owner has been operating a retail business in a small town with a seasonal, tourism-based economy. Industry statistics show it takes a population of 10,000 to keep a bike shop viable, but Bryson City's population is about 1,200.
The good news is that 85 percent of the shop's business comes from tourists and 75 percent of its annual revenue is made in six months. The bad news is those tourists are spread out across the world, which makes marketing efforts difficult, and the business has to scrape by the other six months of the year.
"Our market is somewhat static, relying on the whims of vacationers to define our annual fiscal outcome," Cutler said. "We recognize that we need a reliable year-round revenue stream. Our research has convinced us that e-commerce is the answer."
With only two employees, Bryson City Bicycles lacked both the in-house resources and up-front capital to make the leap to the next level without the grant funding. Cutler estimates that the e-commerce addition has the potential to increase sales by 25 percent by reaching a year-round, nationwide audience.
The remaining $10,000 will be used to purchase a fleet of bicycles for Swain County High School students. After a few years, the school can sell the bikes at a major discount to students and use that money to roll into the purchase of new wholesale bikes through Bryson City Bicycles to keep the program going.
"Our school district's wellness director runs an outdoor recreation program for students and staff and is thrilled at the prospect of adding mountain biking to the program," Cutler said. "This award will provide outdoor, athletic opportunities to kids without means or who don't engage in traditional school sports. It will be a great way to foster skills development, confidence and keep kids healthy."