Archived News
Sylva appoints public art committee
Wednesday, January 04, 2017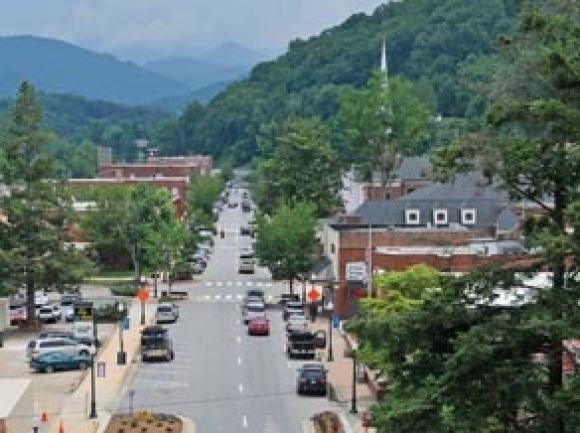 Sylva's town leaders were so excited to see the number of applications they received from prospective members of a public art committee they've spent the last half year working to form that they considered expanding the number of seats available on the committee.
"I just hate to turn people away that want to get involved," said Sylva Commissioner David Nestler, noting that even at that very town meeting there were no town citizens in attendance, save municipal employees and the press.
The town received eight applications for the five seats, all of them — according to board members — well qualified to tackle the task of bringing public art to the streets of Sylva. Multiple board members spoke up in favor of expanding the size of the board to accommodate the response, especially considering that there is strength in numbers when it comes to volunteer boards.
"On boards like this it's incredibly rare that everybody shows up," Nestler said.
"I serve on some other boards and a lot of people don't show up," agreed Commissioner Barbara Hamilton. "Seriously, they don't. Sometimes you might not have all five or all seven when you have a meeting."
The discussion seemed to be headed in the direction of an expanded committee board when Commissioner Harold Hensley brought up the issue of geographic representation. The ordinance creating the public art committee called for five members, three from the town of Sylva and two from Jackson County. However, four of the applicants were from the county and three were from the town. The eighth applicant was Commissioner Greg McPherson — when discussing an expanded committee size, commissioners spoke only of the seven applicants who were not already members of the town board.
"You're representing the town and you should have one more on it," Hensley said.
"That's a good point," Nestler said. "I'd rather have, if it's going to be seven, four from the city limits."
Ultimately, the board decided to appoint five members with the understanding that the board could be expanded in the future if that measure seemed appropriate. Rachel Bridgers, Kendall Rohovit, Glenda Hensley, Preston Springer and Meredith Whitfield will serve as the first members of the new public art committee.
As the board approved the appointments, McPherson asked that members start thinking about the next steps in getting art into downtown Sylva.
"I hope that this becomes a priority for this board in the next budget session and that this committee has some capital to work with," he said.
McPherson, himself an artist, has been pushing for aesthetic improvements to town since he was elected in November 2015. In particular, he's made it a priority to get a public art program started in town, with Nestler offering a strong voice of support in board discussions on the topic. Public art fosters community pride, McPherson has said, and spurs economic development by making downtown a destination for locals and tourists alike. There's been a lot of pointing over the mountain toward Waynesville, whose robust public art program has made the downtown iconic among mountain communities.
The 10-member Waynesville Public Art Commission develops proposals for projects, selects artists and fundraises to cover the costs. In Waynesville, all the money for artwork comes from grants and private donations, not from taxpayer dollars. However, the commission does apply for town funding each year to cover expenses like signs, insurance and maintenance — though not purchase costs — and has received $5,000 each of the past two years.
Sylva created a public art fund that would allow people to donate toward art purchases, but some members of the board — such as Nestler and McPherson — feel that it would be appropriate for taxpayer funds to be used toward art purchases as well. Hensley has staunchly opposed that concept in discussions held during various board meetings in 2016.
Commissioner Mary Gelbaugh, meanwhile, has said she supports the concept of town funding for art purchases but is cautious as to the feasibility of it.
Sylva's budget is a perennially tight one. Even after raising the property tax rate by more than 40 percent last year, the town still found itself cutting corners on some budget needs.
Until talks for the 2017-18 budget are underway, it will be difficult to guess how much money, if any, the board might be comfortable with appropriating.
Donate for art
Sylva has established a public art fund to collect donations toward art purchases. To donate, mail a check with "Public Art Fund" in the memo line to Town of Sylva, 83 Allen Street, Sylva, N.C. 28779. Contributions can also be dropped off in person at town hall.