Archived Outdoors
A look back at 2016: Backcountry adventures, birthday celebrations and a wildfire season to remember
Wednesday, December 28, 2016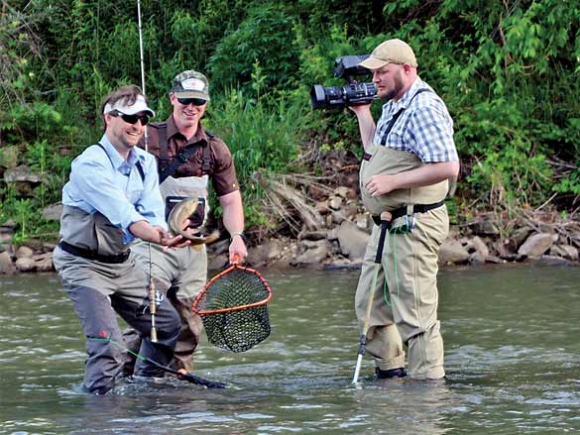 For those who love the outdoors, it's not hard to list the reasons why Western North Carolina is a spectacular place to live, and from that standpoint, the year 2016 certainly didn't fail to deliver. The curtains are now closing on 2016, but the year will get its proper send-off with this roundup of favorite moments and memorable stories from the past 12 months outdoors.
January
When snow blanketed the region in January, exploring the Blue Ridge Parkway on cross-country skis proved a matchless way to experience the wonder of winter in the mountains. Cross-country skiing certainly isn't a common sport in the Southeast, as the hefty blanket of snow required to partake isn't often available. But those who do it love it — including this reporter, as evidenced by a first-person account of snowy adventures published Jan. 27.
"Skiing through the freshly fallen snow on the Blue Ridge Parkway this weekend, alone in the world but for the soft sounds of branches creaking and wind rustling — and, of course, the dog trotting along behind me — I rediscovered that purest form of exhilaration," the piece reads.
February
Some WNC hunters spent the coldest months of the year on a coyote-trapping quest. The crafty canines aren't native to this area, and the growing population is causing problems for owners of small livestock.
That's not to say that the animals' beauty and intellect are lost on hunters.
"Catching a coyote would be to me like a trophy buck, because there's that level of challenge," said Haywood County resident Mark Rogers, whose lifetime tally was 30 coyotes as of February 2016. "I have a lot of respect for them."
March
About 150 people and their mountain bikes flooded into Bryson City when the Nantahala Area Southern Off-Road Bicycle Association hosted the Southern Mountain Bike Summit this year.
Presentations, workshops and, of course, group rides put the spotlight on what WNC has to offer as the premier mountain biking destination in the Southeast. There are trails to suit all skill levels, and if the crew that showed up in March is any indication, there's plenty of enthusiasm for learning.
"I'm always surprised at people's willingness to listen and try stuff that really scares them — and to get up after they crash and try it again," said former world champion racer Sue Haywood, who taught a clinic at the event.
April
By mid-April, most Appalachian Trail thru-hikers had been on the trail for about a month. It was projected to be the busiest year on the trail yet, with interest spurred by recent movies such as A Walk in the Woods and Wild.
A reporter from The Smoky Mountain News spent the night at a shelter near Max Patch to catch up with thru-hikers about their experiences thus far. It had been more crowded than expected, many of them said, and the trail did attract a group of people more into partying than quiet contemplation. But overall, the hikers were pleased with the experiences that they'd had and the people who they'd met.
"Out here, we're sort of all equal," said Knoxville-area thru-hiker Melanie "Gamel" Harmon, 60. "It's how you treat each other, and being in the same environment together, and experiencing the same challenges. I don't know where else that occurs."
May
From television to the silver screen, filming took over Jackson County this May — and the outdoors were not exempt from the camera craze. Fox Sports' "Anglers & Appetites" filmed two episodes full of fly-fishing feats and culinary collaborations, all starring locals.
This was the third year running that Jackson County appeared on the show, and as far as the show's co-host Dave Zelski is concerned, it doesn't have to be the last time.
"We're not running out of material," Zelski said. "There are so many fishing spots along the (Western North Carolina Fly Fishing) Trail, and we haven't even hit them all."
June
For Adam Bigelow, June on the Blue Ridge Parkway is about as good as it gets. The high elevations are rife with wildflowers at this time, and Bigelow is all about the plants.
"All the plants have stories," Bigelow said. "That's what I'm really drawn to, telling the stories of the plants."
For instance, he said, lousewort was once used to repel lice. Yarrow leaves can be used to stop bleeding. Trilliums disseminate their seed through a symbiotic partnership with ants. Many kinds of plants are good for eating — and healthy, too. The trick is to learn which are edible and which are not. That's why it's good to have Bigelow around.
July
The air was thick and humid as a buoyant group of 27 teens, mostly Hispanic, set out to hike with Park Superintendent Cassius Cash on the Cataloochee Divide Trail in July. Most of the teens would have never tried hiking at all if it weren't for Maggie Valley-based Outdoor Mission Camp, which hosts a session geared specifically to Spanish speakers, and Cash was bent on making sure they kept exploring even after camp was over.
The Smokies commemorated the National Park Service's 100th anniversary with a challenge to hike 100 miles in the park during 2016, and Cash opted to complete that challenge alongside groups of youth — like those at OMC — who might not otherwise experience nature much at all.
"It's no different than when you learn how to drive for the first time," Cash said. "Someone has to tell you what to do and what not to do. The Park Service wants to be that entity for the first time kids get out in the woods."
August
Conservation leaders said "Happy 100th Birthday" to the Park Service with the addition of 5,329 acres to the Blue Ridge Parkway at Waterrock Knob, an achievement made possible by years of collaboration between myriad agencies and organizations. The land cost $16.9 million to conserve, with $14.3 million of that private funding.
"I can't imagine a more fitting way to celebrate the centennial of the National Park Service than to celebrate this conservation achievement," said Parkway Superintendent Mark Woods.
September
Hundreds of thru-hikers conquered the A.T. this year, but Robbinsville resident Steve Claxton not only finished the hike — he raised more than $70,000 for Big Brothers Big Sisters of Graham County and for Friends of Barnabas Foundation, a Christian nonprofit that serves health needs in Honduras.
The 2,189-mile hike wasn't easy. There was at least one time when Claxton, then 60, was pretty sure he was going to die from exposure. He was hiking by himself more often than not, and that could become quite lonely. But, he said, the experience was worth the hardship.
"You learn so much about yourself and so much about life itself by trudging on and getting through the hard times, getting through the mountains and the rocks and the roots," he said. "You learn you can do a lot more than you ever thought you could do."
October
High heels, skirts and furs aren't common sights along the Blue Ridge Parkway, but they were there in force this October as the Daughters of the American Revolution gathered at Devils Courthouse to rededicate the DAR Jubilee Memorial Forest.
The 50-acre spruce forest was planted by World War II-era DAR members but had been all but forgotten in the interim. The task of rediscovering the forest's boundaries and digging up its history wasn't an easy one, and the DAR was proud to celebrate the accomplishment.
"They've taken on so many projects that are so beneficial to this country that so many people don't know anything about," said Deborah Burkhart, a DAR member from Brevard. "They think we're just a bunch of snooty women, and that's definitely not the case."
November
November 2016 will likely go down in local memory as a month of trepidation, uncertainty and smoke.
The wildfire season kicked off in WNC with the Dicks Creek Fire on Oct. 23, and historically dry conditions — coupled with the ill intent of arsonists — led to ignition after ignition until, by the time rain finally began to fall in the last days of November, about 80,000 acres were burning in the mountains west of Asheville. Firefighters came from just about every state in the Union, tirelessly working strings of 14-hour days to contain the fires, with no help from Mother Nature.
Astonishingly, they managed to prevent any homes from burning — until Nov. 28, when hurricane-force winds whipped a small fire burning at the Chimney Tops in the Great Smoky Mountains National Park into a hell-like frenzy that swept down the mountains to engulf much of Gatlinburg and kill 14 people.
It's hard to say for sure, but it's probably a fair guess that a region was never happier to see a rainy day than people in the Smokies were on Nov. 29.
December
If drought and fire were the markers of November, rain and the disappearance of smoke distinguished December.
As of press time, rain for the month still sat slightly below what's considered normal, but compared to the eerie dryness of fall, December rainfall seemed delightfully constant. Fires were declared contained, burn bans were lifted and firefighters could finally return home. Drought remained, but was downgraded from the historic severity seen earlier in the season.
With any luck, the New Year will bring all the snow, rain and humidity necessary to maintain the beauty of this temperate rainforest.