Archived Opinion
The fight over what it means to be an American
Wednesday, December 28, 2016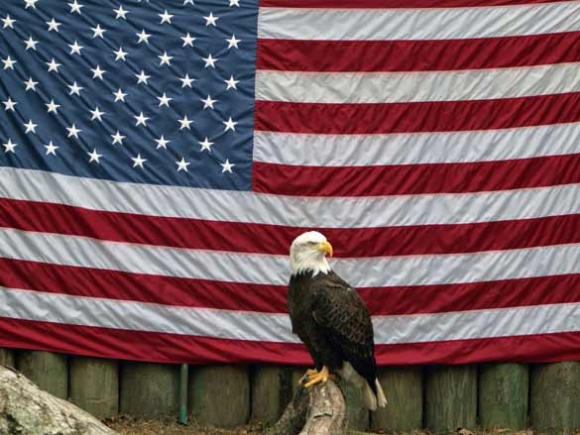 I turned 18 three weeks too late to vote for Ronald Wilson Reagan for president of the United States, but if I had been eligible to vote, I would have voted for him. The world seemed too complicated and too dark to me. Every night on the evening news, there were reports of more violence in the Middle East, rising interest rates, out of control inflation, an economy in the toilet. President Carter — who nobody doubted was a good man with the best of intentions — just didn't seem to be the kind of man to lead the country out of what he himself called a "crisis of the spirit." He coined that phrase in what would later be remembered as the infamous "malaise speech."
But Reagan — ah, Ronald Reagan — now here was a man with real charisma, a movie star cowboy, a man who laid out an uncomplicated plan for reclaiming America's greatness. Cut taxes, stimulate the economy, restore a sense of pride and patriotism in every American, win the Cold War, rescue our nation from the prevailing pessimism and make it, just as our founding fathers had envisioned, "that shining city on the hill."
I had been reading William F. Buckley and George Will since I was 14 or 15, and many of my family members were longtime Republicans. In fact, my uncle was the chairman of the Republican Party in our country for a while. I knew that Republicans believed in small government and low taxes, which sounded good to me. I thought, why should the government get to take my money (my theoretical money, since I wasn't working yet)? But more than anything, I liked feeling optimistic and patriotic, and I liked the simplicity of it.
It wouldn't be long before I gained enough experience and perspective to realize that I had some serious philosophical differences with the Republicans. In short, over a period of time I came to believe that government can and should do some things for people, including providing an education and health care for its citizens and ensuring a fair shake for all Americans, regardless of gender, ethnicity, or sexual orientation. I also believed in the separation of church and state, and I couldn't stand the Moral Majority and its preening, smug, self-righteous leader, the Rev. Jerry Falwell.
So I left the party and never looked back, though I have voted for many Republicans for various offices over the years and have had numerous debates with friends and family over those same years regarding the essential differences between the parties and their respective worldviews. Sometimes these debates were frustrating — my Republican friends argued that Democrats wanted to "redistribute the wealth" with social programs that "took from the rich" to give to people who wouldn't work, when it seemed to me that those tax cuts were predominantly for wealthy people and that, under Republicans, the wealth HAD been redistributed. The rich got richer, the poor got poorer, and the middle class just kept shrinking. Trickle-down economics wasn't working for anyone except the wealthiest Americans.
We argued about public education versus private education. We argued about civil rights. We argued about whether the Ten Commandments should be literally engraved in stone on government buildings.
There were many points of disagreement, but the debates were edifying and we respected each other's point of view, at least most of the time.
If either Ronald Reagan or my uncle were alive today, I do not think they would recognize or believe what has become of their party. How would Reagan even begin to comprehend that America's Republican nominee for president was aided and supported by a Russian President, who according to our own Central Intelligence Agency was involved in a covert operation to influence the election, OUR election? How would he react to the Republican nominee's curt dismissal of his own intelligence agency as being untrustworthy?
How would my uncle — one of the most solid and decent men I have ever known — process what the Republican Party in his home state of North Carolina did last week in an ambush special session when they pushed through two dozen bills, several of which stripped the new Governor-elect Roy Cooper of numerous powers before he even takes office?
According to a recently released report from the Electoral Integrity Project, which developed a system that has been widely used to evaluate whether democracy is actually being practiced in elections all over the world, North Carolina scored only 58/100 on the electoral integrity scale, which would rank us next to authoritarian fake-democracies in Cuba, Sierra Leone, and Indonesia.
In other words, this legislative coup — combined with previous Republican measures to suppress the minority vote and to gerrymander districts in such a way that it is virtually impossible for a Democrat to win in those elections — has undermined democracy in this state to such an extent that it can no longer even be considered a democracy.
How ironic, then, that the political party that for so long has wrapped itself in the flag and declared its superior morals (the moral majority indeed) from every platform, podium, and pulpit it can find, has now managed to undermine democracy in this state to such an extent that it can no longer be called a democracy?
The kind of debate I was talking about earlier in this column is now a quaint relic of the past. We are way past arguing policies and philosophical differences. It has become abundantly, painfully, embarrassingly clear that today's Republican Party has only one conviction — to gain and keep power at any cost, at the expense of any other principle, even those they once claimed to cherish the most. What difference does it make whether you pass laws to preserve the American flag if you would so willingly burn everything it represents? National symbols are one thing, but the desecration of our democracy is a far greater offense.
This is no longer about what it means to be a Republican or a Democrat. It's about what it means to be an American.
(Chris Cox is a writer and teacher who lives in Haywood County. This email address is being protected from spambots. You need JavaScript enabled to view it..)