Archived Opinion
WOW wraps up fifth year of giving back to community
Wednesday, December 21, 2016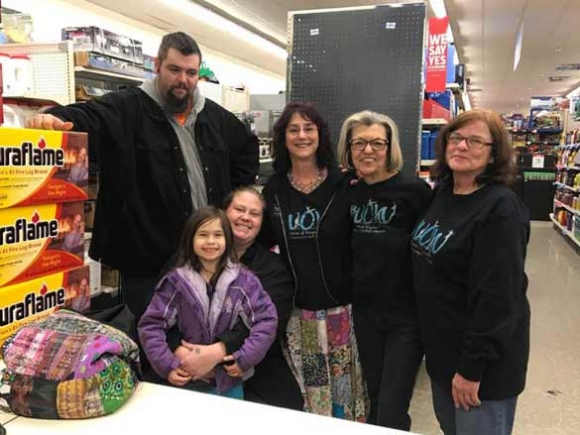 "Never doubt that a small group of thoughtful, committed citizens can change the world; indeed, it's the only thing that ever has."
– Margaret Mead
It's my favorite quote. I remind myself of it every time I'm feeling helpless or hopeless about the state of the world in which we live.
As negativity and our own shortcomings begin to bog us down, it's easy to become cynical and give up on the things we believe in, but that mentality is a self-fulfilling prophecy we need to avoid. Instead, we need to ask ourselves what we can do in our own backyard to make it a better place.
As I scroll through the last year's worth of posts on the Women of Waynesville Facebook page, I can honestly say that our small and spunky nonprofit has made its mark this year in Haywood County. For an organization that is only five years old, I am constantly amazed at what we're able to pull off. Please allow me to brag for a moment.
Through our fundraising efforts, our group of about 30 women has helped seven other Haywood County nonprofits and given away more than $11,000 this year to meet our mission of helping women and children.
WOW raised more than $6,000 with our "Bachelors Ball for Belles Auction" fundraiser in February. We were able to contribute $2,000 of that to the Haywood Schools Foundation through the Mardi Gras Ball fundraiser by supporting our WOW member Angie Franklin's queen candidacy.
The other $4,000 raised from the bachelor auction went to the Pigeon Community Multicultural Development Center in Waynesville to fund student scholarships for their summer enrichment program.
Thanks to a $5,000 grant we received from Pilot Travel Centers, we were also able to give $4,000 to Mountain Projects' Share the Warmth campaign to assist women and children with heating costs this winter. Champion Credit Union helped us double that gift by matching 100 percent of our donation.
We gave the remaining $1,000 to Haywood Habitat for Humanity by sponsoring a Women Build Day on a job site. On. Nov. 19, our membership showed up to Habitat's Walton Woods site and finished the interior painting for the first house being built in the subdivision. We're so thrilled to work alongside the new homeowner who will be moving into the home right before Christmas.
Lastly, WOW received a $1,000 community grant from Wells Fargo that we put toward our first "Layaway Christmas Angels" mission. Small groups of WOW members staked out the layaway counters at Walmart and Kmart last weekend and approached people that were in line to pick up their kids' Christmas gifts. Families were surprised and grateful for the help and WOW members enjoyed spreading some holiday cheer to those in need.
Thanks to one of our WOW members, we received a $5,000 grant from Pilot and another member helped us get a $1,000 grant from Wells Fargo. Our $4,000 donation to Mountain Projects was doubled thanks to matching funds from Champion Credit Union. These are the types of community partnerships and relationships that WOW wants to continue to build.
When we're not giving financially to other organizations, we offer volunteer "womanpower" to other nonprofit benefits like the Haywood Healthcare Foundation's Power of Pink 5K, Main Street Mile, Spookmoot and more.
We have what is called our "stealth missions" where we can provide much-needed clothing, food or other necessities to women who have exhausted other possibilities. We want to fill that gap between what the other nonprofits, government entities and churches are doing in the community.
That's what I love about WOW — we're moldable, we can help other nonprofits, we like our unusual and exciting fundraisers, none of the money we raise goes to salaries and we enjoy what we do. We work hard and we play hard. We are a support system for our members and our community. And we are here to stay.
Wow's founder and president Nikki White is resigning for some much-deserved R&R and I will be taking the helm in 2017. While our group will no doubt miss her enthusiast leadership, we're pushing onward and looking forward to outdoing ourselves next year.
We know we can't do it all on our own. It takes the generosity and support of our business community and partnerships with our local nonprofits. We appreciate everyone who has helped us fulfill our mission this year and we hope everyone finds a way this holiday season to make someone else's life a little brighter.
If you want to become a member, make a donation or otherwise partner with our organization, visit www.womenofwaynesville.org, follow us on Facebook or email us at This email address is being protected from spambots. You need JavaScript enabled to view it..
(Jessi Stone, along with being the incoming president of WOW, is news editor at The Smoky Mountain News. This email address is being protected from spambots. You need JavaScript enabled to view it..)