Archived News
Church delivers warmth of meals and companionship on Christmas Day
Wednesday, December 21, 2016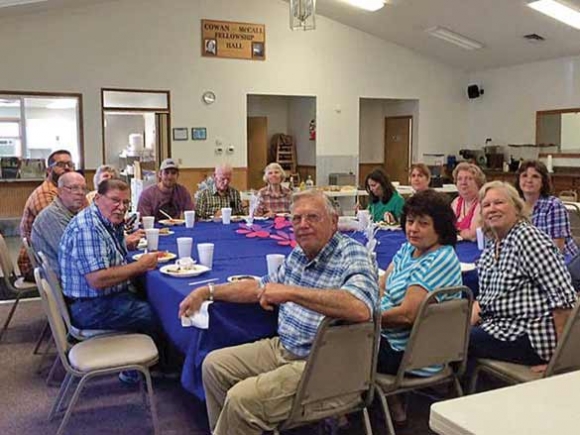 Caitlin Derico was 11 years old when her family's Christmas tradition shifted from stockings to service.
That Christmas, Caitlin's father Ken Derico announced, the family would spend the day delivering Christmas meals they'd prepared to people in the community. The concept was inspired by Caitlin's recently deceased grandparents, who were known for their love of cooking and feeding people. Ken thought this would be a fitting way to honor them.
At 11, Caitlin wasn't so sure.
"I was not excited about giving up my Christmas," she recalled.
Fast forward 11 more years, and Caitlin, 22, is now coordinating what's grown to be a hefty ministry run by Webster Baptist Church in Jackson County, which the Derico family attends. It's the 11th year of the ministry and Derico's first year as coordinator, a role her father passed on to her.
"Right now we have one full freezer chest full of just turkey, and it overgrows the whole church," Derico said. "We've been very thankful that someone donated a larger smoker grill to us, but before that we used to take the big square white oven cookers and we used to put them all over the church. We had to space them out so we didn't blow circuits."
Year one produced 30 meals, cooked and delivered throughout the Sylva area, but these days the count sits at about 350, with each meal cooked, packed in to-go boxes, and delivered while still warm. This year's menu is turkey, ham, stuffing, sweet potatoes, corn, green beans and a roll. Plus, dog biscuits for the canines. For the last five years, the ministry has also included stockings for people in the nursing homes who don't have families. The gifts include a variety of hygiene and snack items such as deodorant, soap, mixed nuts and oranges.
The church spends about a month and a half to plan, advertise and fundraise for the project, with the edibles coming through a combination of monetary and food donations. Then, about 50 volunteers must join forces to prepare and deliver the meals. Each delivery route takes about three hours to complete and typically includes six to seven houses.
"We try to keep them (routes) small so their food stays warm and so we're able to spend more time with them," Derico explained.
She believes that time spent is, in many cases, an even bigger gift than the food itself. The delivery routes capture homes served by Meals on Wheels, shut-in individuals and assisted living centers — people who often don't have anyone to be with on Christmas. The church also sets up a buffet for on-duty deputies at the Jackson County Sheriff's Department.
Derico has had some eye-opening encounters during her years on the delivery route.
"I met this one man that was just sitting on his couch," Derico recalled. "He had no TV, no radio, nothing — he was just sitting there. It's heartbreaking to realize what we truly do have."
For some people, the Christmas Day visits prove life-changing.
"We are a church-based group, but we don't use it as a time to push our religion," Derico said. "We have had people come to ask questions, become part of our faith and we even had people who have not committed suicide because we came to see them."
They've made friends, too. Derico thinks of one older lady, in particular, who she and her cousin met while delivering a meal to her home in the Scotts Creek area.
"We continue going back and seeing her throughout the year," Derico said. "She and my cousin visit and call each other all the time."
When she was an 11-year-old being pulled away from her new Christmas toys, Derico didn't understand the importance of these personal connections the way she does now. But before long, she came to believe that there could be no truer way to act out the meaning of Christmas.
"It's a time where you're with your family. It's a warm time, but most of all it's a time of giving," she said. "Even though we live in this day and age where most people get Macs and iPhone 7s, giving your time to someone means a lot more."
Derico is married now, with a 2-year-old daughter who will grow up with the Christmas Day meal route as a consistent part of her life. She can think of no better way to teach her daughter — or the community at large — what it means to be a disciple of the one after whom Christmas is named.
"This is what being a Christian is about," Derico said. "It's not about going, 'Look at me, look what I did,' or any of that stuff. It's about just loving on our neighbors and being a part of something bigger than ourselves."
Lend a hand
Volunteers are welcome to help pack and deliver meals on Christmas Day. Each route typically takes about three hours to complete.
To help out, contact coordinator Caitlin Derico at 828.506.2297.