Archived News
Shoplifters make downtown Waynesville's naughty list
Wednesday, December 21, 2016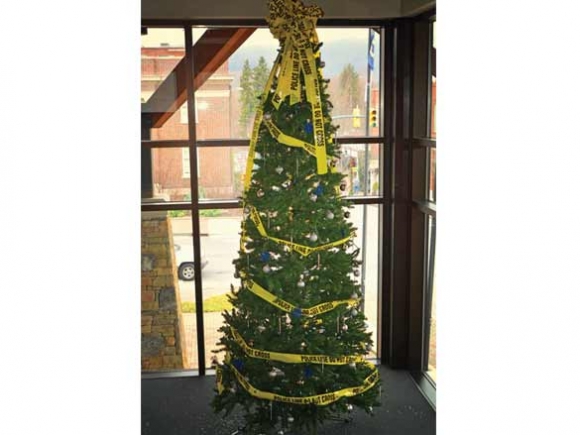 Something about the holidays always brings out the best — and worst — in people and Santa Claus is the unquestioned arbiter thereof.
Buffy Phillips, executive director of the Downtown Waynesville Association, says she's heard of more shoplifting from DWA members this year than she can ever remember.
"Maybe it's the holiday season, or maybe the merchants are more on top of things," she said.
Phillips isn't sure if there's more shoplifting taking place, or it's just being more widely reported because of security upgrades some merchants have recently made, including cameras and special merchandise tags.
Additional preventive measures focusing on education communication have also been undertaken to help downtown businesses safeguard against shrinkage.
"The police department always has one person that's willing to come speak with merchants about counterfeit money and shoplifting — what to look for," she said, describing video footage of a shoplifter examining an item with one hand as a diversionary tactic, while deftly pocketing merchandise with the other.
"We are seeing some real professionals on film," she said in a recent email to DWA members. "Many of them are repeat customers."
According to the National Association for Shoplifting Prevention, more than 2 million Americans are caught shoplifting each year, but are caught just once for every 48 attempts. Professional shoplifters make up 3 percent of all shoplifters, but cause 10 percent of what Fortune magazine estimates is $32 billion in losses per year for retailers in the U.S. alone.
Whether professional or amateur, shoplifters working Waynesville may want to think twice about making Main Street their destination.
Merchants remain connected in a variety of ways and keep each other advised — with descriptions and photos of shoplifters — via an existing email network, but have recently added an additional means by which to place the wayward on Santa's naughty list.
In cooperation with the Town of Waynesville, the DWA will now issue mobile alerts about shoplifters via the town's "CodeRED" emergency services announcement system.
CodeRED is an internet-based notification system created by Florida-based company Emergency Communications Network. The system, which has been marketed to governments and municipalities since 1998, is currently utilized by more than 3,000 state and local governments in Canada and the U.S. and gives users like the Town of Waynesville the ability to communicate emergency or disaster conditions across multiple platforms.
Despite the jolly crimson color invoked in the system's name, for shoplifters it doesn't bring presents, but rather alerts local business owners to their presence.