Archived News
New law stops TVA's ban of Fontana houseboats
Wednesday, December 21, 2016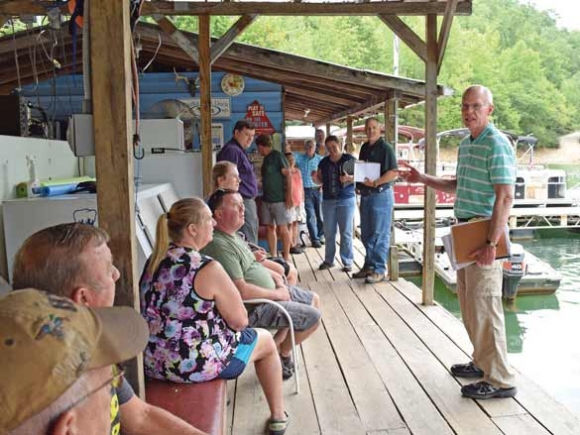 More than 350 families received an early Christmas present last week when President Obama signed a bill into law that will allow them to keep their floating homes on Fontana Lake.
Floating homeowners were shocked back in May when the Tennessee Valley Authority Board voted to adopt a new policy that would place a 30-year sunset provision on all 1,800 floating homes on TVA reservoirs.
Houseboat owners, local government officials in Swain and Graham counties and U.S. Rep. Mark Meadows, R-Cashiers, all tried to convince the TVA to reverse its decision but the board wouldn't budge. The TVA claimed floating homes were causing safety and environmental problems, though little proof of that was shown in the TVA's environmental impact report.
Rep. Meadows and other North Carolina congressmen then introduced an amendment last month to a larger bill — the Water Resources Development Act of 2016 (WRDA) — to allow existing floating homes to stay on TVA lakes. The bill made it through Congress and Obama signed it into law last Friday.
"This is a moment to celebrate the best of the American system and way of life," said Erik Sneed, a Fontana houseboat owner. "You can count on a great party at our place this spring to celebrate." Cherokee residents Erik and Laura Sneed were a driving force behind the floating homeowners fight to keep their property investments on the lake. Laura started the Facebook group "Fontana Families for Floating Houses" to keep owners in the loop on TVA meetings, Meadows' efforts in Washington, D.C., and fundraising efforts to pay for a legislative consultant. She also traveled to D.C. in September to give testimony on the issue before the Subcommittee on Government Operations, which Meadows chairs. Swain County Commissioner David Monteith also testified before the subcommittee.
"Who would have thought this would happen about eight months ago? I'm so proud of my Fontana floating family who came together and fought," said houseboat owner Scott Faulkner upon hearing the news.
In addition to forcing hundreds of families to move from their homes on Fontana, Meadows said the TVA's sunset policy would have negatively impacted local economies that rely on the revenue local businesses get from houseboat owners.
"The TVA's decision to ban floating cabins has already had devastating effects for hundreds of hard-working owners and the surrounding economy in my district — even well before the 30-year timeline expires," Meadows said. "The federal government has a bad habit of getting involved in the lives of taxpaying families without seriously evaluating the consequences. This case is a classic example. I am thrilled to see the amendment become law, and while there is work to be done, I hope that this measure can play a small role in sending a message that this kind of government overreach will not be tolerated."
While the new law allows the existing permitted houseboats to stay, TVA's policy stating that no new houseboats can be added still stands. TVA staff is also still working toward implementing new permitting and annual fees for floating homeowners, which means they still have work to do.
"Our fight isn't over after this law is official, as the TVA will be imposing new regulations and fees," Laura Sneed said. "It's our understanding that they (TVA) tried to add language to our bill which would allow them to penalize us up to $100 per day for noncompliance (up to $10,000 per year per house in fees) but Congressman Meadows put a stop to that. I think that just gives us a peek at what we're about to be facing and we need to keep the pressure up and fight them hard."