Archived News
Waynesville police win SWAT competition
Wednesday, December 21, 2016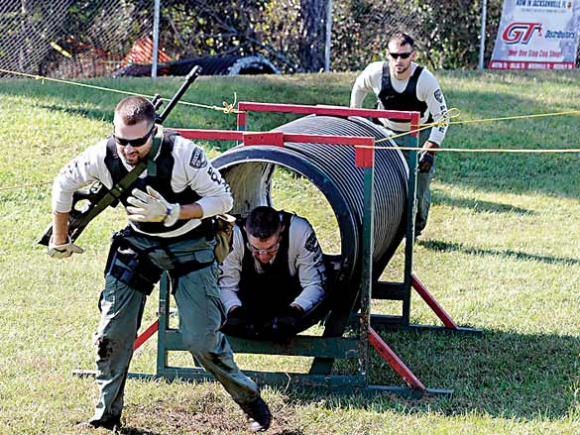 Waynesville Police Department's Special Response Team recently returned home from the SWAT Round-Up International competition in Orlando with multiple awards.
The team not only won the Best Small Agency Award (agencies under 100 sworn members), but also won the Top National Team, which is given to a team outside of Florida.
Matthew B. Weathersby, former chairman of the SWAT Roundup International board, wrote a letter to Waynesville Town Manager Rob Hites to express the importance of the awards. While winning the Top Small Agency award for the second time this year is a huge accomplishment, Weathersby said the Waynesville team gained the respect of all in attendance when it finished as the Top National Team.
"The teams in this category included agencies from seven states and eight international teams. One of these agencies in this category was the Houston Police Department, which is one of the largest law enforcement agencies in the country," he said. "To finish as the Top National Team, Waynesville had to finish ahead of Houston in the final event, the grueling obstacle course. Their final overall standing was finishing an amazing 13th out of 64 teams."
Waynesville Police Chief Bill Hollingsed said his team was the smallest agency ever to compete in the SWAT Round-Up International competition. The competition included 63 teams from nine states; eight different teams from five different foreign countries and the NASA SWAT and US Air Force McDill AFB Emergency Response Teams.
SWAT Round-Up International began as a means to provide a forum for the exchange of ideas among agencies. SRI has now evolved into an international showcase for special operations teams from across the United States and Europe. "More than just a training event or intense competition, SWAT Round-Up is a sum that is greater than its parts. Ultimately, it is an opportunity for operators across the globe to come together as one to learn from each other," Hollingsed said. "The brotherhood shared with teammates will extend to fellow operators as teams train, compete and push each other to the extreme."
Training for 2016 was conducted by nationally renowned instructors and included numerous relevant courses for SWAT and SRTs. Each of the five competition events geared for simulation of real life scenarios and intended to challenge the team as a unit. Events also emphasize weapon expertise and physical fitness. The events focus on officer rescue, hostage scenarios and other similar incidents that help teams prepare for actual scenarios.
"I've had the opportunity to personally interact with your team members on numerous occasions and have always been impressed with their professionalism, demeanor and tactical skills," Weathersby said of the Waynesville team. "Your city and its citizens should be extremely proud of your police department and its SWAT team. In a world filled with uncertainties, your community should sleep well knowing that they are protected by such a dedicated and highly trained team."