Archived News
Upcoming tuition drop could have unintended consequences
Wednesday, December 14, 2016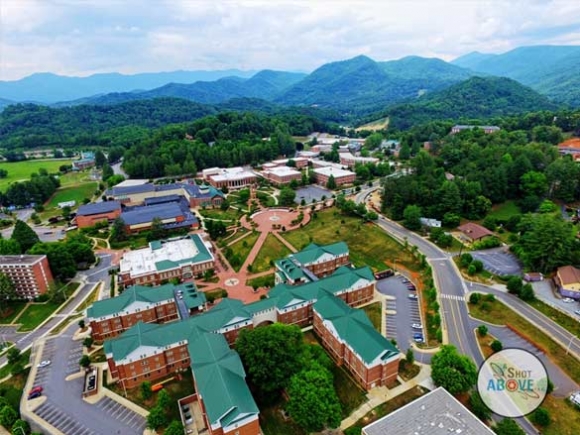 A state program that's set to lower Western Carolina University's tuition to $500 per semester could have unintended consequences when it comes to the university's summer programming.
Unlike the fall and spring semesters, which are subsidized by the state, summer session is funded entirely by the tuition dollars it generates. So, when N.C. Promise — a state law that will heavily subsidize tuition for three North Carolina schools, including Western — goes into effect in 2018, tuition rates for the fall and spring semesters will drop to $500 apiece, but no funding will be available for summer session.
"N.C. Promise and summer session is what keeps me up at night," Lowell Davis, the university's assistant vice chancellor for student success, told members of the Board of Trustees during a committee meeting last week. "It's $500 per semester tuition, and it costs more than $500 for a student to take a course in the summer. We are trying to figure out why a student would enroll in a summer course when they could take an extra semester, take 12 credit hours, and the cost would be comparable."
Summer classes cost about $175 per credit, plus fees, so a three-credit course would cost about $525. With fees included, the cost would be just over $800.
"We're very supportive of N.C. Promise," Provost Alison Morrison-Shetlar told trustees. "We think it's great, but there are some hidden consequences there that might not have been thought about."
The importance of summer session
Davis believes the coming summer session will prove just as popular as the previous one but told trustees that, as of now, he's not sure what will happen in summer 2018, after N.C. Promise kicks in. He's working proactively to find a solution that will preserve the appeal of summer school even after lower tuition rates kick in for the regular semesters.
"Summer session is hugely important for all institutions, but here at WCU I feel summer session is particularly important," Davis said.
For one thing, he said, programs such as parks and recreation management rely on the summer term to capitalize on the educational experiences afforded by the region's topography and biodiversity. Summer is often the best time to learn those lessons.
Summer session is also important for students whose majors require internships. Because WCU is in such a rural area, students often find themselves needing to travel for the internship experiences they need.
"Summer session provides the ideal time to complete those requirements so they can be on campus during the regular term and not delay their traditional classroom progress," Davis said.
Summer session is important to the school on a financial level as well. This year, summer classes yielded $3 million in revenue. Those dollars are distributed proportionally among college deans to supplement the state-appropriated budget.
"In some cases, the summer revenue is nearly equal to the state allocation — effectively doubling departmental budgets for the year," Davis said. "Over time, departments have grown while state appropriations have not, which has created a dependency on summer revenues for things like course supplies."
Some programs are completely funded by summer school revenues. The Academic Success Program is one of those. The program helps students who wouldn't typically meet admissions requirements get into college by attending the summer term prior to their freshman fall semester. Retention and persistence rates among participating students are high.
"Without the summer term revenues, this program will not run," Davis said.
Morrison-Shetlar told trustees that summer session is important to the local economy as well.
"Some of our stores are excited when students come back in the fall, because they don't have as many people coming around," she said. "Continuing to make this viable is not just for Western's sake but also for the economic importance of our region."
"Especially as we grow during the primary semesters, those small businesses have to step up and grow," added Trustee Bryant Kinney. "That makes that gap bigger in the summer."
Looking for answers
Davis and Faculty Senate Chair Bill Yang recently completed a listening tour of campus to ask for feedback and suggestions from faculty members and others on campus, and Davis is currently occupied with compiling the results of that tour.
Multiple options for maintaining the attractiveness of summer session are available to the university. The most obvious would be to cut the cost so that it's comparable to the rate offered during spring and fall.
However, Davis isn't certain as to whether it would be feasible to drop the rate that low.
"We are aiming for a solution that will make summer session attractive and affordable to students, but that will also allow us to compensate our faculty and provide quality educational experiences for students," Davis said.
Other possibilities include offering more online sections for some classes, increasing minimum enrollments for some classes, offering more work opportunities on campus, increasing scholarship dollars available for the summer and creating summer-specific courses. However, Davis said, summer session is "a bit like a Rube-Goldberg machine," with any one change inevitably having ramifications in other areas. Careful consideration will be required before any approach is decided upon.
Despite the numbers problem facing Western, summer session has some things going for it that Davis believes will affect enrollment going forward. For one, while students can take summer courses at another, less expensive institution — such as a community college — and transfer the credits, the GPA earned from those courses does not transfer. So, students looking to boost their GPA could still be drawn to summer session. Davis also sees Western's faculty as an asset to the future of the summer session.
"Students revere our faculty, and students who want to take courses from our noted faculty would decide that WCU is a great option for them," Davis said.