Archived News
Pickin' Chicken
Wednesday, December 14, 2016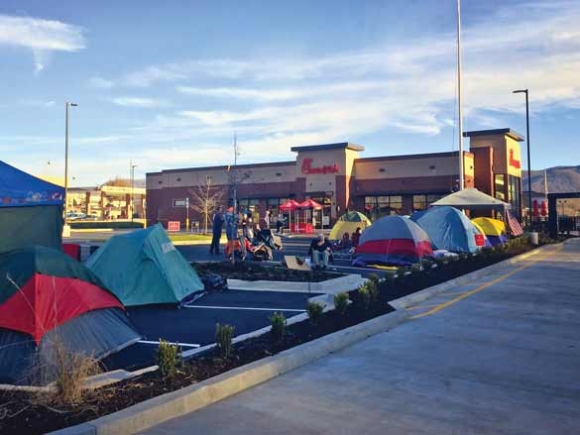 There are few things more American than fast food.
In the United States, fast food restaurants serve more than 50 million customers each day; on average, we each spend more than $100 a month on the salty, fatty fare and consume 54 gallons of sugary carbonated soda each year.
For some, the opening of a new fast food restaurant — especially in a smallish town like Waynesville — is a cause for great celebration. Several dozen locals who have that kind of relationship with their ready-made meals chose to remember and celebrate the sacrifices made by our greatest generation by sleeping overnight in a parking lot on Dec. 7 to attempt to score free fast food for a year.
Waynesville's first Chick-fil-A opened to much anticipation at 6 a.m. on the morning of Dec. 8, but not before more than a hundred people trickled in to the parking lot on Russ Avenue — some more than 24 hours prior — to participate in the vaunted chicken-slinger's "First 100" contest.
It works like this — for the past 13 years, any time a new Chick-fil-A opens anywhere in the dashboard-dining consumerist culture that is modern-day America, the company holds a contest promising a free "digital offer card" good for 52 combo meals consisting of a sandwich, fries and drink to the first 100 people who register.
Participants must be 18 with valid identification and from a neighboring zip code; registration begins 24 hours prior to the store's grand opening, and those who survive the night outdoors — regardless of snow, sleet, hail, rain or scorching heat — walk away with a year's worth of calories.
Daniel Sellers said that when he and his wife arrived around 5:15 that morning, there were already a few cars in the lot.
"I live in the area, and I go to church in downtown Waynesville, so I drive past here every Sunday," he said. "My wife had been to one of these [First 100 contests] before, so I looked it up on the website, read the rules, and came on out."
As the warm fall sun slunk closer and closer to the horizon about 2 p.m. that afternoon, Sellers was playing cornhole on a set of dark blue "Brady Bunch" boards with some people he'd met that day.
His expectations were realistic, what with the 31-degree forecast issued for that night.
"I expect to get cold," he laughed into the 55-degree air. "I'm not sure if they have any activities planned but we'll just be tryin' to catch some sleep, have some conversations, play some board games, just hang out."
After arranging childcare for her four children — aged 16 to 9 — church pianist Renee Allsbrook arrived with her husband Luke around 2 p.m. and sat quietly in front of a yellow tent with a red book on her lap.
There were 32 people who had taken up temporary residence in the lot by that time, up from around 20 at 5:30 a.m.
"I'm trying to enjoy having a long date here with my husband, and to get some work done for the church by picking out Christmas music for the next couple weeks," she said.
When asked why she'd gone to such lengths to attend the event, Allsbrook said she was "a huge fan" of the restaurant and was excited at the prospect of earning free meals for her family.
"We've got our tent, and we've got some sleeping mats and sleeping bags, a little lantern and some warm hats," she said. "I think we'll be OK."
Sheri Berger and friend Meghan Boynton weren't so lucky. Perched on collapsible camp chairs on the outskirts of the encampment, their spur-of-the-moment decision to attend left them less prepared than others.
"We don't have a tent," said Berger.
"We're working on it," said Boynton.
Berger had called Boynton, a high school student who was in biology class at the time, just that morning.
"You wanna go sit out in the parking lot of Chick-fil-A and get free meals for a year?" Berger asked her.
Both admitted a love for the restaurant's offerings; Berger said she wouldn't get sick of it, either.
"I can eat French fries for lunch," she said, "and chicken for dinner."
As the night wore on, a DJ pumped high-tempo tunes through an old speaker while the chain's well-known plush cow mascot undulated to the beat.
But by 5 a.m., the lot was quiet despite the presence of dozens of tents; an after-work rush of almost 70 people ensured that all 100 gift cards would indeed be given away.
"It was cold," Sellers said of the night, during which he said he'd gotten about two hours of sleep.
"It was a little loud," said Allsbrook, "and a little bright, but it was good. People talking, having some fun. Nothing too raucous. But we had our earplugs and I actually slept pretty well."
As the contest wound up at 6 a.m., Allsbrook said she was "very glad" to have won those 104 free meals for her family; she said she was heading home to make school lunches for her kids.
Berger and Boynton were nowhere to be found; apparently, at some point during the night, they'd chickened out.