Archived News
First indoor gun range to open in Haywood
Wednesday, December 14, 2016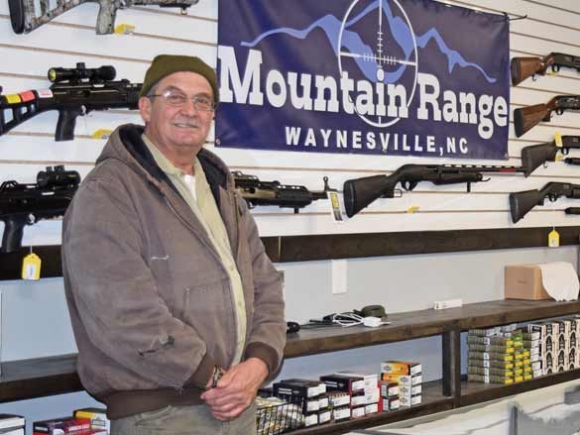 When local businessman Jule Morrow proposed a gun shop and indoor firing range in the pastoral Francis Farm community last winter, not everyone was excited about it.
Vociferous neighbors worried about the negative aesthetic, environmental and social consequences of the commercial building, which would house the largest indoor firing range in Western North Carolina and presumably draw an "undesirable" crowd to the quiet rural area. Their plea for county commissioners to stop the project went unanswered since the county lacks any land planning designations.
But as the range prepares to open later this month, the only thing notable about it has been the lack of complaints.
"We haven't had any," said Caroline Morrow-Rickman, who runs the retail side of things at Mountain Range on Palmer Road. "I'm sure some [opponents] wish it wasn't here, but we've gotten a lot of good feedback so far."
In particular, Morrow-Rickman said that neighbors appreciate the lengths the business went to in order to alleviate concerns over aesthetics. In June, Morrow said that to appease neighbors, he'd voluntarily incurred extra costs by moving the building further from the road and grading the site so the roofline wouldn't obscure the ridge line — both of which resulted in the need for expensive septic improvements related to the unfavorable grade.
Work on the structure continued through the summer and is rapidly nearing completion; retail operations commenced in mid-November, and have been going well so far, Morrow-Rickman said.
The range itself is slated to open Dec. 15, if all goes according to plan. Although construction is complete, painters and electricians are hurrying to complete their portions of the job to meet the deadline.
In addition to retail sales, the range offers yearly memberships that allow for range access without paying an additional daily fee, as some other ranges require. Memberships carry other benefits as well, such as special sales and priority access to shooting lanes over those with day passes, which the range also sells.
Another line of business Morrow said he'd hoped to tap into was that of local law enforcement agencies. Currently, armed officers in Haywood County have no local facility to meet their training needs.
Morrow thinks that once the range is open and word gets around, local agencies will consider keeping their officers — and taxpayer money — in the county.