Archived Outdoors
Going forward by looking backward: Tradition and science meet in Cherokee forest plan
Wednesday, December 07, 2016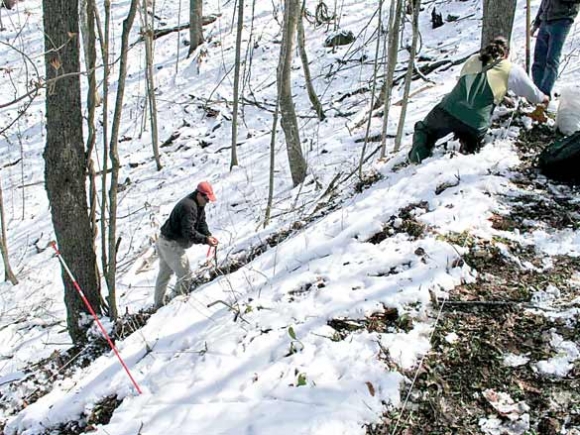 Over the course of thousands of years lived in the Southern Appalachian mountains, the Cherokee people had pretty well developed a system of relationship with the land that ensured they harvested what they needed to live while leaving enough to ensure future generations would yield the same benefit.
But then there was the arrival of Europeans, years of conflict, the removal, and the establishment of the Qualla Boundary under the supervision of the Bureau of Indian Affairs. It's been a long time since Cherokee land was truly managed in the Cherokee tradition, but with the impending approval of a new forest management plan the pendulum is swinging back closer than it's been in a long time.
"As we looked at the revision of the tribe's forest management plan, we noticed that its focus was on pre-commercial intent, and not to say that's a bad thing but there was not a strong cultural focus component that really identifies who we are as aboriginal people in this region," said Tommy Cabe, forest resources specialist for the Eastern Band of Cherokee Indians.
Since the formation of the Qualla Boundary, forestry practices there had pretty much mirrored what was going on elsewhere in the Southern Appalachians. In the earlier years, clear-cutting was common, with little to no effort put into restoring the landscape afterward. From the 1960s onward, forestry on the Qualla Boundary — again, like in much of the surrounding area — gained a bit more diversity, with more emphasis on thinning, taking inventory of resources and managing for overall forest health.
"But the plan still didn't cover the cultural interest to the degree we have started to place back into our landscape in the past 20 to 25 years," Cabe said.
So, when it came time to create a new forest management plan, the EBCI engaged EcoForesters, an Asheville-based nonprofit, to help write a plan that would prioritize cultural values and traditions. The nonprofit took to the project with gusto, even bestowing its annual EcoForester Award on the EBCI for "promoting the use of positive-impact forestry within the Cherokee community and with landowners and stakeholders throughout their ancestral homeland."
The plan has been approved by the tribe but is still awaiting final approval from the BIA.
It has many of the markers of a traditional forest management plan but takes some detours to emphasize management of resources that have special significance to tribal members. For instance, Cabe took a day to walk the forest with a local basketmaker, who taught him about what kind of tree makes the best basket material. It's well known what a white oak should look like for traditional timber harvest, but the specifications of a white oak destined to become a basket are much less well defined. What Cabe learned from his outing with the basketmaker was that a 6-foot log between 6 and 10 inches in diameter — as long as it doesn't have any sucker sprouts or burls on it — can produce two medium-sized baskets. Each of those baskets goes for about $800.
"We can take that information and we can look in the forest and areas where we're going to manage for oak regeneration or oak stems, and we can reach an objective down the road to preserve a basketmaker's resources and also the need for moving hardwoods off the landscape in a more culturally friendly way," Cabe said.
Of the 57,000 acres of forest on the Qualla Boundary, only about 5,000 are part of the tribal reserve land — the EBCI's version of public land. In addition to implementing the forest plan on the public acres, Cabe will have the added challenge of conveying to landowners the importance of the cultural resources contained on their individual properties. Perhaps there's a landowner looking to harvest a timber stand that contains some of those smaller white oaks that are perfect for baskets but would become little more than slash in a commercial timber sale. Armed with knowledge of what trees are most useful to basketmakers and what their economic value is, Cabe could suggest that the landowner connect with a basketmaker before harvesting the larger trees.
Basketmaking is just one example of where cultural values can intersect traditional forest management. For instance, Cabe said, what about a situation in which a productive patch of ramps is located in the midst of a high-value forest? By taking into account the cultural and economic value of the ramps, foresters could make a better-informed decision about when and whether to harvest the trees.
In one sense, much of Cabe's work involves quantifying what the Cherokee people have already known for generations. A prime example would be the work he's doing to pave the way for Cherokee people to be able to gather plants inside the Great Smoky Mountains National Park. A federal rule change this year made it possible for members of federal tribes to gather inside national parks, but the tribe and the park must complete a planning process before gathering can begin.
Ramps are much less common now than they used to be. That's often attributed to the tendency of non-Indian people to gather them by digging up the whole plant, rather than cutting them to allow for regeneration, Cabe said. In addition, the Cherokee method involves harvesting only every fourth plant, leaving the remaining three to repopulate the patch.
To test the hypothesis that the Cherokee method is more sustainable, the EBCI is growing test plots to compare the impacts of traditional Cherokee harvest to those of non-native people.
"We are actually putting that method to vigorous scientific protocol to prove our method is the best," Cabe said.
Forestry isn't the only realm where that is happening. Cherokee schools are working to get native foods like sochan — also known as green-headed coneflower — and ramps served in school cafeterias. But first, they must complete analyses on nutritional content and acidity to get them approved by the U.S. Department of Agriculture, Cabe said.
Cherokee traditions evolved for a reason, but in the modern world of data-driven decision-making the tribe is finding itself with the task of scientifically explaining what its members have known for generations.
"We were scientific and not knowing we were scientific," Cabe said. "But we knew that preservation was important."
However, there will always be a limit to the ability of science to explain Cherokee ways, Cabe said. And that's OK.
"Most indigenous tribes place an amount of energy toward practices that were spiritual, so there comes a component to where science is going to have to say, 'We can't measure that,'" Cabe said. "To the Indian it's not going to be an obstacle, but to scientists it might be frustrating. You just know. Like an elder told me, you just know."
Going forward, the EBCI is only looking to increase its exploration of native plants and how, in the year 2016, those plants and the traditions surrounding them can continue to grow in importance. The tribe is in the process of creating a department of agriculture that would encompass not only Cabe's work but also various types of farming, ranging from Western-style production of chicken or tomatoes to the raising of native greens and grains.
"Going into 2017 I think it's going to be like, 'Roll the sleeves up and let's get busy,'" Cabe said.