Archived Arts & Entertainment
When I sing: An interview with Bear Rinehart
Wednesday, December 07, 2016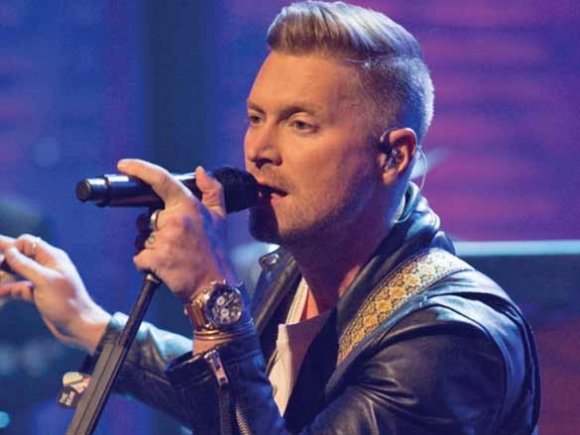 Heralding from just down the mountain in Greenville, South Carolina, Bear Rinehart is the front man for the rock group NEEDTOBREATHE. He has that rare quality of voice that allows him to stand out from other singers in his genre. Not only does Rinehart have the chops, he's also a talented songwriter and musician.
After many years of paying their dues, NEEDTOBREATHE is now playing to arena crowds and spreading their enlightened message, both home and abroad. I've been following their rise to prominence for the past three years. With each new album, I didn't think that they could possibly get any better. But, in each case, and with their latest record "Hard Love," they have proved me wrong.
How is that possible? It's because these guys are special. They work together as a group. They have a group sensibility that takes them higher. They're raising the bar in the rock world, and hopefully in the world beyond.
Editor's Note: The following interview was conducted at the Bon Secour Wellness Arena in Greenville, South Carolina on Nov. 11.
Thomas Crowe: I'm interested in knowing what literary and musical influences, what life experiences made you the Bear Rinehart that you've become, and how all that gets into your own writing and music?
Bear Rinehart: My earliest influences came from the fact that my father was a preacher and the gospel music that I heard and sang in church. I loved the grandiose themes of hope and survival in those hymns and how they inspired people, including myself. Later, I was listening a lot to The Black Crowes, who were a big influence on me. I went to a Black Crowes concert here in this arena when I was young and went out and bought a guitar the next day. Then, songwriters like James Taylor, Bruce Springsteen and Bob Dylan, and their acoustic-gone-electric recordings were big for me. I've always liked songs with heavy language, songs with reference. It hasn't been until later in my life that I've gotten into reading poetry and writers like John Steinbeck, who is one of my favorite writers.
TC: I'm interested in your recurring themes of love, peace, social politics — you were a political science major at Furman University — dreams and beauty. I think of songs like "Happiness." Can you talk about these themes?
BR: The themes that you're talking about in my mind are results of an inner struggle. We write songs about our own individual battles — how to love and be loved, how to succeed and be humble, how to work and enjoy, how to dream and be content, how to mature and be youthful.  
TC: I'm fascinated maybe most by the love songs. They're reminiscent, somehow, of Leonard Cohen and Bob Dylan's love songs. They also remind me of the Sufi poets Hafiz, Rumi and Kabir. These songs of yours have a spiritual quality. I'm thinking the songs could as easily have been written to God as to your former girlfriends. Can you enlighten me as to who the recipients are of these songs?
BR: I honestly think the love songs we write are very specific when it comes to the subject, but a healthy bit of ambiguity lies in the language and metaphor. Sometimes the best way to get the point across is in an otherwise unrelated analogy. In "BE HERE LONG," I'm actually talking about my newborn son, but the idea of death was the only thing that I thought represented the emotion properly. I try to call up an emotion that is real in these songs. Most people relate to the song because they've lost someone close to them, but that's what's great about song writing in my opinion. The song is much larger than the circumstance if done correctly. To answer the question more directly, I think my relationship with nature, God, and love are all intertwined in a way that they could never be fully separated.
TC: You use the phrase "these hard times" on "The Outsiders," and you use the refrain "who is going to save us now?" in "Maybe They're On To Us" on "Reckoning." So, with issues such as climate change, wars all over the world, the problem of overpopulation, who is going to save us now?
BR: I don't believe that we're working towards a utopian society. People are flawed and society follows suit. I'm always trying to question the things, people, or institutions I depend on to get by. How many of those things are destined to fail? The hope I have is in humanity — the ability to live and persevere. I think God made us that way.
TC: Do you want to add anything here that we've not covered in the more formal questions that you'd like people to know?
BR: I would add that I don't think being in a band or writing songs ever gets easier. It requires everything from you every time. That gets harder and harder as time goes on, but it's something that we're very proud of. We've always been a music first band. Usually the music comes first and then either Bo (Rinehart, guitar) or I write the lyrics. When we don't have the energy to do this any longer, we'll hang it up. We realize that our commitment and surrender to the process is what keeps people listening.  
TC: One last question. I'd like to know what the story is behind the band's name?
BR: It comes from a story we heard about Socrates, [where he] was beside a lake teaching a group of students, when one of the students asked, "How will I know when I'm truly seeking after the purpose in my life?" Socrates walked over to the student and stuck the student's head under water. The student began gasping for air and Socrates said, "When you need that purpose as much as you need to breathe, that's when you'll know."