Archived News
Haywood Commission selects new chairman
Wednesday, December 07, 2016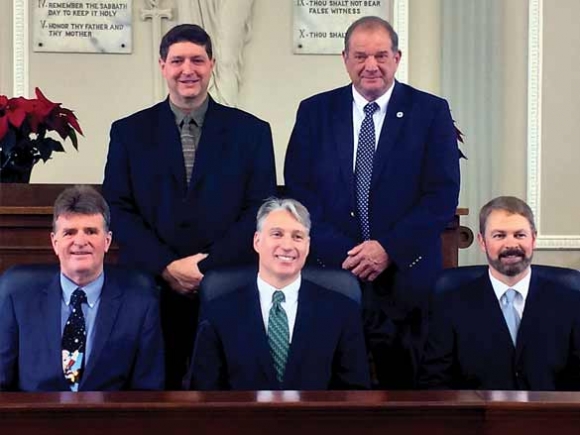 In addition to welcoming newly-elected Commissioner Brandon Rogers and welcoming back newly re-elected Commissioner Kevin Ensley at its Dec. 5 meeting, the Haywood County Board of Commissioners selected Commissioner Kirk Kirkpatrick to serve as chairman.
Commissioner Mike Sorrells said selecting Kirkpatrick wasn't a tough choice.
"Not really difficult at all," Sorrells said. "He's the longest-serving commissioner and he's been in this position before, and I think it was pretty unanimous that it was his call. If he wanted it, we were going to move forward."
Kirkpatrick, a Democrat, replaces longtime Chairman Mark Swanger and served previously as chairman from 2008-2010. When asked what it felt like to be back in control, Kirkpatrick was reflective.
"It feels like taking on responsibility that's important to the county," he said.
His priorities center squarely on infrastructure.
"I think one of the most important things we have to look at is taking care of our buildings, monitoring solid waste, and then taking care of our employees as well," he said.
Kirkpatrick's leadership comes at a time when the county has a number of important long-range development issues to address, including affordable housing and high-speed internet. And although he's aware he's following in Swanger's footsteps, he said he's more than willing to walk his own path.
"Certainly Mark was a very good leader and a good chairman for many years. Our styles are just a little bit different. I think Mark's a little more hands-on. I'm more for allowing Ira [Dove, Haywood County manager] or making sure Ira does his job, the job that he's paid to do," he said. "I'm a little more hands-off, and what I want to make sure to do is involve all five commissioners in all decisions as well. Mark did that as well, but I'd like to do it a little bit more. I see my role not necessarily as that of a leader, but as a facilitator to make sure all five commissioners are informed and we all make decisions together."
Newly-minted Republican Commissioner Brandon Rogers agreed with Sorrells' assessment.
"Kirk's served as chair in the past and done a good job, and has a lot of experience here on the board, so I think it was a mutual agreement between all five of us," Rogers said. "I think he'll do us well."
Rogers also said he was looking forward to serving the county in his role as a commissioner, and is excited about beginning to work on some of the issues he'd campaigned on this fall.
"I'd like to hit the ground running," he said.